Fact Check: Does Viral Video Show Joe Biden Tell Paralympians 'Don't Jump'?
A clip from a White House event welcoming members of U.S. Olympic and Paralympic athletes has gone viral, purporting that President Joe Biden said "Don't jump" to the disabled athletes as he and guests posed for a photo.
Biden was on stage two wheelchair athletes, which led some to imply or outright accuse him of senility and incompetency.
This forms part of a broader, ongoing narrative where critics have accused the President of being unfit for office or senile, often using out-of-context or manipulated content to support those claims.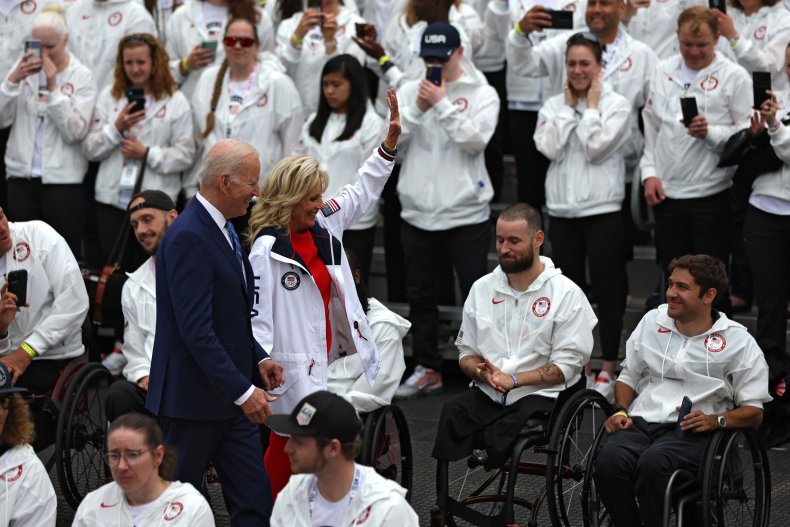 The Claim
On May 4, 2022, the White House welcomed Team USA Olympic and Paralympic athletes as part of an event celebrating their achievements.
A video clip shows the president posing with the athletes, including a number of Paralympians, before saying "Don't jump."
The comment was pounced upon by a number of conservative figures and media outlets, some of whom implied he was speaking to his guests or was unaware of his surroundings.
The Facts
The viral video and the ensuing narratives are misleading because they don't provide the context surrounding Biden's comment.
At the time, the athletes and the president were having their photo taken from photographers positioned on an elevated stage.
Photos at the event clearly show the pictures were taken above the height of the president and his guests.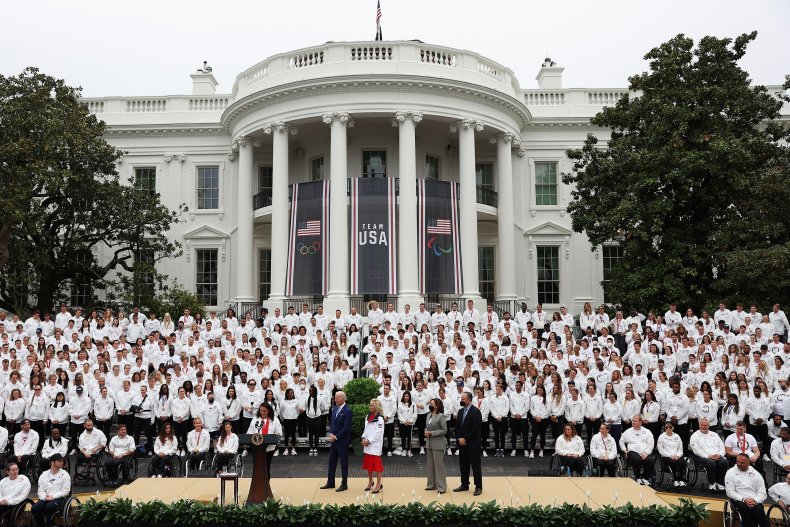 The president can also be heard clearly saying afterward "She's our photographer.", pointing to someone out of shot before making the comment in question.
Responding to Newsweek, The White House provided a report of the event which further clarified that the president was talking to a photographer on a podium.
The report stated, in part:
"He got a laugh and cheers when he said: 'You've been through so damn - darn much.'
"'Look how you handle victory and defeat,' he said admiringly.
"Then he got what his presenter called pretty awesome swag.
"'Don't jump!' he joked during the swag photo, adding: 'She's our photographer.'"
Furthermore, as some of the tweets may have suggested, the president was not on stage only with Paralympians.
As can be heard in a recording of the event, the president was accompanied by bobsledder Elana Meyers Taylor, speed skater Brittany Bowe, curler John Shuster, javelin thrower Kara Winger, para tri-athlete Melissa Stockwell, para alpine-skiers Danelle Umstead & Tyler Carter, wheelchair rugby player Chuck Aoki and wheelchair basketball player Matt Scott.
Biden has made the "Don't jump" comment, something of a running joke, at a number of events.
In March 2022, visiting the U.S. 82nd Airborne Division in Poland, he made the same comment, referencing how paratroopers are trained to jump from aircraft.
In September 2021, in New York, addressing the aftermath of Hurricane Ida, where after speaking to a seven-year-old standing on a balcony he said "And don't jump!" (this was also questioned by conservative commentators).
At an event in March 2021 in Washington D.C. he told an audience viewing him from the second floor of a business store "Don't jump, we need you."
In October 2020, at a live news recording, addressing an audience member standing at the top of the studio, Biden said: "Don't jump, Cedric, you look like you're way up there."
In August 2020, while meeting first responders in Pittsburgh, the president was heckled from a nearby building, to which he replied "Don't jump, don't jump."
While the comment at the White House might be thought of as unwise or tone deaf (Biden has previously referred to himself as a "gaffe machine"), the social media posts decrying him (which speak to a critical and ongoing narrative about his competency) failed to mention who Biden was talking to and where those people were.
The posts also fail to clarify the self-referential nature of this in-joke, including the numerous times the president has said "Don't jump" elsewhere.
The Ruling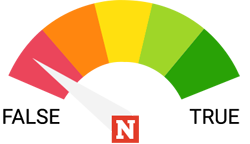 False.
The president was talking to a photographer standing on a platform above him. The "Don't jump" comment is something of an in-joke he has made at a number of events where he was speaking to people standing above him.
FACT CHECK BY NEWSWEEK