Fact Check: Does Donald Trump Want His Supporters to Carry 'Trump Cards'?
The prospect of "Trump cards" to be carried by supporters of the former president has been widely discussed on social media with the phrase trending on Twitter.
The Claim
Images of designs for an "Official Trump Card," intended to be carried by supporters of former President Donald Trump, have been shared widely on social media.
Memes related to these and people's proposed alternate designs for the cards, which look somewhat like credit cards, also spread on Twitter.
The phrase "Trump cards" was the number 7 Twitter trend in the United States at time of writing. Posts related to this topic had garnered thousands of interactions by Thursday morning.
The Facts
On August 4, two emails regarding "OFFICIAL TRUMP CARDS" were sent by Save America, a joint fundraising committee of Save America and the Make America Great Again PAC.
Each showed four designs and spoke of Trump's desire for recipients to decide which one should be chosen.
One included a direct message from former President Trump, in which he said: "We are launching our OFFICIAL TRUMP CARDS soon, and my team asked me to select the design. I've always said the only voice that matters is YOURS, which is why I want YOU to be the one to pick our brand new card.
"The card you select will be carried by Patriots all around the Country. They will be a sign of your dedicated support to our movement to SAVE AMERICA, and I'm putting my full trust in you.
"I'll look for your response first thing tomorrow, Friend. Will I see it?"
Another email similarly urged recipients to choose which design they preferred.
"We're about to launch our Official Trump Cards, which will be reserved for President Trump's STRONGEST supporters, and we have some very exciting news to share with you," a message from Save America read.
"We recently met with the President in his Florida office and showed him four designs. Originally we were planning on releasing just one design, but when President Trump saw the cards on his desk, he said, 'These are BEAUTIFUL. We should let the American People decide - they ALWAYS know best!'"
Within each email people could click on the designs to select which they preferred. Doing so then took them to a donation page where the selected card was shown and "RESPONSE RECORDED!" written.
The second email sent on August 4 told recipients Save America would be counting "ALL responses until 11:59 PM TONIGHT," urging people to vote by that time in order to "make sure President Trump sees your vote." However, it was still possible to give a response on August 5.
After clicking the selection, there was then a form calling for donations to the Save America Joint Fundraising Committee.
The emails did not detail other specific uses for the cards. It was also not specified how they could be obtained or would be allocated. Newsweek has contacted the office of the former president for comment on the cards and their potential usage.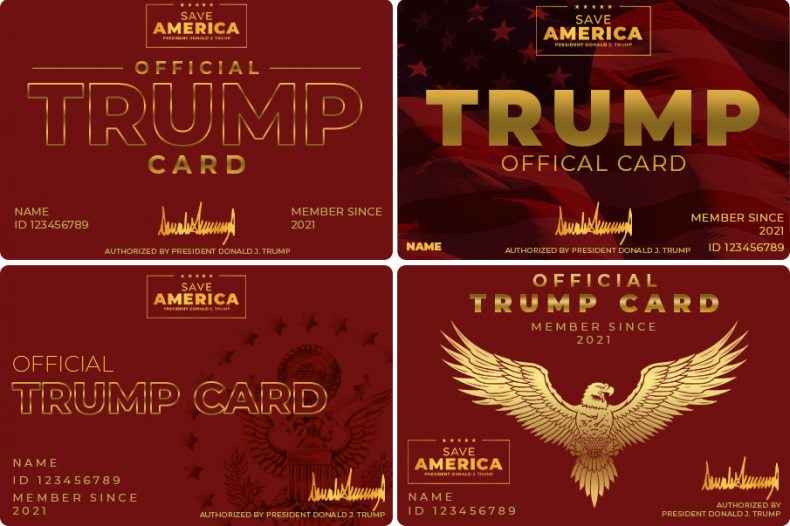 Each of the proposed cards were deep red and gold in color. They all had Trump's signature on, as well as a space for name and an ID number.
Two featured eagle designs, another had a plain background and the other had a U.S. flag in the background. Each said "Official Trump Card" and was emblazoned with the Save America logo.
One of the card designs had a typo which read "offical" rather than official.
After these emails were sent, Twitter users took to the platform to discuss the proposed cards.
Some fake designs were also shared—though these were clearly done to mock the official designs sent by Save America.
The Ruling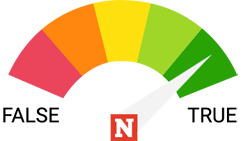 True.
FACT CHECK BY NEWSWEEK
Save America did send out emails about "OFFICIAL TRUMP CARDS."
Though some mockups of the cards shared on social media were fake, there is truth in Trump wanting to issue his own such cards.
In one message attributed to Trump himself, he said the selected card would be carried by "Patriots all around the Country," a term he has often used to describe his supporters.