Fact Check: Donald Trump's Claim Benjamin Netanyahu Was First to Congratulate Joe Biden
Donald Trump fumed at Israel's former Prime Minister Benjamin Netanyahu for his message extolling then President-elect Joe Biden, which Trump felt came "too early," according to an interview from a new book.
Excerpts from the interview were published by the Tel Aviv-based daily Yediot Ahronot on Friday. The interview is in an upcoming book by journalist Barak Ravid, titled Trump's Peace: The Abraham Accords and the Reshaping of the Middle East.
The Claim
Trump claimed that Netanyahu, then Israel's prime minister, was the "first person" to congratulate Biden on his victory.
"Nobody did more for Bibi. And I liked Bibi. I still like Bibi," Trump reportedly said, referring to Netanyahu by his nickname. "But I also like loyalty. The first person to congratulate Biden was Bibi. And not only did he congratulate him, he did it on tape. And it was on tape."
He continued: "The first person who congratulated Joe Biden, because this was an election in dispute, it's still in dispute. The first person who congratulated was Bibi Netanyahu, the man that I did more for than any other person I dealt with...Bibi could have stayed quiet. He has made a terrible mistake."
Later Trump appeared to backtrack on the claim slightly in another passage, saying instead Netanyahu was "earlier than most."
"Early, okay? Let's use this. He was very early. Like earlier than most. I haven't spoken to him since. F**k him," the ex-president is quoted as saying.
The Facts
While it is hard to conclude whether Trump was referring to any individual, or specifically world leaders, before the full text is published, the context in the article appears to imply the latter.
But the claim is highly contentious even if taken to refer to just prominent political figures.
In the first excerpt, Trump refers to a congratulatory message "on tape." It is not clear if he means that literally, but there is indeed a recorded video message of congratulations that Netanyahu published via his Twitter account on Sunday, November 8, 2020, the day after the election was called in Biden's favor.
In fact, he also published another message earlier, at 5.03am on Sunday, which said "Congratulations @JoeBiden and @KamalaHarris. Joe, we've had a long & warm personal relationship for nearly 40 years, and I know you as a great friend of Israel."
There are no indications or reports of any earlier communications from Netanyahu prior to the tweets, nor did Trump appear to reference anything other than the recorded video message. Newsweek has reached out to the White House for comment. Newsweek also contacted the former U.S. president's representative for clarification on the claims.
The earliest known communication, the 5am tweet, was published almost 12 hours after a host of other world leaders sent their congratulations. Those include Canadian Prime Minister Justin Trudeau, who tweeted at Joe Biden and his VP Kamala Harris at 5.02pm Eastern Time. Others followed suit, including UK Prime Minister Boris Johnson at 5.29pm and European Commission President Ursula von der Leyen, at 6.02pm.
Among those who also greeted the President-elect that evening were NATO Secretary-General Jens Stoltenberg, France's President Emmanuel Macron, India's Narendra Modi, Ukraine's Volodymyr Zelensky, Japan's Prime Minister Yoshihide Suga, and leaders from the Middle East, clearly contradicting the timeline posited by Trump.
In fact, the only prominent absentees in the stream of congratulatory messages arriving before Netanyahu's response to the election were the Russian and Chinese leaders, Vladimir Putin and Xi Jinping.
President Xi finally congratulated Biden in a message sent November 25, 2020—two-and-a-half weeks after Biden was declared president-elect—becoming one of the last world leaders to do so.
The Russian leader waited even longer, finally sending a "congratulatory telegram" marking Biden's "victory in the United States presidential election" on January 20, shortly after the electoral college confirmation.
Though it is clear that Netanyahu was neither the first, nor even one of the first to reach out to the president-elect, establishing who actually was the first is a little tricky.
As Newsweek reported at the time, that honor likely belongs to Frank Bainimarama, the Prime Minister of Fiji, who tweeted "Congratulations, @JoeBiden" at 5.06am on Saturday—hours before the election was even called.
The Ruling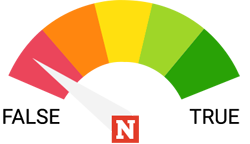 False.
Claims that then-Prime Minister of Israel Benjamin Netanyahu was "the first", or one of the "earliest" people, to congratulate Joe Biden on his victory are both false.
Dozens of prominent politicians from around the world sent their congratulatory messages on the eve the election was called. Netanyahu, messaging on Sunday morning, was actually in the cohort of latecomers.
FACT CHECK BY NEWSWEEK