Fact Check: Is Joe Biden's Approval Rating Above Bill Clinton's, Close to Barack Obama's?
President Joe Biden has seen his approval rating drop as he faces scrutiny over the U.S. military withdrawal from Afghanistan and the crisis there.
The Claim
While Biden's approval rating has dipped, some are still comparing it favorably to his predecessors' ratings.
Matthew Dowd, who was the chief strategist for the 2004 Bush-Cheney presidential campaign and is author of A New Way: Embracing the Paradox as We Lead and Serve, compared it to the ratings of former presidents Bill Clinton and Barack Obama.
"Here is a fact: President Biden's avg approval rating is higher today than Trump's was at any point of his presidency," Dowd tweeted.
"Also, Biden's approval rating is higher than Clinton's at this point in his presidency and about the same as where Obama's was at this point."
This tweet has been retweeted more than 1,000 times and liked more than 7,000 times at the time of writing.
The Facts
On the comparison to Trump, Biden's approval rating has remained higher than his immediate predecessor achieved at any point during his single term—as previously reported by Newsweek.
Looking at Gallup ratings, Biden's approval rating does surpass Clinton's at a comparable point. In polling from August 23 to 25, 1993, during the first year of his first term, Clinton's approval rating was 44 percent.
Biden's in the latest Gallup polling, carried out August 2 to 17, 2021, is at 49 percent. It is worth noting that this data was collected largely before the Afghanistan controversy blew up.
However, FiveThirtyEight and RealClearPolitics' latest averages, which correlate closely with Gallup's ratings, are close to this figure as of August 23—at 48.5 percent and 48.3 percent respectively.
In terms of Obama's rating at a similar point in his first term, Biden's numbers are close to his—though slightly lower.
Obama's Real Clear Politics average on August 21, 2009, was 52.2 percent approval.
Looking at Gallup, his approval rating from polling carried out August 17 to 23, 2009, was 52 percent.
While that is higher than Biden's latest Gallup rating, the margin of error in Gallup's latest polling is plus or minus 4 percentage points. The difference would therefore fall within this range.
An article alongside Gallup's latest approval rating for Biden said: "With Biden's last two job approval ratings around 50 percent, the honeymoon phase of his presidency is over.
"His approval shows its first sustained decline and now sits below the historical average 53 percent job approval rating.
"The Afghanistan crisis may serve to further erode his public support."
The Ruling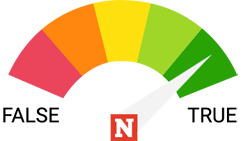 True.
FACT CHECK BY NEWSWEEK
While Biden's approval rating has been diminished of late, it remains higher than Clinton's and similar to Obama's at comparable points in their presidencies.
For Clinton's, it was demonstrably higher, per Gallup figures.
Though Obama's was slightly higher than Biden's, the difference is within the polling's margin of error.