Fact Check: Did Joe Biden Get Dates Wrong on People Falling From Plane at Kabul Airport?
President Joe Biden has come under intense scrutiny amid the unfolding situation in Afghanistan, with questions surrounding the handling of the U.S. military withdrawal from the nation.
The Claim
In an interview conducted on August 18, ABC News' George Stephanopoulos raised incidents from Kabul airport to Biden. The president replied by saying they happened "four days ago, five days ago."
"We've all seen the pictures. We've seen those hundreds of people packed into a C-17. We've seen Afghans falling..." Stephanopoulos said.
At that point Biden interjected and said: "That was four days ago, five days ago."
However, it has been pointed out by social media users responding to this answer that the events were more recent than that.
The Facts
The clip of the interview with ABC News was released on Wednesday, August 18, and Stephanopoulos had previously said he would be speaking with Biden that day.
Amid tragic scenes in Afghanistan, footage of people falling from planes spread online as people attempted to leave the country.
A video from Afghanistan's Asvaka News agency showed what it reported as men falling from a C-17 after it took off from Kabul.
The agency reported that the footage was captured on August 16.
That was two days before the interview date of August 18—not four or five as Biden said in his answer.
Amid the unfolding events in Kabul, a photo of a packed C-17 jet spread on social media and was reported on by news outlets worldwide—including Newsweek.
This came as large numbers of people attempted to flee the country after the Taliban entered Kabul on Sunday.
Thousands of people have been evacuated from Afghanistan and evacuations continue.
The viral image of hundreds of people on a C-17 was from August 15, according to a caption on the photo shared by the Defense Visual Information Distribution Service. Again, that is more recent than four or five days ago as Biden suggested in the interview on August 18.
Newsweek has contacted the White House for comment on Biden's remarks.
Further in the interview, Biden was asked about the nature of the U.S. withdrawal from Afghanistan. This is under scrutiny due to the unfolding situation in the nation.
Biden said he did not think there was a way the U.S. military could have withdrawn from Afghanistan without "chaos ensuing."
Stephanopoulos asked: "So you don't think this could have been handled—this exit could have been handled better in any way, no mistakes?"
"No, I don't think it could have been handled in a way that, we're gonna go back in hindsight and look—but the idea that somehow, there's a way to have gotten out without chaos ensuing, I don't know how that happens."
The Ruling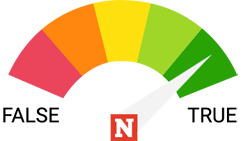 True.
FACT CHECK BY NEWSWEEK
President Biden was wrong in suggesting the events at Kabul airport, including a packed C-17 jet and people falling from a plane, happened four or five days ago at the time of his interview.
The interview was conducted on August 18 and the two incidents referenced occurred on August 15 and 16. Both of those dates were more recent than four or five days prior to the interview being conducted.