Fact Check: Is it Rare for Any Vaccine to Stop All Transmission, Infection?
As the COVID pandemic continues, so is a discussion about the benefits and efficacy of vaccination.
The Claim
On Twitter, Dr. Tom Frieden made the claim that vaccines rarely completely protect against viruses, adding that despite this, these medical inventions are safe and remarkably effective.
The statement by, Frieden, a former director of the Centers for Disease Control and Prevention (CDC), has been retweeted more than 1,500 times and has received 7,000 likes.
The Facts
Newsweek contacted several experts to ask about the efficacy of vaccines and the claim that is rare for any to be 100 percent effective. Though there was a consensus that this is the case, the experts emphasized the benefits and usefulness of vaccination.
Speaking to Newsweek, Richard Kennedy PhD, co-Director at the Mayo Clinic Vaccine Research Group, and an immunologist, said: "Have you ever taken aspirin, acetaminophen, or ibuprofen for a headache and it hasn't worked? Have you ever had heartburn that would go away no matter how many antacids you took?"
He added that no medicine or vaccine is 100 percent effective, just like there are no 100 percent effective surgeries, diets, or exercise regimens. Kennedy said this is in part due to the way that vaccines and other medicines are initially tested.
"Clinical trial populations are not representative of the real world. Since we are testing a new vaccine or drug, we avoid including vulnerable populations like the very old, very young, pregnant women, and those with serious health conditions," he said.
"We want to make sure that the vaccine is safe and works in healthy people first. This typically means that drugs or vaccines don't work quite as well in the real world."
Kennedy also said that the protection offered by vaccines tends to reduce over time and that this is the case for every vaccine ever created, including those for COVID.
"Sometimes the response fades over decades and sometimes over months. This waning means that you have fewer antibodies in your body six months after vaccination than you did three weeks after vaccination," he said. "Some of our 'best' vaccines create protective immune responses in around 95 percent of recipients."
These include the smallpox vaccine, the yellow fever vaccine, the measles, mumps and rubella vaccine (MMR), Kennedy said, citing the influenza jab as an example of a vaccine that typically isn't as good.
He added regarding the flu vaccine: "Effectiveness is typically in the 30-70 percent range. Part of this is because of viral mutations occurring every year."
Dr. Sean Elias, post-doctoral immunologist and public engagement leader at the University of Oxford's Jenner Institute, also addressed the claim.
"Firstly, efficacy is complex and can mean a number of different things which is why numbers presented in the press for different vaccines are often not comparable," Elias told Newsweek. "No vaccine truly provides 100 percent sterile protection against a disease and they don't necessarily need to, in order to be effective."
Elias continued by pointing out that despite not being totally effective, vaccines still induce immunity that beats natural immunity resulting from exposure to a virus. The smallpox vaccine, he says, was not completely effective, yet was used to wipe out that disease.
"Vaccination better stimulates a stronger and more diverse immune response including antibodies and T cells and in particular the memory components of these parts our immune system which help provide long-lived immunity," Elias said.
"This means a vaccine-induced response is likely to be quicker acting and more likely to limit infection of disease progression even months later."
John P. Moore, professor of microbiology and immunology at Weill Cornell Medical College, told Newsweek: "Almost all vaccines work by preventing symptomatic or serious disease. Complete protection against infection is generally quite rare. The better COVID-19 vaccines, the mRNAs, are, in fact, pretty good at protecting against infection, but some breakthroughs are inevitable.
"Vaccines are not just the best means to protect against COVID-19, over the long term they are the ONLY way to do so."

A page on the CDC website acknowledges: "While COVID-19 vaccines are working well, some people who are fully vaccinated against COVID-19 will still get sick, because no vaccines are 100% effective."
However, it highlights that vaccination may "make symptoms less severe in people who are vaccinated but still get COVID-19."
"Fully vaccinated people with a vaccine breakthrough infection are less likely to develop serious illness than those who are unvaccinated and get COVID-19," a page on the CDC site states.
"Even when fully vaccinated people develop symptoms, they tend to be less severe symptoms than in unvaccinated people. This means they are much less likely to be hospitalized or die than people who are not vaccinated."
Reached for further comment, Frieden told Newsweek: "Vaccines are one of the greatest of all inventions. They have saved hundreds of millions of lives and can save many millions more.
"But they aren't perfect: The best way to build confidence in vaccines is to continue to share, in real-time, what we know about their effectiveness, about the characteristics of people for whom they don't work as well, and about any rare adverse effects."
The Ruling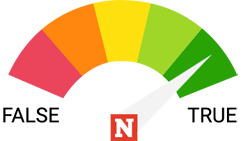 True.
FACT CHECK BY NEWSWEEK
It is rare for vaccination to be 100 percent effective and it does not necessarily totally stop infection or transmission.
However, in regard to COVID vaccinations, data has shown the vaccines to provide protection from severe illness even in breakthrough cases.
Experts continue to tout the efficacy of vaccines in the fight against COVID.