Fact Check: Is the Regeneron Treatment the Same As Getting a COVID Vaccine?
Texas governor Greg Abbott tested positive for COVID this week and is receiving a monoclonal antibody treatment by pharmaceutical firm Regeneron, which a Fox News television host has said is "basically" the same as getting a COVID vaccine.
The Claim
During a conversation about Abbott, Fox & Friends co-host Ainsley Earhardt said on Wednesday: "What's interesting though, is if you don't get vaccinated and you go to the hospital, most of the time you're going to get Regeneron.
"But Regeneron are the antibodies, so you're basically still getting vaccinated because they're sticking you with an antibody, which is the virus."
The Facts
In a fact sheet about the Regeneron monoclonal antibody treatment, Regeneron explicitly states that the treatment "is not a substitute for vaccination against COVID-19."
The Regeneron COVID monoclonal antibody treatment consists of a cocktail of two separate monoclonal antibodies—casirivimab and imdevimab. It is called REGEN-COV.
Like the vaccines, this treatment has received emergency use authorization by the Food and Drug Administration (FDA).
REGEN-COV is authorized for use in adults and patients aged 12 and over weighing at least 88 pounds to treat mild-to-moderate COVID infections.
According to the FDA, casirivimab and imdevimab administered together has been shown to reduce COVID-related hospitalization in high-risk patients based on a trial involving 799 people.
FDA Commissioner Dr. Stephen M. Hahn has said the treatment "may help outpatients avoid hospitalization and alleviate the burden on our health care system."
Monoclonal antibodies work by directly administering antibodies—molecules produced by the body's immune system that target viruses and stop them from making us ill.
The antibodies used in monoclonal antibody treatments are made in a lab, because scientists know what sort of antibodies work against COVID.
Vaccines, on the other hand, work by administering an inactive version of the virus it is trying to prevent—in this case COVID—which trains the body to produce its own antibodies in response.
The two treatments are not the same.
The difference between vaccines and monoclonal antibodies is that a vaccine will train the body to battle future infections while monoclonal antibodies can be used to immediately treat an existing infection.
Dr. Sushila Kataria, senior director of internal medicine at Indian private hospital Medanta, has said monoclonal antibodies work as soon as they are given. Vaccines offer protection one to two weeks after they are given.
But according to the Biotechnology Innovation Organization (BIO) COVID Vaccine Facts website, monoclonal antibodies are not likely to last as long as the protection from a vaccine.
And according to Vanderbilt University Medical Center, both monoclonal antibodies and vaccines should be used in society's battle against COVID; the former to treat infected people and the latter to stop people getting infected in the first place.
Newsweek has contacted a press representative from Fox News asking for comment from Earhardt.
The Ruling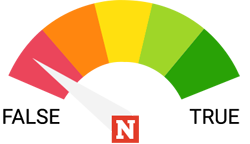 False.
FACT CHECK BY NEWSWEEK
Receiving the Regeneron monoclonal antibody treatment for COVID is not the same as getting a COVID vaccine.
A vaccine will train the body to battle future infections, while monoclonal antibodies can be used to immediately treat an existing infection.
Monoclonal antibodies are not likely to give as long lasting protection as that from a vaccine.