Fact Check: South Korean Workers Wore 'Squid Game' Costumes at Protest
Record-breaking South Korean hit Squid Game has drawn huge attention worldwide, with outfits from the series already gaining iconic status.
The Claim
A Twitter user @dotorii_muk wrote on October 21: "Can't help but notice while everyone else bought Squid Game costumes to use for Halloween, South Koreans used it to protest for workers' rights."
They shared images of people in jumpsuits and wearing black face masks with squares, circles and triangles on—as worn by guards in the show, which is set to earn Netflix a reported $900 million.
Similar mages were also shared by other users on the platform.
The Facts
Newsweek looked into the images, which coincided with photos highlighting a protest in Seoul, South Korea, on October 20.
The Associated Press uploaded images from the day, in which there were photos of those dressed in Squid Game outfits.
A caption on one such image read: "Members of the South Korean Confederation of Trade Unions wearing masks and costumes inspired by the Netflix original Korean series "Squid Game" perform during a rally demanding job security in Seoul, South Korea, Wednesday, Oct. 20, 2021."
The image can be seen below.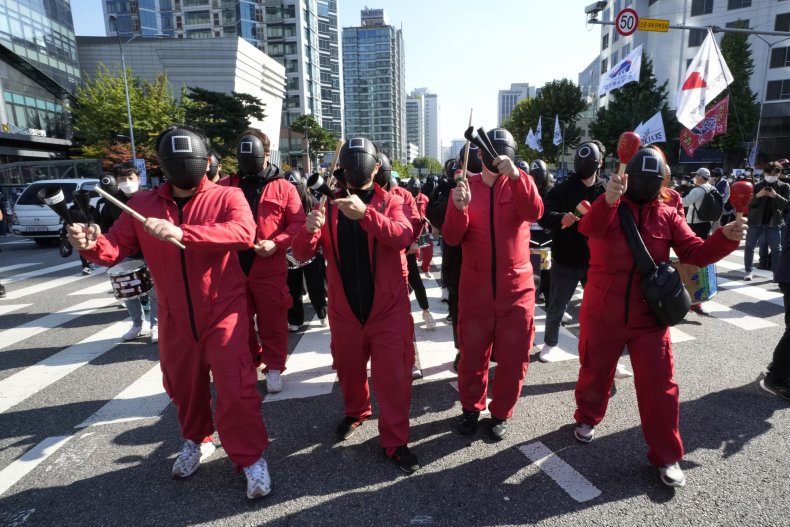 Another image with the caption "general strike in South Korea today" was shared on Twitter and garnered more than 30,000 likes, while a video of those involved has more than 500,000 views on the social media platform.
Reuters reported that the Korean Confederation of Trade Unions (KCTU) held a nationwide protest on Wednesday, October 20.
In a statement, reported by Reuters, KCTU said: "About 80 youth union members dressed up in costumes that parody the Squid Game, which bitterly satirizes the bare face of our society."
Squid Game depicts a group of struggling people who are invited to compete in games for a cash prize, though the cost of losing in any game along the way is death.
The Seoul city government has filed a complaint against members of the group for having defied COVID-19 regulations. Only one person protests are currently allowed in the country, Reuters reported.
The Straits Times reported tens of thousands of union members took part in rallies, seeking better conditions for irregular workers and a minimum wage hike.
Some 27,000 were in Seoul, where a reported 12,000 police were deployed.
The KCTU also said more than a million members were involved in a one-day strike.
Newsweek has contacted KCTU for further comment.
The Ruling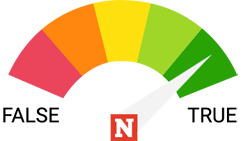 True.
FACT CHECK BY NEWSWEEK
Yes, some of those who were protesting workers' rights in South Korea earlier this week wore Squid Game costumes.
The union group involved said the show "bitterly satirizes the bare face of our society."