Survey: 70 Percent of Republicans Say Fact-Checking Is Biased
Although Americans are evenly split on their view of news publications and other groups performing fact-checks of politicians, 70 percent of Republicans said fact-checking favors only one side of issues.
A majority of both Democrat and Republican U.S. voters say news media organizations favor one side in their reporting and presentation of political and social issues, with nearly 90 percent of Republicans accusing publications of favoring one side of any story. And even in terms of fact-checking efforts, which are increasingly being used in real-time during debates and political speeches, 70 percent of Republicans say fact-checking of the truth is biased, according to Pew Research Center polling data released Thursday.
Comparatively, fewer than half of Independents (47 percent) and far fewer Democrats (29 percent) say fact-checking performed by news outlets or other groups has a political slant.
Fewer than one-third (29 percent) of Americans said they are "very confident" in their own ability to check the accuracy of a news story, and fewer than half saying they are only "somewhat confident." Political analysts and even former President Barack Obama have complained that democracy and freedom of the press are increasingly threatened because Americans "do not share a common baseline of facts" in an online environment where people pick and choose their news.
During Wednesday night's first 2020 Democratic primary debate, a massive number of news publications and non-partisan groups offered live fact-checking of the candidates' comments. The New York Times, NPR, and Poynter's Politifact outlet all offered real-time fact-checks of the statements made by the presidential candidates, particularly on Twitter.
The 41 percentage point gap between self-identifying conservative and liberal U.S. adults doesn't explicitly label fact-checking as having a left-wing bias, but a wide swath of Republican lawmakers from President Donald Trump on down frequently lament the so-called "liberal bias" of news organizations and tech companies as a whole.
A nearly 70 percent majority of Democrats said fact-checkers deal fairly with all sides of an issue equally, while only 28 percent of Republicans agree with that statement, according to the Pew data collected among U.S. adults between February and March 2019.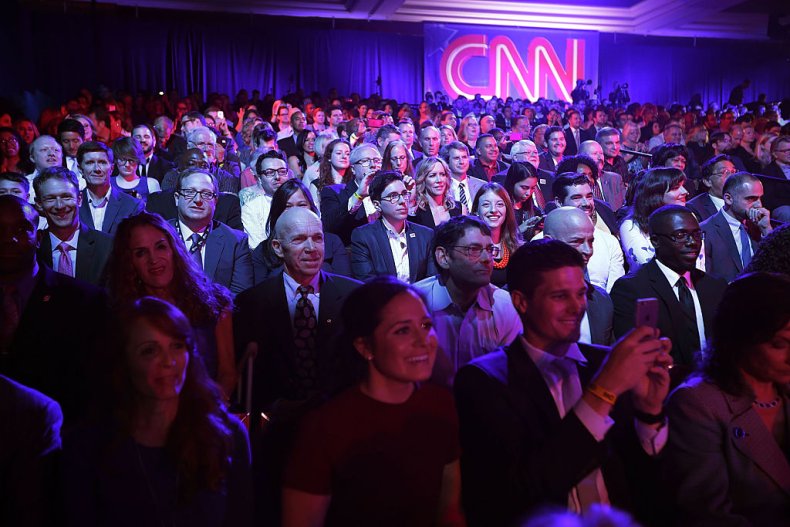 The 70 percent of Republicans claiming fact-checking is biased in favor of "one side" of any issue also overlooks the wide array of right-leaning groups that openly shrug off the "non-partisan" label such as Accuracy in Media and Newsbusters.
Nearly three-quarters (72 percent) of Americans from all political affiliations say news organizations favor just one side of political and social issues they are covering. And even that viewpoint sees a 32-point gap between the 89 percent of Republicans who say the news media is biased versus 57 percent of Democrats who see it that way.
A 2013 study from George Mason University Center for Media and Public Affairs called into question who fact checks the fact-checkers, noting "Politifact.com has rated Republican claims as false three times as often as Democratic claims during President Obama's second term ... A majority of Democratic statements (54 percent) were rated as mostly or entirely true, compared to only 18 percent of Republican statements."
The Obama era study from George Mason concluded that news organizations overwhelmingly choose to fact-check reports or comments made by right-leaning politicians or fellow news outlets.