The Citizens for Responsibility and Ethics in Washington, a watchdog group, tweeted on February 20 an expense showing that the Jobs, Freedom & Security PAC, which is affiliated with Senator Ted Cruz (R-Texas), paid Reagan Investments LLC $240,235 for "sponsorship advertising" on January 4, 2021.
Days later, Salon wrote an article alleging that Cruz might be paying book royalties to himself through a shadow entity.
The Claim
This led to suspicion that Cruz was buying his own books to make a profit.
"Ted Is buying his own books through a mystery company and paying royalties to himself through a shadow entity."
Federal Election Commission (FEC) records also show that shortly after the release of his book, "One Vote Away," Cruz's campaign spent more than $150,000 on books at Books-A-Million. He currently is offering signed copies of his book for those who donate $77 to his campaign.
"If the campaign's Books-a-Million purchases did include Cruz's book, it'd mean his campaign used donors' money to purchase his publication, possibly to his financial benefit, and then used those books to solicit more contributions," Everson wrote in 1100 Pennsylvania.
The Facts
The practice of politicians buying and distributing their own book is legal, the FEC says, if a candidate does not use campaign funds to pay for personal expenses or benefits.
According to FEC advisory opinions, a campaign can buy copies of their book using campaign funds, as long as the candidate doesn't take royalties on those book purchases.
It is common for campaigns to buy books from publishers or third-party booksellers at a fair market price to resell on websites or at events. However, relevant FEC advisory opinions largely address buying books directly from publishers.
"The FEC allows campaigns to give out promotional items in order to entice contributions," Brendan Fischer, of The Campaign Legal Center, told Newsweek. "To comply with the law, Cruz would have to establish some mechanism to communicate to his publisher that he will not be getting the royalties from these sales."
According to the FEC, the Ted Cruz For Senate Committee disbursements from October to December 2020 shows that Cruz paid Books-A-Million over $150,000 for "books."
If Cruz bought his book at the listed price from Books-A-Million, he would have purchased about 5,300 copies.
According to Cruz's financial disclosure statement, he is to receive a $400,000 advance from Regnery Publishing and 15 percent royalties on net sales of hardcover copies. It also outlines that author royalties are reduced on copies offered at a discount through the publisher.
In January 2021, the Jobs, Freedom & Security PAC made payments to Reagan Investments for "sponsorship advertising," according to the FEC.
According to FEC records, the Trump Make America Great Again Committee made a payment to Reagan Investments last fall for "collateral: books." Around that time, Trump was promoting Cruz's book during the confirmation hearings for Supreme Court justice pick Amy Coney Barrett.
"Our Great 1st Amendment, our Great 2nd Amendment, our right to worship God & so much more comes down to one vote on the Court," Trump tweeted. "@TedCruz has a fantastic new book, 'One Vote Away', out today!"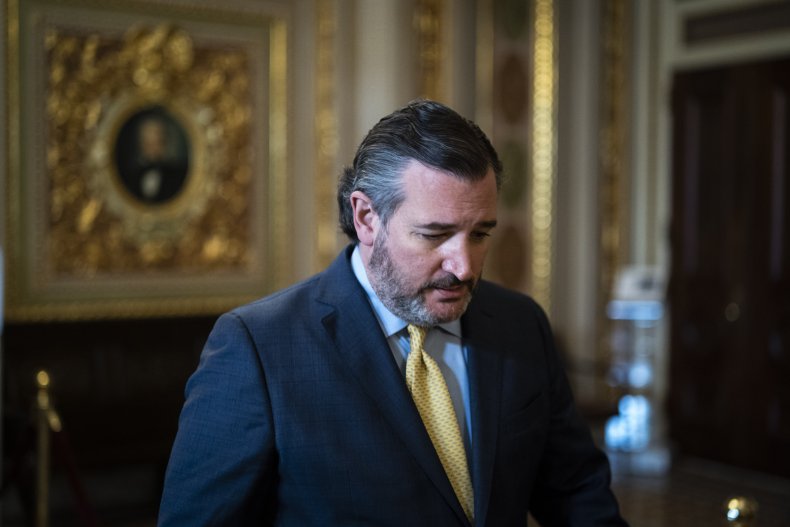 This led some to question if Cruz's leadership PAC was also buying Cruz's book through Reagan Investments and if he was profiting from royalties.
If this payment was for books, the FEC interpretation says that the personal use prohibition would not apply to spending from a leadership PAC.
"If Cruz's campaign bought copies of his book, he could not keep the royalties," Fischer said. "But he could pocket the book royalties if he bought his book with leadership PAC funds."
However, Jeff Roe, a political consultant and Cruz advisor, called the claim that Cruz is collecting book royalties through Reagan Investments "categorically false" and said the Salon article was false, as well.
"It bears no resemblance to the truth," Roe told Newsweek. "It makes up for its lack of facts with an energetic array of conspiracy theories strung together by a tortured link analysis."
It is unclear what specifically "sponsorship advertising" means, but a source close to Reagan Investments said the payments had nothing to do with book sales.
According to Open Corporates, Reagan Investments is a limited liability company in Missouri that was incorporated on January 23, 2020, by attorney James C. Thomas III. Reagan Investments is registered in Kansas City, but the expense form from the PAC gives an Austin, Texas, address.
The Austin address matches addresses listed for Vanguard Field Strategies, Garrison Management Group and Axiom Strategies. Roe is the president of Garrison Management and Axiom Strategies. Vanguard Field Strategies has been working under the Axiom label since 2014 and formed a standalone company in 2018. Axiom has an office in Kansas City, where Garrison and Vanguard also have mailing addresses.
Newsweek reached out multiple times to the Cruz camp for comment but did not receive a reply.
The Ruling
False.
The Jobs, Freedom & Security PAC did not purchase Cruz's books through Reagan Investments LLC.
Jeff Roe, a political consultant and Cruz adviser, called the claim that Cruz is buying his own books and paying royalties to himself "categorically false."