Fact Check: Trump Claims 9th Circuit Court Is Most Overturned in the Land—It's Not
President Donald Trump claimed judges' rulings made the U.S. "unsafe" and that chaos woud ensue if law enforcement was prevented from doing its job.
In a series of tweets on Thanksgiving, Trump renewed his attack on the 9th Circuit, in particular Supreme Court Chief Justice John Roberts, who upbraided Trump for his comments on Wednesday.
"Justice Roberts can say what he wants, but the 9th Circuit is a complete & total disaster," Trump tweeted.
"It is out of control, has a horrible reputation, is overturned more than any Circuit in the Country, 79%, & is used to get an almost guaranteed result. Judges must not Legislate Security and Safety at the Border, or anywhere else.
"They know nothing about it and are making our Country unsafe. Our great Law Enforcement professionals MUST BE ALLOWED TO DO THEIR JOB! If not there will be only bedlam, chaos, injury and death. We want the Constitution as written!"
Over the last couple of days, Trump and chief justice Roberts have been embroiled in a spat, after the latter rebuked the president for criticizing a jurist.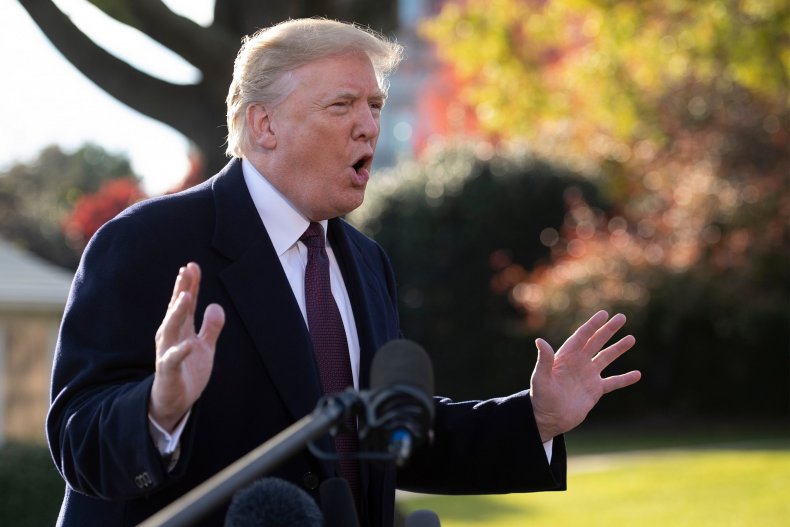 Earlier in the week, Trump had described Jon Tigar as an "Obama judge," after Tigar issued a temporary restraining order on Monday against Trump's asylum policy, which would have prohibited immigrants from applying for asylum if they did not arrive in the country at legal ports of entry.
"I'm going to put in a major complaint because you cannot win—if you're us—a case in the 9th Circuit and I think it's a disgrace," Trump told reporters outside the White House, according to The New York Times.
"This was an Obama judge. And I'll tell you what, it's not going to happen like this anymore."
Roberts moved swiftly to defend Tigar and rebuke Trump. An "independent judiciary is something we should all be thankful for," he said.
"We do not have Obama judges or Trump judges, Bush judges or Clinton judges,"he told The Associated Press.
"What we have is an extraordinary group of dedicated judges doing their level best to do equal right to those appearing before them."
Aside from that very public rebuke, Trump was wrong in saying the 9th Circuit had the highest percentage of cases overturned.. According to data compiled by the U.S. Supreme Court blog, that particular distinction goes to the U.S. Court of Appeals for the 6th Circuit, which is in Ohio.
Almost 90 percent of its cases in the past decade have been overturned. The 11th Circuit in Atlanta is a runner-up, with a 78 percent reversal rate.
The 9th Circuit had a reversal rate of 79 percent between 2010 and 2015, but even in that period it had only the third-highest reversal rate in the country, trailing the 6th Circuit and the 11th Circuit.
.