Tucker Carlson often sparks conversation online through his Fox News shows and a recent broadcast proved no exception.
The Claim
A photo of Carlson speaking while a chyron beneath him reads "This man is a danger to the country" has spread widely on social media.
Ana Navarro-Cárdenas, a political strategist and commentator, was among those to share the image.
She wrote: "This is a real caption.
"If the shoe fits...."
Her tweet has received more than 13,000 likes and has been retweeted more than 1,900 times at the time of writing.
The Facts
Carlson's show generally has chyrons with varying captions throughout his time on air. Often these are parodied or mocked up online.
On September 16 during Tucker Carlson Tonight the Fox News host did briefly appear with a caption that read: "This man is a danger to the country."
This came shortly after a section interviewing conservative radio host Jason Rantz, as he opened a new section.
The section was criticizing General Mark Milley, chairman of the Joint Chiefs of Staff, amid backlash he has faced over a Washington Post article based on reporting from Bob Woodward and Robert Costa's book Peril.
They reported calls from Milley to General Li Zuocheng of China in January 2021 and October 2020, in which he allegedly reassured his Chinese counterpart that the U.S. was not plotting an attack and that he would tell him if it were going to do so.
President Joe Biden has expressed confidence in Milley amid calls to oust the general from his position.
As Carlson opened the section, the "dangerous man" chyron first appeared under the host with just him on the screen.
Shortly after, a mocked-up image of General Milley as "General Mi Li" appeared, clarifying who the chyron was referring to.
Carlson then went on to speak to Jesse Kelly and discuss the situation regarding Milley.
The Ruling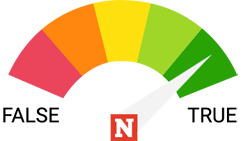 True.
FACT CHECK BY NEWSWEEK
Yes, a chyron did read "This man is a danger to the country" underneath Carlson as he spoke on Tucker Carlson Tonight.
While some on social media joked that it referred to Carlson, it was actually criticizing General Milley.
There was an interim when it was just Carlson on screen with the message underneath him. But a mocked-up image of the general quickly appeared.