A video watched more than a quarter of a million times shows what appears to be a Queen's Guard soldier opening fire on a tourist.
The soldier is shown shouting and turning his weapon, followed by the flash and sound of gunfire.
The video was so convincing that Twitter account No Context Brits, which has almost 800,000 followers, questioned whether it was real. So, is there any truth to it?
The Claim
On May 12, 2022, a video was tweeted showing a member of the Queen's Guard turning to what looks like a tourist, shouting "Get back from the Queen's Guard".
He then points the rifle in the direction of the tourist—a flash appears from the gun with the sound of it being fired. What sounds like screams are also heard in the background.
It has been watched more than 266,000 times since it was posted.
The video was re-posted on "No Context Brits," a Twitter account with 797,000 followers, with the question "Is this real?"
The Facts
The Queen's Guard are infantrymen of the British Army's Household Division who protect the Queen's residences, including Buckingham Palace.
The Household Division has guarded the Royal Palaces since the 17th century.
Their role in ceremonial duties, such as the Trooping of the Colour, and distinctive uniforms have also made them part of Britain's iconography.
However, some mistakenly believe their role is purely ceremonial, which has led to tourists coming to blows while the Guard carry out their duties.
Thankfully, the video shared on Twitter is only a mock-up of another clip that has been online for several years.
The original clip, which has 18 million views on YouTube, shows a visitor to one of the royal residences following a soldier's march.
The visitor then reaches out and touches the guard on the shoulder. Like the edited clip on Twitter, the guard shouts and points his rifle but he doesn't fire. The visitor can be seen quickly running away, shocked but unharmed.
Other clips of the Royal Guard reprimanding tourists have been shared millions of times online.
Incidents include guards shouting at or pushing people who disrupt their duties.
In December 2021, a video viewed more than two million times showed a Royal Guard trampling over a child in the Tower of London's grounds.
A U.K. Ministry of Defence spokesperson said at the time that the soldier checked on the child following the incident and "was reassured that all was well."
The Ruling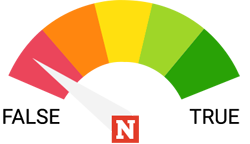 False.
While soldiers that guard the Queen's residences have been known to clash with tourists (who perhaps mistake the troops as purely ceremonial), the video shared on Twitter is doctored. It's edited from another clip showing a Royal Guard shouting at someone who touched him.
FACT CHECK BY NEWSWEEK