Fake Facebook Ad Claiming Lindsey Graham Backs the Green New Deal is Actually a Test for Zuckerberg
Lindsey Graham is a close ally to President Donald Trump and a staunch conservative from South Carolina.
That's why it may seem odd to see a Facebook ad claim the prominent Republican has not only endorsed Rep. Alexandria Ocasio-Cortez's (D-NY) ambitious climate change initiative, but that he's also rallying his GOP colleagues to do the same.
That statement of support, however, is fake. It's the product of splicing together video to make it appear as truth, and it's by design in order to test one of the world's largest social media platforms.
"People believe it, that's what's just shocking. A lot of people think it's real, and that's what frightens me," Adriel Hampton, the man behind the video, told Newsweek. "That's what I think is problematic, and I think that Congress needs to take it incredibly seriously."
Hampton, who's the creative director at the digital strategy and advertising firm Adriel Hampton Group, had the video created after Facebook co-founder and CEO Mark Zuckerberg made it clear to lawmakers this week that his company does not—and will not—fact-check political ads, even if they contain false information. Zuckerberg said the revenue from political ads was too minuscule to justify the controversy that's arisen, adding that it's "important that people can see for themselves what politicians are saying."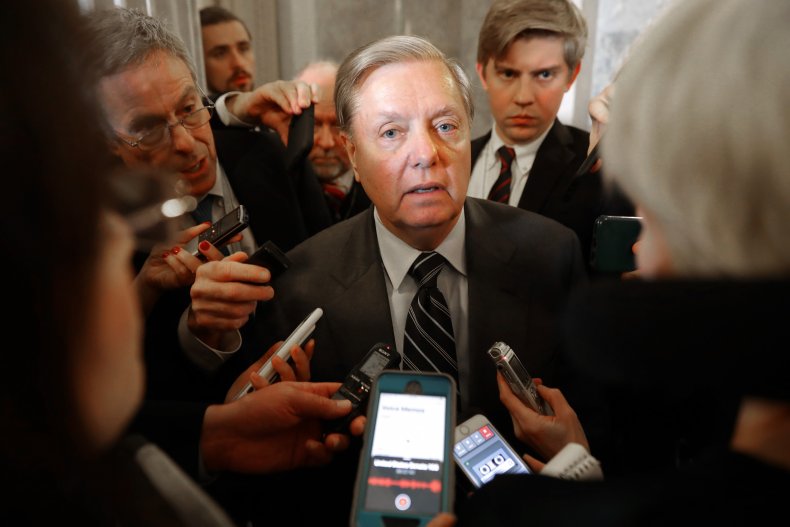 It was the 35-year-old tech mogul's exchange with Ocasio-Cortez during the congressional hearing on Wednesday that inspired Hampton to conjure up the idea to have a friend edit video and make it appear as though Graham and other Senate Republicans have touted the progressive freshman's plan to combat climate change.
"Would I be able to run advertisements on Facebook targeting Republicans in primaries saying that they voted for the Green New Deal?" Ocasio-Cortez asked Zuckerberg. "I mean, if you're not fact-checking political advertisements, I'm just trying to understand the bounds here."
Zuckerberg responded that she would "probably" be able to do so.
"I think lying is bad, and I think if you were to run an ad that had a lie, that would be bad," he elaborated. "That's different from, in our position, the right thing to do to prevent your constituents or people in an election from seeing that you had lied."
Hampton said he believed Zuckerberg's argument was "great, until you take money from false advertising."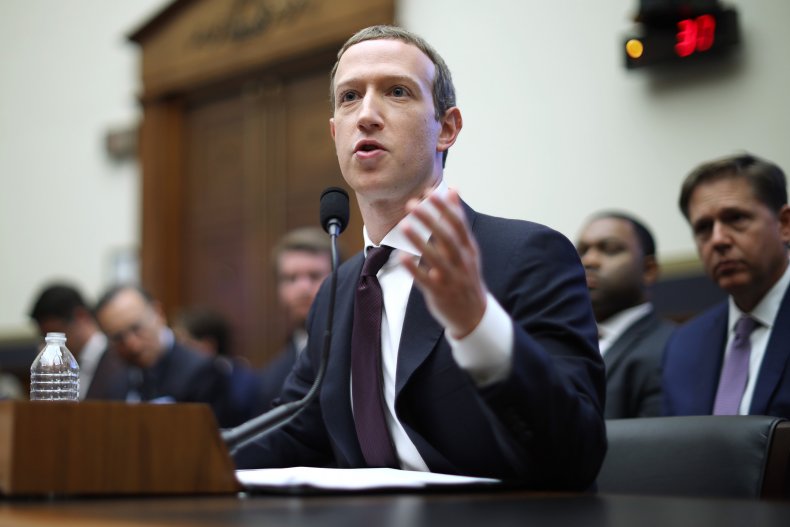 So, Hampton had the ad created just as Ocasio-Cortez described: a false claim that a Republican has endorsed the environmental proposal that many GOP lawmakers often classify as socialism. In reality, Graham has branded the Green New Deal as a "disaster" that would "destroy the American economy."
"When I saw the video of Alexandria Ocasio-Cortez asking Zuckerberg if she could advertise that her Republican opponents supported the Green New Deal and he said, 'probably,' I thought, 'well, gosh, we should test that,'" Hampton said.
After submitting the video as an advertisement this week to Facebook, it was approved overnight with zero questions asked.
"It just shows you that not only is Facebook not enforcing any kind of truth in advertising, there's no tools for people to get it to the fact-checkers—that I can see—and people believe it," Hampton said.
The video includes generic remarks about the environment from prominent Republicans like former President Ronald Reagan and former President Richard Nixon before turning to modern-day GOP politicians, including Graham. It even shows an image of the South Carolina Republican and Ocasio-Cortez embracing one another. In the corner of the video is a watermark of a fictitious group: Conservatives for a Green New Deal.
"From a Republican point of view, I think we need to look at the science, admit that climate change is real. Simply put, we believe in the Green New Deal," the 90-second video shows Graham saying. With footage laid over a portion of his remarks, the creator was able to depict the fake endorsement by editing two separate audio clips into one.
Graham's office did not respond to Newsweek's request for comment about the video, his stance on the Green New Deal or his take on Zuckerberg's refusal to fact-check political ads.
The Facebook page that posted Hampton's ad, The Really Online Lefty League, is a liberal political action committee, where Hampton is the treasurer. He said they often create and share parody posts and videos.
Facebook has independent organizations that fact-check its content, aside from political ads. But Russian trolls used the site ahead of the 2016 election to sow political discord and false information to the American people, a practice that continues.
Zuckerberg told Congress he believes new mechanisms and monitoring systems they've put into place have helped stem the flow of fake accounts and false information from being spread like a digital wildfire. But politicians, and people like Hampton, have said it's still not enough.
"It shouldn't be up to one man or one company to decide for a country what truth in advertising in politics looks like," Hampton said. "And we need to have a robust conversation around that, which includes where Mark Zuckerberg is not the decision-maker."