Fake Health Inspector Robbed Fast Food Restaurants: Police
Police in Nevada are attempting to identify a man who is suspected of posing as a health inspector in order to rob two fast food restaurants.
The Las Vegas Metropolitan Police Department issued a press release on August 2, calling for the public's assistance. Police said that both robberies occurred on July 3.
Police also shared a video of the suspect while he allegedly attempted to trick the fast food workers.
In the video, the suspect can be seen speaking to one employer while holding a clipboard.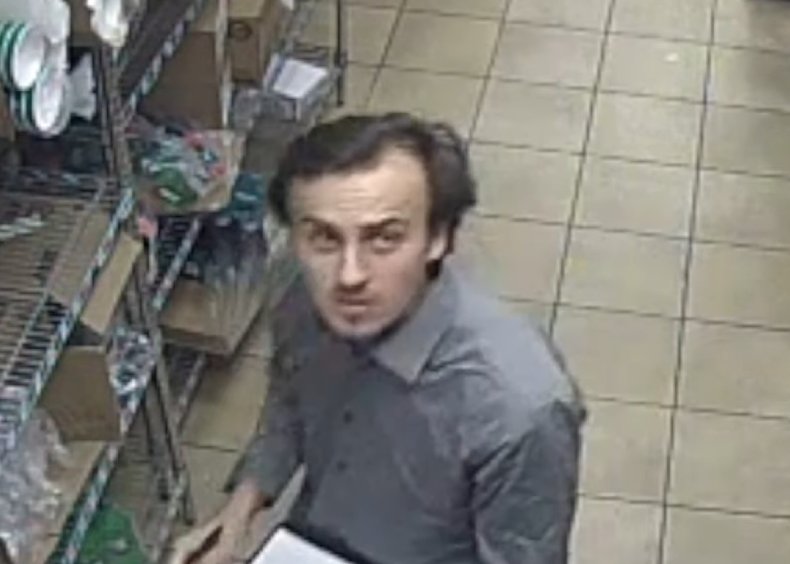 At one moment the suspect looks directly at the camera while folding back the papers on his clipboard.
In both fast food restaurants, "the suspect entered the business claiming to be an inspector and convinced employees to open their safe," the press release said.
"After taking money from the safe, the suspect fled the area.
"He is described as a white male, 25-35-years old, last seen wearing a blue button-up shirt and black pants."
Anyone who recognizes this suspect or has any information about these incidents is urged to contact LVMPD Spring Valley Patrol Investigations at 702-828-2639 or by email at SVACPD@lvmpd.com. To remain anonymous, contact Crime Stoppers by phone at 702-385-5555, or on the internet at www.crimestoppersofnv.com.
Newsweek has contacted the Las Vegas Police Department for comment.
In July in Las Vegas, the police also dealt with two individuals who were accused of robberies at multiple stores in the city.
Eugene Davis, 35, and Angela Sharp, 27, led the police on a high-speed chase on July 21 following attempts to apprehend them.
The pair were accused of four separate heists to steal large amounts of energy drink Red Bull over the span of a week.
In the first incident, police said that a man matching Davis' description entered a Smart & Final store on July 13.
Employees said the suspect stole 20 cases of Red Bull. When one worker confronted him, he reportedly said: "Don't approach me. I have a firearm. I will use it if you approach."
On July 14, Davis was allegedly seen "acting suspiciously" at a Costco store. He had a "cartful of Red Bull cases, a Dell laptop computer, and a security camera," according to police. A loss prevention officer spotted him trying to leave the Costco through a side door without paying.
When they were caught police said they found approximately 190, mostly unopened, cans of Red Bull in the car. Sharp admitted to the theft on July 20 and reportedly told police "she did [it] because she is addicted to Red Bull."