Fake Kim Jong Un 'Kicked in the Leg' After Approaching North Korean Cheerleaders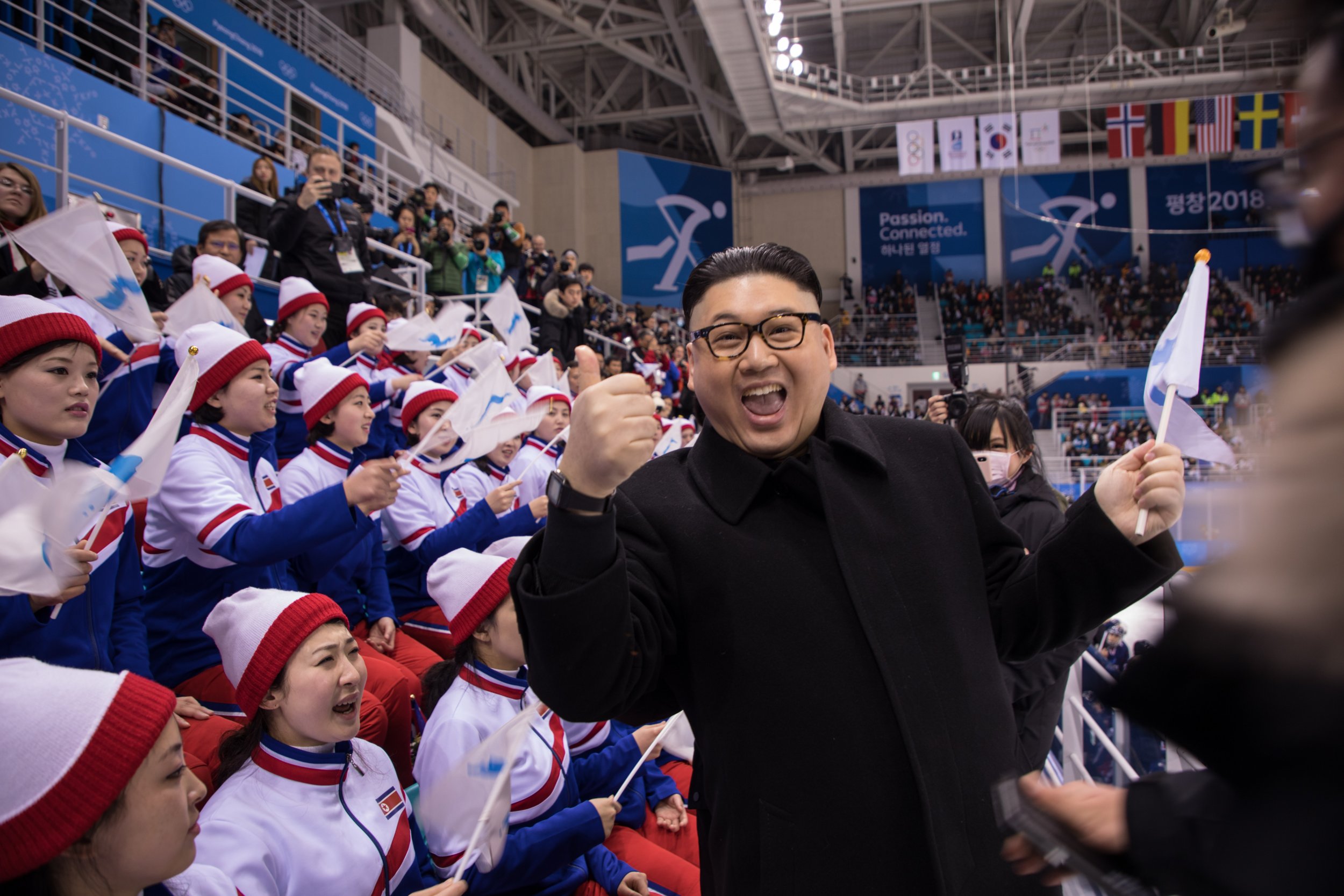 A man impersonating North Korean leader Kim Jong Un surprised the North Korean cheerleaders attending the ice hockey match between the united Korea team and Japan on Wednesday.
The lookalike approached the group waving a united Korean Peninsula flag as the game, which Japan would end up winning 4-1, was drawing to a close. Reactions were mixed between amusement, puzzlement and even indifference. In a video shared on Twitter by The Washington Post correspondent Vincent Bevins, one of the women looks so absorbed in the game that she breaks ranks to rise to her feet as the impersonator is blocks her view.
"Some of them looked really surprised when they saw me, some of them were laughing, some of them were horrified," the Hong Kong–based impersonator told Newsweek over the phone after the incident.
The lookalike, who calls himself Howard, comes from Australia and is of Chinese descent. He says he was asked to move away from the cheerleaders and told to sit down. "They got really nervous, the security guards," he said. When he was back in his seat, Howard kept on waving the united Korean Peninsula flag as the match was still ongoing, when three guys grabbed him, saying something he could not understand in Korean. "They were very obviously very angry and tried to make me leave," he said.
"I suspect they were North Koreans who were minding the cheerleaders, they were kicking me in the leg," Howard added. Even though he was not able to identify the men as belonging to the cheer squad, he said the way that they acted was unlike anything he had experienced before in South Korea.
"There was something very old-fashioned, the haircuts were old-fashioned, but maybe I'm wrong," he said. "They were quite rough, and I've never encountered security like that in South Korea. If they were South Koreans and were working for the government then that's even worse because you aren't supposed to do that," he added.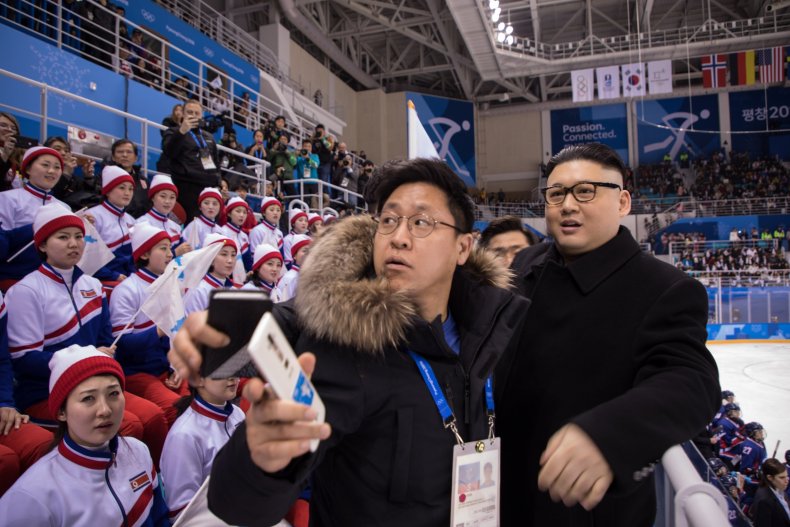 The South Korean authorities then got involved, and the men left. "When the police got involved, they did not know what to do with me," he said. "They got a translator and said I needed to go to the police station for my own protection. The translator was telling me I could not leave until the cheerleaders went home." Howard was eventually able to leave about 30 minutes later.
The whole incident surprised the impersonator. "I expected it would raise some eyebrows, but I didn't expect it to be so dramatic. After all, what's wrong about waving a flag and cheerleaders? We're supporting the same team.... Get a sense of humor," he said.
"They are here in South Korea, they should learn what being a democracy is about. In South Korea you have freedom of speech and you have political satire, and they need to understand that, that people here can speak their minds without any kind of physical retaliation," he added.
The North Korean cheerleaders have been under strict surveillance during their stay in South Korea, constantly accompanied by North Korean minders or South Korean officials. During an open-air performance on Tuesday, police were at hand to ensure the women could not be approached.
Despite the outcome of the encounter, Howard is a fan of the cheer squad and wanted to congratulate them on their performance. "They are so professional," he said, "Although I hate the regime, I can still admire their art as a performer."