'Fake News!' Following Donald Trump, These Other World Leaders Have Blamed the Media for Troubles at Home
President Donald Trump popularized the term "fake news" to describe unflattering media narratives during his 2016 presidential campaign, and, since his election, has continued to use the phrase to brand articles critical of him and his policies. A number of other world leaders and their officials have caught on.
As recently as Wednesday, Trump used the "FAKE NEWS!" label to dismiss 92 percent of the coverage on him that was "negative on ABC, CBS and ABC." He cited a recent study by the conservative-leaning Media Research Center, and that same day he used the expression when telling a crowd of supporters in Erie, Pennsylvania, that he only believed in polls that showed Republicans were doing well.
"I believe in polls. Only the ones that have us up, because they're the only honest ones. Other than that, they're the fake news poll," Trump said. "Fake news. Fake news. You know they take these polls, they show them, I said, that can't be right. What they want to do is keep you out of the voting booth."
National Security Action, a progressive advocacy group based in Washington, compiled a list of times that other governments used the term "fake news" to counter bad press at home and abroad, or referenced Trump's own attacks on media to justify their similar distrust of journalism. The following, which includes entries of this list and others selected by Newsweek, shows how Trump has influenced others, some of whom he himself has criticized for undermining democracy.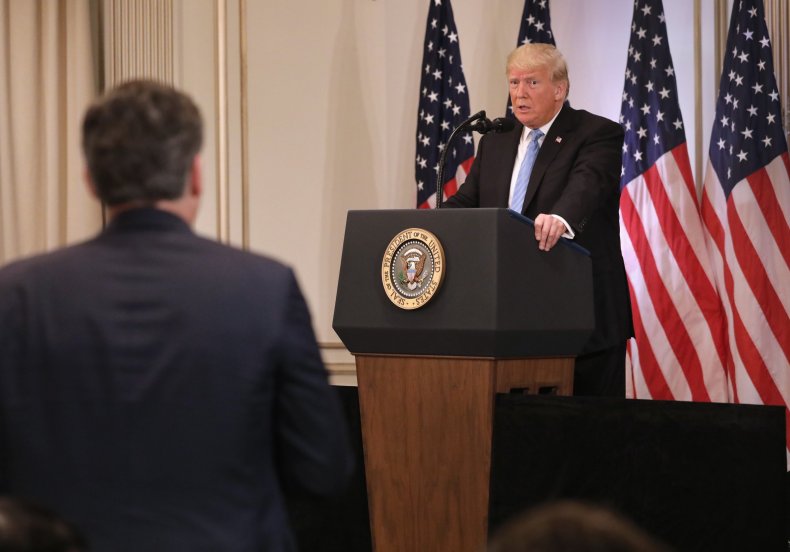 Syrian President Bashar al-Assad
The U.S. has long supported efforts to overthrow Syrian President Bashar al-Assad, which the West has accused of war crimes, but Russian and Iranian support has allowed him to mostly overcome his country's 2011 rebel and jihadi uprising. In response to an Amnesty International report alleging that his government was responsible for thousands of secret prison deaths, Assad told Yahoo News in February 2017 that "we are living in a fake-news era."
Philippines President Rodrigo Duterte
Notorious for his hard-line stance against drugs and unfiltered remarks to press, Philippines President Rodrigo Duterte has actually gotten along quite well with Trump for the most part. The two share a particular distaste for media criticism. Responding to a report in local news outlet Rappler alleging that one of the president's top aides intervened in a warship procurement deal, Duterte told off one of the site's reporters in January by saying, "For your information, you can stop your suspicious mind from roaming somewhere else. But since you are a fake news outlet then I am not surprised that your articles are also fake."
Turkish President Recep Tayyip Erdoğan
The U.S. and Turkey were initially close partners in Syria, but when the Pentagon began backing Kurdish fighters Ankara considered terrorist organizations, the relationship soured. Turkish forces and allied Syrian rebels overtook a Kurd-held district of northwestern Syria earlier this year, and Erdoğan dismissed persistent reports of mounting civilian casualties as a result of the Turkish incursion, calling them "fake news" in a February speech to supporters of his ruling party, according to Hurriyet Daily News. The same outlet reported in August that Turkish authorities were investigating "fake news" reports about the country's struggling economy.
Cambodian Prime Minister Hun Sen
The ruling Cambodian People's Party has increasingly consolidated power at home and moved to restrict criticism by shuttering a news outlet and banning the opposition party. Trump has not devoted a ton of policy to the Southeast Asian nation, but Cambodian Prime Minister Hun Sen praised the Republican leader's war on mainstream media outlets tracking corruption, repression and sex trafficking in Cambodia. Speaking at a graduation ceremony in August 2017, Hun said he "would like to send a message to the president that your attack on CNN is right. American media is very bad," according to The Cambodia Daily, a leading newspaper later shut down by Hun's administration.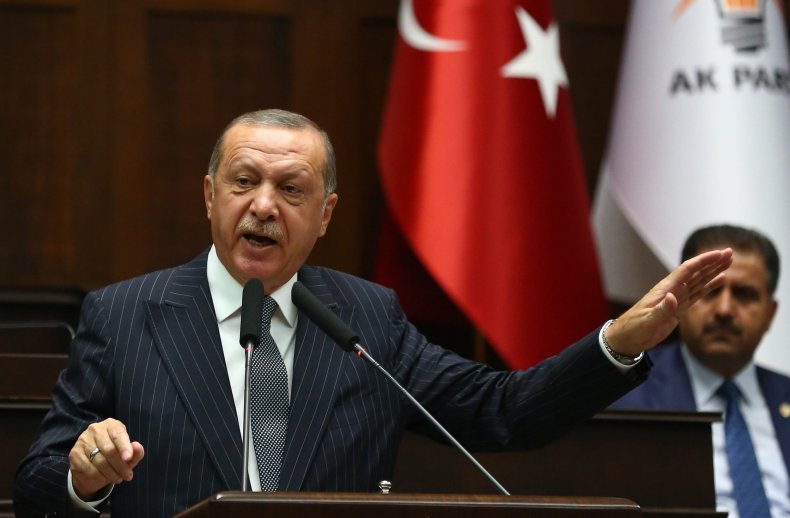 Myanmar State Security Official U Kyaw San Hla
The U.S. laid out sanctions against Myanmar due to its treatment of its Rohingya community, which the country's government does not officially recognize and has sought to expel. Speaking to TheNew York Times in December, state security official U Kyaw San Hla denied the existence of the Muslim minority group, saying "there is no such thing as Rohingya" and that "it is fake news."
Venezuelan President Nicolás Maduro
Trump said that "every option is on the table with respect to Venezuela" as the country undergoes political and economic turmoil blamed by the U.S. on its socialist leadership. Venezuelan President Nicolás Maduro claimed the country was "being exposed to bullying by the world media" in a July 2017 interview with Russia's state-run RT outlet, saying foreign outlets "spread lots of false versions, lots of lies" and that "this is what we call fake news today, isn't it?"
Former Malaysian Prime Minister Najib Razak
Najib Razak served as prime minister and finance minister of Malaysia until May, when his ruling coalition lost amid allegations that he misused billions of dollars from the state fund 1Malaysia Development Berhad. He was arrested last month for his role in the scandal, but claimed during an April 2017 speech at the World Association of Newspapers and News Publishers Asian Media Awards that accusations against him were "fake news."
Israeli Prime Minister Benjamin Netanyahu
The Trump administration has aligned itself closely with Israel, and the country's Prime Minister Benjamin Netanyahu has embraced the U.S. leader amid legal troubles at home. After a number of local media outlets claimed that Netanyahu's office requested a $500,000 upgrade for his wife's vehicles, he tweeted in May that it was just "another example of fake news."
Hungarian Prime Minister Viktor Orban
Hungary's right-wing government has been praised by the Trump administration for its anti-immigration measures, including a massive border fence. At home, Hungarian Prime Minister Viktor Orban has been accused of pushing the country toward authoritarianism. When a man identified himself in May as a reporter for local news site Index, which has criticized his policies, Orban replied, "It's a fake news factory, I don't talk to them."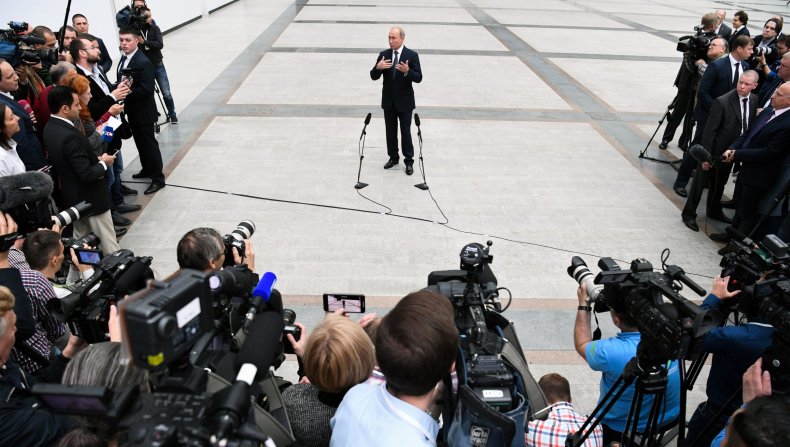 Russian President Vladimir Putin
One of the most frequent targets of Trump's "fake news" allegations are articles saying that his campaign team colluded with Russia to secure his victory in the 2016 presidential election. Russian President Vladimir Putin reportedly blamed "fake news" for sabotaging a mutual effort between himself and Trump to restore ties between Moscow and Washington. The two have their differences, however, including conflicting views on the war in Syria, where Russia has defended Assad. When asked whether the Syrian leader was behind an alleged chemical weapons attack that prompted a cruise missile attack by the U.S., France and the U.K., Putin told Austria's ORF outlet in May, "We believe it is fake news, used as a pretext for the missile attack, which is a violation of international law."
Chinese Vice Commerce Minister Wang Shouwen
Trump has accused China of unfair trade practices and of stealing U.S. jobs. Responding to allegations that Beijing forced foreign companies to share technology before entering the country's market, Chinese Vice Commerce Minister Wang Shouwen called such reports "fake news" and "groundless" in April, according to China's official Xinhua News Agency.