Famed Psychic Warns Putin: 'Mind Power' Will Block Nuclear Weapons
Uri Geller, a well-known illusionist and self-proclaimed psychic, has offered the world his services in stopping Russian President Vladimir Putin from starting a nuclear war.
In a letter posted Tuesday on Twitter, Geller said he would use "every last molecule of my mind power" to prevent the leader from launching a nuclear attack.
The Israeli-born magician/psychic first rose to international fame in the 1970s after an appearance on The Tonight Show Starring Johnny Carson, during which supernatural debunker James Randi tried to show that Geller's claims about having special mind powers were a ruse. Though Geller said his powers were not strong enough to perform his tricks on The Tonight Show, he later appeared on numerous other TV programs, where he would routinely bend spoons and other objects, purportedly with his mind.
In Geller's letter to Putin, he told the Russian president that any plans he may have for a nuclear attack would "backfire." He also implored those who read the message to "please stop what you're doing right now—and just take five seconds out of your day to visualize a radiant, energetic force field' like a dazzling, golden shield in the sky that will deflect and turn back any nuclear warheads that Putin attempts to deploy!"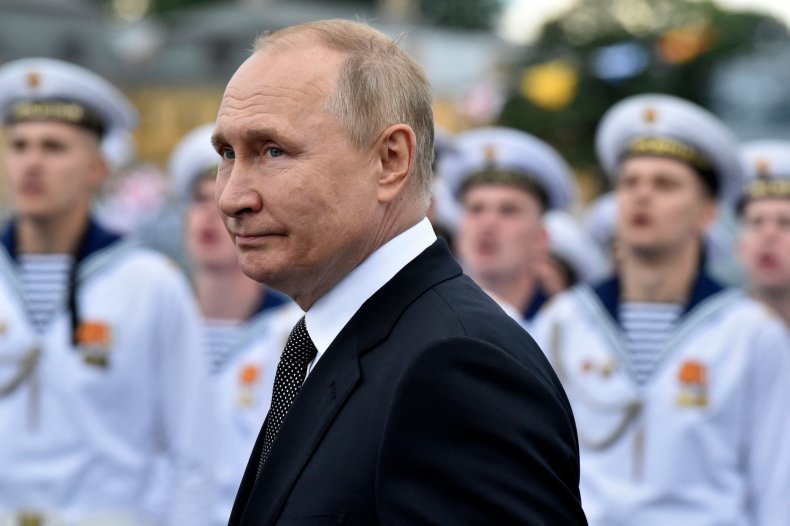 Geller's letter continued, "As well as harnessing this immense energy of all our combined Mind Power there are also forces far, far greater than you can imagine that I am sure will intervene to prevent you from starting a nuclear war. They are watching and waiting and they will STOP you. Do not contemplate this dire course of action. Please take heed: if you proceed it is Russia and its people who will suffer the most. Your mission control computers will crash, your navigation systems will fail and your missiles will malfunction!"
Geller also posted a short video on his Twitter account in which he discussed China's and Russia's nuclear capabilities. In front of a backdrop depicting a nuclear mushroom cloud and a photo of Putin, he announced his warning about any potential nuclear threat and said he's "serious about it—very."
On Wednesday, he seemingly referenced the warning to Putin with another Twitter post. The message simply contained a GIF from the movie X-Men: First Class that shows the character Magneto repelling a barrage of rockets by using his superpowers.
Putin allies and Kremlin-backed media outlets have made veiled threats about the possible use of nukes to threaten Western countries that support Ukraine in its war with Russia. But Putin himself recently said that such weapons should not be an option in any conflict.
"We proceed from the fact that there can be no winners in a nuclear war and it should never be unleashed, and we stand for equal and indivisible security for all members of the world community," he wrote Monday in a letter to a conference on the nuclear weapons nonproliferation treaty, Reuters reported.
Newsweek reached out to the Russian Foreign Ministry for comment.