Family Adopts Rejected 15-Year-Old Dog to Give Her 'the Best Final Days'
The story of a senior dog returned to a shelter over a decade after being rescued from the same place has a happy ending. After a social media callout, Netty, who was returned to the shelter by her owners of 12 years, now has a forever home where she will live out "the best final days."
"Netty is 15-years-old. She was adopted from our shelter in 2010 and recently returned due to what the owners said was incontinence," said the Pennsylvania branch of the Society for the Prevention of Cruelty to Animals (SPCA) in an August 7 social media post.
Thanks to medication, Netty was soon doing "wonderfully," but her "overall demeanor was fairly depressed," Gillian Kocher, director of public relations at Pennsylvania SPCA, told Newsweek. "Due to her age, and that she was fighting a [urinary tract infection], she lived in our shelter's hospital. Of course, she got lots of attention, but for the most part she slept."
Kocher continued, "The return rate for animals varies and it doesn't happen often, but when it does, especially after a decade, it can be heartbreaking. It was in Netty's case. But, instead of focusing on what had happened to bring her back to us, we chose to focus on how we can give her the best final days."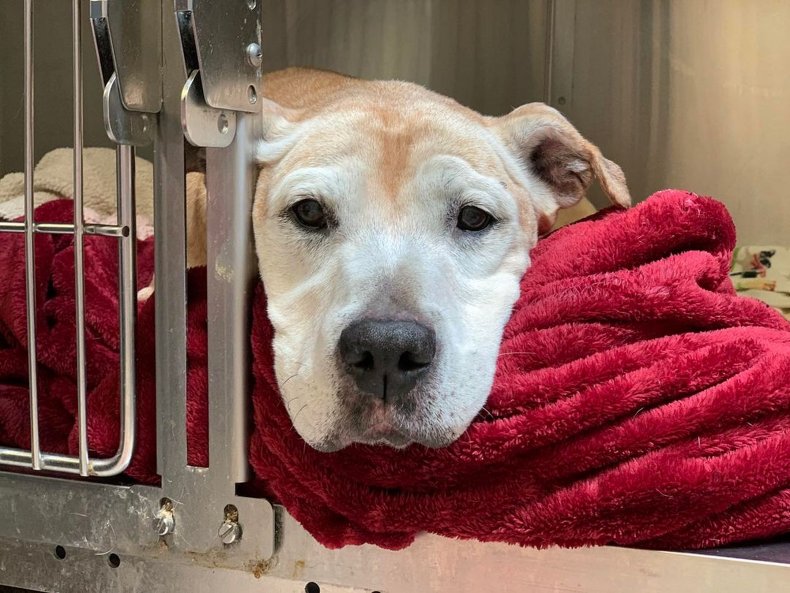 Netty had no interested adopters until the shelter shared her story on social media. That led to her new family: Amy Kidd, owner of Pocopson Veterinary Station in West Chester, and her husband and children.
"Our ultimate goal is to love and spoil her every day she has left. We know we don't have years left with her, but she will be treated like the queen she is from now on," Kidd told Newsweek.
Kidd was notified about Netty by one of her receptionists, who had seen the Facebook post. Kidd's family rescues only senior pets, especially those with special needs.
"As a small-animal veterinarian, I see the needs of senior pets on a daily basis. The puppies and the kittens are always adopted, leaving the puppy mill moms, adult pets, and seniors to be euthanized," she said.
"Having lost our 12-year-old rescue Pointer to cancer last month, we have been keeping our eyes out for our next family member. Then came that face," Kidd said.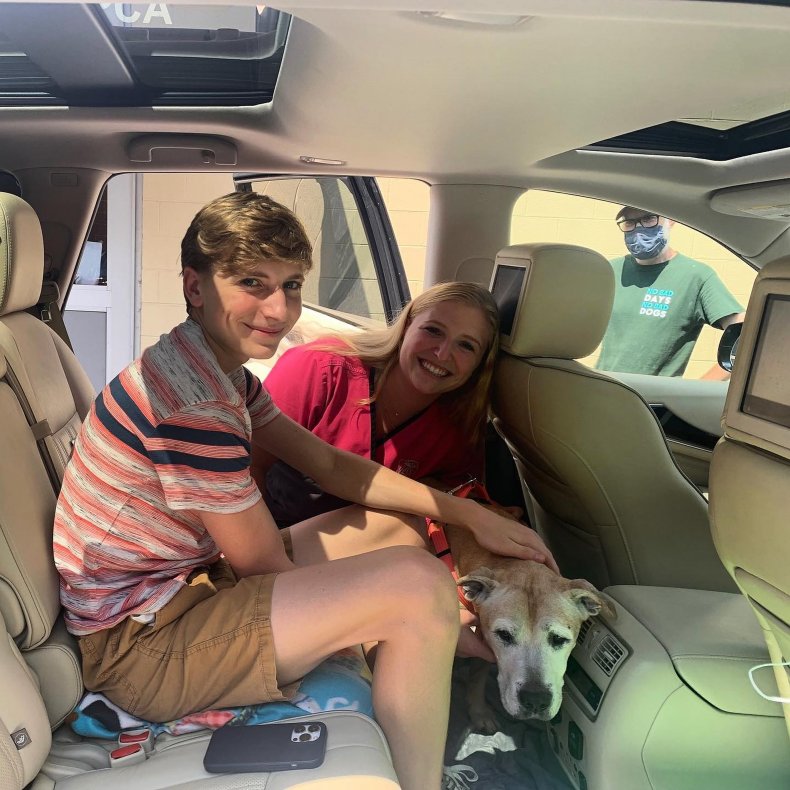 Kidd's daughter and two sons raced to Philadelphia with two of their other senior dogs. The kids "fell in love" with Netty, who got along with their other dogs immediately.
"They drove her home and she immediately fell asleep on the couch with my daughter surrounded by our six house cats," Kidd said. "By the next day, she was dragging my kids' bean bag chair around the house and then curling up in it to take a nap. As it is now her security blanket, she does not go far without it.
"We bought a huge teddy bear just so she can cuddle anytime she wants. Since my husband works from home, she has been supervising his Zoom calls outside on an elevated pet bed with her blanket," Kidd said.
Netty had been made comfortable by the SPCA team, but as Kidd explained, being in a shelter cage is a hard experience for any animal, let alone a 15-year-old dog with arthritis.
Although her previous family was unable to look after her because of her incontinence, Netty is now on medication and makes frequent trips outside. But she has other health problems. A series of X-rays done by Kidd showed that she suffers from arthritis in her lower spine and elbows.
But Netty couldn't be in better hands, now living with a vet and her family.
"We are lucky enough to have a pool, so we started some water physical therapy," Kidd said. "She was not a huge fan at first but is getting the hang of it. Hopefully, we can undo the four months of being sedentary over time. I also am suspicious she has a respiratory problem called laryngeal paralysis that can be life-threatening and may require major surgery in the future."
While Netty's story has a happy ending, Kidd and the SPCA are aware of how many other senior dogs don't get theirs.
"At the Pennsylvania SPCA, we are dedicated to our animals for life," Kocher said. "That means whether they come back to us in a day, a year or in 10 years, we will always accept our animals back. And we will do everything we can to find them another home."