Shelter's Longest-Staying Dog Finds 'Perfect Match' After Almost 2 Years
A Virginia rescue shelter's longest-staying resident finally found a forever home, after 700 long days.
Shinobi has been at Lynchburg Humane Society (LHS) since September of 2020, and despite waived adoption fees and constant social media call-outs, the dog had no luck finding himself a family. In fact, the shelter even said he rarely had visitors to his room.
The dog, described by the shelter as the "happiest" dog who is a big fan of booty scratches and belly rubs, is finally at home with a local family. Now, he's settling in and spending all the time in the world playing tug-o-war and sleeping on their couch.
"Shinobi's adopters saw his story and reached out to us! The whole family came in, parents and two young sons, to meet Shinobi and they fell in love. He went home with them for an extended slumber party and after a few days, they decided he was the one for them," Claire LeFew, LHS' development and communications manager, told Newsweek.
"Shinobi's story really showcases how important community is in animal welfare. Shinobi had staff, fosters, and volunteers who all took the time to know him and love him. He had so many advocates that worked together to get him into a great home."
"We're so thankful he finally has a bed, and toys of his own and can't thank his adopters enough for giving him everything he's always deserved," wrote the shelter on Facebook, with images of Shinobi with his new human sibling.
Shinobi's road to adoption was not only a long one but a joint effort, with the adoption sponsored by a woman named Kelsey Falls from Rustic Edge Designs. It was also all hands on deck social-media-wise for staff at the shelter, who constantly shared updates on Shinobi and his want for love, but to no avail.
"It has been 311 days since Shinobi came into our care," shared the shelter in July 2021. "311 days that he hasn't spent in a home of his own. All of the staff here love him very, very much, but shelter life has been tough on him. He has been on a few petcations over the past year, which he has absolutely loved, but he rarely has visitors to his room."
He might not have found an adoptive home until now, but Shinobi did manage to get his fair share of temporary homes in the form of loving foster families. The families were able to provide a break for him from the shelter and also test out how he fairs in a home.
"In his last few months with us, he was able to go into a great foster home! His fosters sent us photos and updates that ultimately helped us get him adopted by showcasing how great he did in a home environment," LeFew told Newsweek.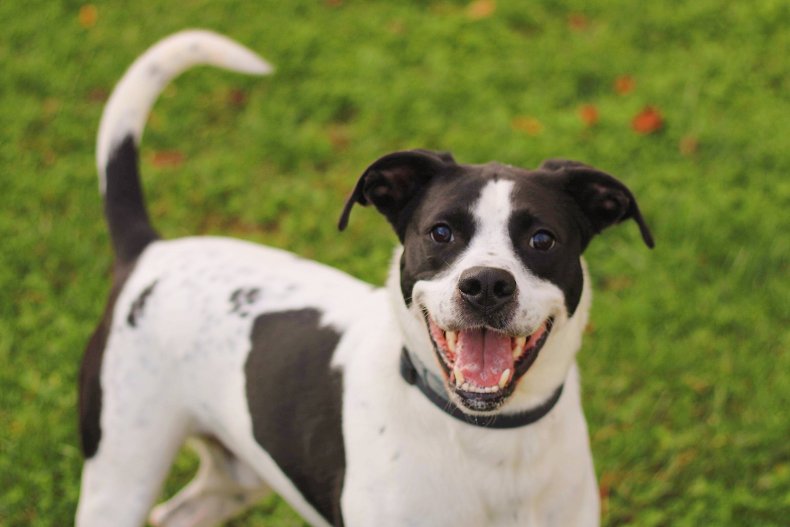 "Shinobi is such a sweet boy!" advocated one foster family in a Facebook post. "He hardly ever sheds and is so soft to the touch! He loves tug-o-war and fetch, but is also a true couch potato who enjoys lying on us at the end of the day to watch Netflix. Shinobi rarely ever barks and is an absolute joy to be around. He loves walks around the lake and does great on the leash as well as in the car! Shinobi knows a few tricks, which he will happily show you for treats of course!"
Despite being an all-loving pet, the shelter found him a little harder to place because of some extra requirements. "Younger dogs and puppies are usually adopted much quicker and Shinobi was about five years old when he came to us. We also knew from his previous history that a home without cats would be best for him," LeFew told Newsweek.
It was a long journey for Shinobi and the shelter, but he's finally got his happy ending.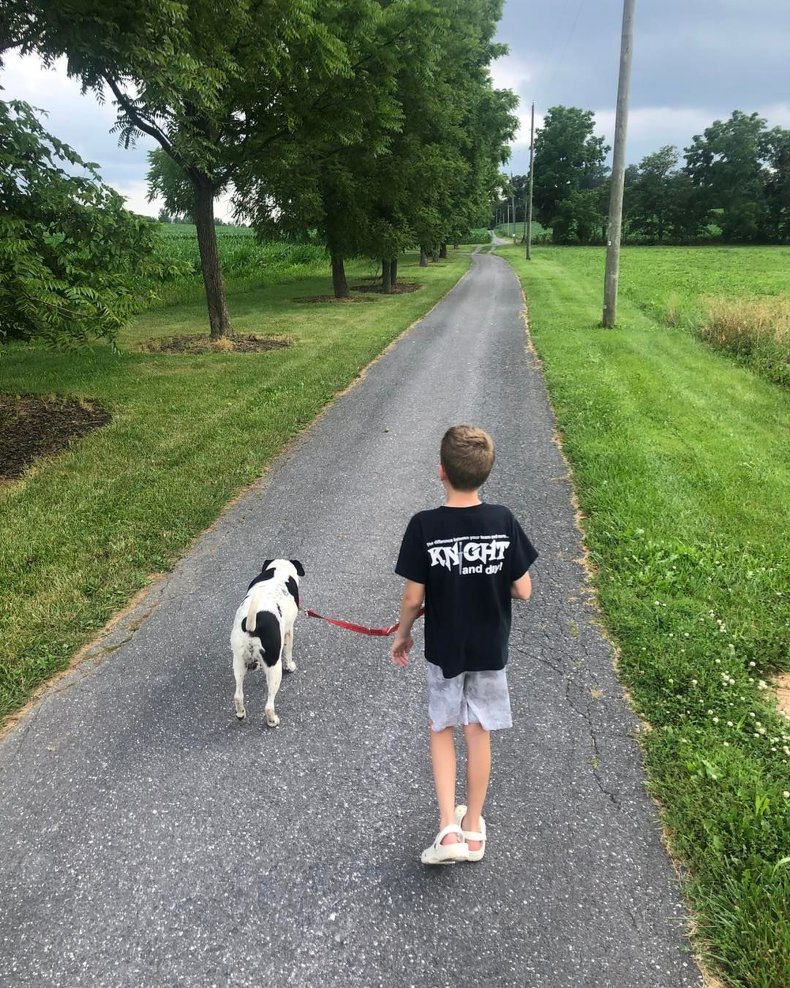 Another dog got his forever home after a couple found him sleeping outside of their room every night while they were on vacation.
Another rescuer, owner u/Sector7Studios, lives in France and adopted a senior dog last year to live with their existing rescues, they explained on Reddit.
They named him Herbie, but their curiosity was piqued after French-speakers kept laughing at his French name, so they decided to look it up.
Another dog befriended a goat, but rumor has it one of them was "friendzoned."
Update 07/21/22, 3:13 a.m. ET: This article was updated with comment from Claire LeFew.