Family Business Ousts President After Hate Email Sent to Pride Organizers
A family-run food business has fired its president after his message to Pride organizers shocked the community.
Jeff von Rotz, the now-former president of Valbella Gourmet Foods in Canmore, Canada, sent the email to coordinators of the town's Pride events on Tuesday. The organizers had reached out to request sponsorship or food donations for a barbeque event during Pride, which is scheduled for September 15-18 in Canmore.
Von Rotz's response quickly lit the flame of a social media firestorm.
"I'm sorry to say but you could not pay me to sponsor anything to do with child grooming tr**ny's [sic]," it read. "Please keep these sick people away from the children of this community, you should be disgusted with yourselves."
He closed with, "I'm sure there's some woke organization mentally ill enough to help you with your event but it isn't Valbella's."
Von Rotz signed off as an "Owner," although his sister Chantal von Rotz later clarified the owners are their parents, Walter and Leonie von Rotz, who founded Valbella Gourmet Foods in 1978. She said that Jeff von Rotz held the title of president.
Screenshots of the email, which referenced conspiracy theories about LGBTQ people grooming victims for child abuse, circulated among LGBTQ messaging groups before taking off on Twitter. Outraged community members rallied behind Canmore Pride and urged boycotts against the business.
Research project Transrespect versus Transphobia Worldwide (TvT) reported that 2021 was the deadliest year for transgender and gender-diverse people, with 375 registered murders. The highest number of murders were reported in Brazil, followed by Mexico and the United States.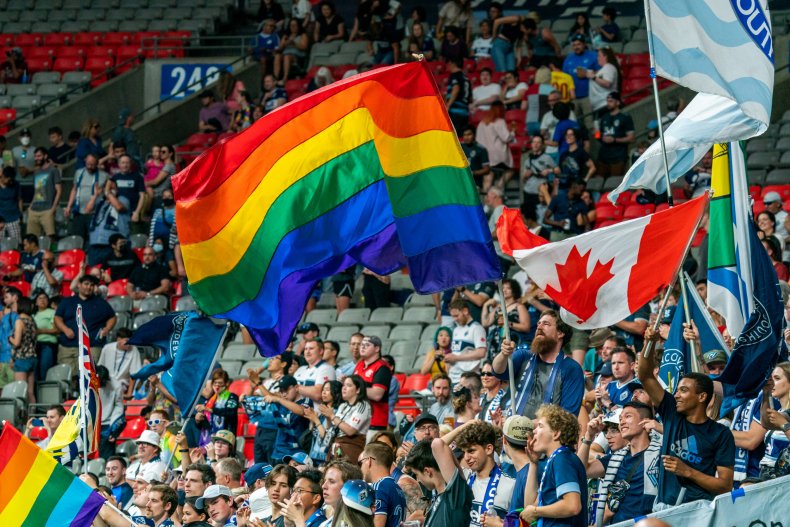 Later that day, Valbella's Gourmet Foods issued an apology and said von Rotz had been removed.
"The owners and leadership of Valbella Gourmet Foods expresses its deepest apologies to the Canmore LBGTQ+ community for an intolerant email that was sent earlier today by one of our former team members," said a statement on Facebook.
"The individual responsible has been removed from the company and its operations. Please accept our sincerest apologies to the entire community and know that the words of the one person do not reflect the opinions of the many people who work as part of the Valbella team," the statement said.
The message met a largely skeptical response, as it was signed off by Chantal von Rotz, sister of the "former team member." Community members demanded further transparency, pointing out that the von Rotz family—including Walter, Leonie, Jeff and Chantal—are all pictured together on the business's "Our Story" page.
Several institutions quickly canceled their partnerships with Valbella Gourmet Foods, including the Banff Centre for Arts and Creativity, Sunterra Market and Jasper Park Lodge. The Town of Canmore also released a statement saying that it stood in solidarity with the LGBTQ community.
Newsweek reached out to Valbella Gourmet Foods for comment.