For some free-spirited globetrotters, quitting the day job to roam the world and live among the beauty of nature is the ultimate fantasy.
With the cost of gas skyrocketing in America, living in an off-grid, energy-efficient home could look more appealing than ever.
And while for most busy working parents, life on the road remains a pipedream, Anna and Michael Roberts made their vision a reality after ditching their conventional lifestyle to travel the U.S. with their five kids in a converted school bus.
The couple, from Kansas City, Missouri, purchased a 40-foot 1995 school bus for $3,500 in November 2019 with the aim of transforming it into a mobile home for themselves and their children.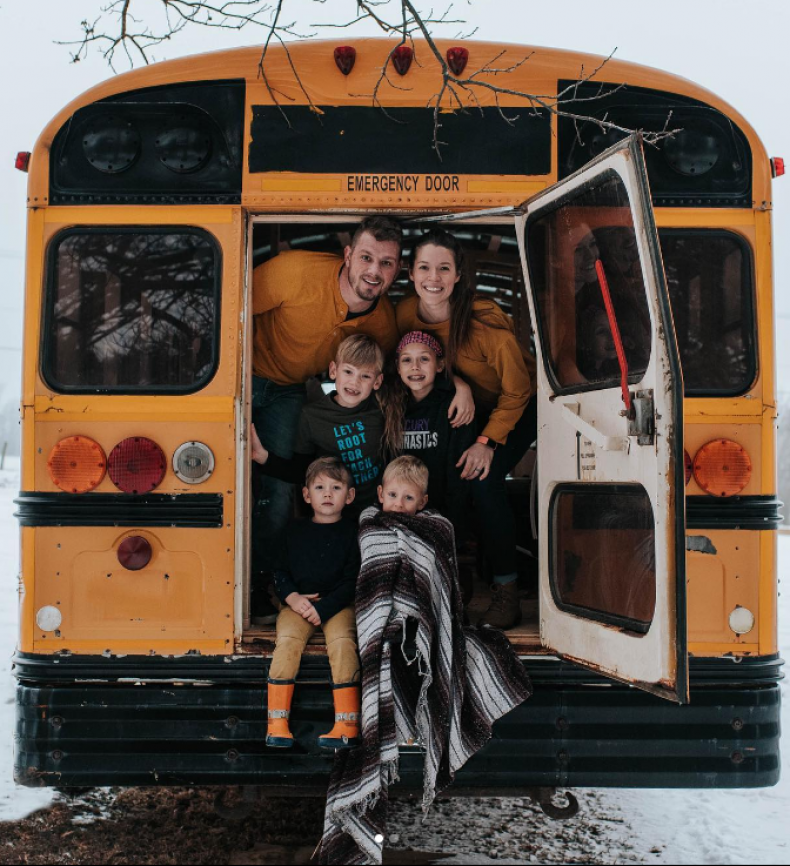 Just one year later the family set off on their incredible trip, deciding to homeschool their kids on the road and becoming full-time content creators—with mom Anna, 36, revealing they save around $1,500 - $2,000 every month on household bills.
Speaking to Newsweek, Anna opened up about how their lifestyle has changed the family's mindset, insisting their small living space has made them realize how few possessions people really need.
"When you get outside the four walls of your home, the bubble of your life, and away from the news, travel outside of your state, you will find that people are kinder than you realized," she said.
"There are so many good and fascinating people out there, it would serve us all to get out, go somewhere new, talk to strangers, ask questions about their lives and get to know them.
"Even though we were pretty minimalistic already, when everything you own fits in a 40-foot school bus, you realize even more how little you really need.
"No matter what kind of life you choose to live, the grass is greener where you water it."
Anna and her husband Michael, 38, who were both homeschooled growing up, met when they were teenagers playing basketball at the same college gym.
The pair tied the knot in October 22, 2005, and have children Elise,12, Micah,11, Elijah, eight, Jude, six, and 1-year-old Nora together.
Before moving into the bus, Michael owned his own home remodeling company while Anna was a stay-at-home mom who ran her own photography business.
As a child, Anna had always dreamed of traveling full-time, and as she watched her kids grow older became determined to create incredible experiences for them all as a family.
"Traveling full-time was a childhood dream of mine. We bought our school bus pre-Covid", said Anna. "Watching my kids get older, I realized we just needed to go for this dream.
"There is no 'perfect' age for traveling full-time with kids, but it doesn't necessarily get easier as they get older and become more independent and involved with friends.
"I wanted to travel WITH them, not once they were out of the house. We wanted to show them so much more of the world and experience it with them."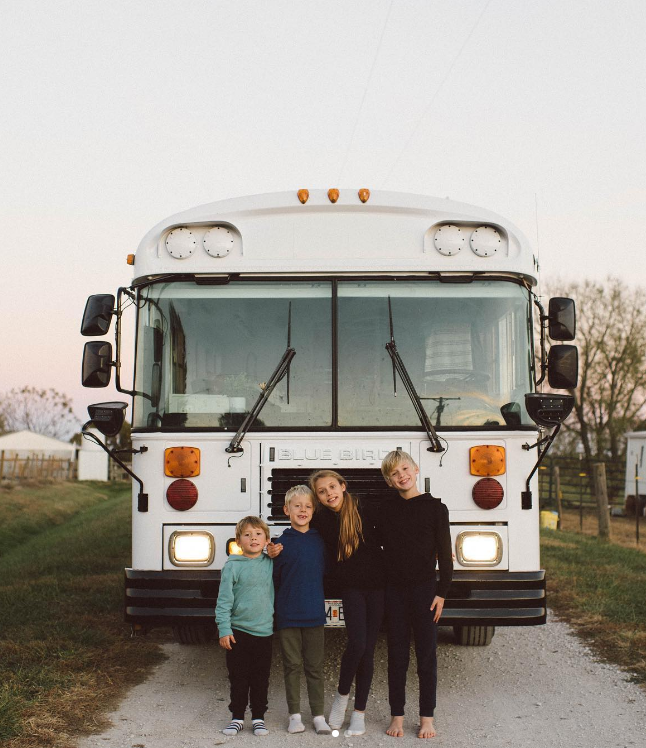 The Roberts family standing outside of their converted school bus
Anna Roberts
After purchasing the bus, the couple spent around $20,000 on renovations before moving in—with Anna admitting that her husband found the concept of minimalist living "a little bit" intimidating.
"I had thought about it for a long time and it's not unusual for me to do things a bit unconventionally," she said.
"After my dad passed away I had been moved to become more minimalistic, so selling, donating and pairing down our belongings to live in such a small space wasn't a huge deal for us.
"The thought of being free to travel and go wherever we wanted whenever we wanted was incredible to me. I'll never forget the feeling when we took off and that became reality."
The family has always homeschooled their children and so while working while traveling was a new experience for the kids, they found it easy to adjust to education on the road.
"The hardest part is working it around traveling", Anna explained. "They like it because they know it allows them to travel, be outside a whole lot more, explore the country, meet people of all ages, and more time to explore their interests, as well as that much-needed and often-neglected-anymore hours to just play and be kids.
"Even if it doesn't seem like they always appreciate this now, I am confident as they get older, they will understand completely the incredible experiences they had.
"Compassion, seeing other people's perspectives, creativity, doing hard things, overcoming fears, entrepreneurship, physical fitness, trying and learning new things, being brave, serving others—all areas I think this experience will benefit our kids now and in the future."
Since setting off on their journey, the couple have become full-time digital creators, licensing photos and video to brands for their marketing purposes, as well as working with tourism boards and brands on Instagram.
The family uses solar energy and are able to boondock for free on Bureau of Land Management land, as well as some other free options, the majority of the time.
While it depends on how often the family moves their bus and to where, particularly with the rising price of gas, Anna said they still save thousands of dollars on household bills.
But despite the family's adventures, there are certain challenges that come with their unconventional lifestyle, from keeping in touch with loved ones, to finding a place to park and keeping track of mail.
Anna explained: "For us, doing fast travel, I often feel like I'm on a never-ending camping trip. And we all know camping can be a lot of work with kids.
"There's frequent, sometimes constant, planning and searching for a place to park, which can get exhausting. The longest we have stayed in one place is three weeks one time, four weeks one time, but typically one to two weeks.
"Depending on the state and what we have going on it could be even less than that, which gets very very tiring. We try to be outside as much as possible, but the small space with 7 people can be a bit much sometimes.
"Getting mail/packages, staying in touch with friends, having adequate service for work, possible breakdowns in remote places, and keeping a consistent school and work schedule, are some of the issues that can be tricky. "
She added: "I miss a bigger kitchen, a really comfy couch, and having clean sheets more often! We miss friends and going to church. And sometimes we miss simple things like how we used to go to the library every week."
Anna, who shares the family's journey on their Instagram account, said their lifestyle has changed how they view resources, explaining they have to be "very careful and strategic" about solar power and water usage, how many clothes they own, and how much trash they create.
"Even when we're at someone else's house we find ourselves still being careful about how much water we're using," she said. "Really important habits for our kids to carry with them in their lives."
Anna said one of the key benefits of their new lifestyle is the time spent together as a family without the separation between work and home life, and the incredible experiences her children are having at such a young age.
"Learning about history, cultures, geography, nature, and wildlife firsthand is a whole different thing than learning from a textbook or video. It's much more impactful and significant," she said.
"Through all of the hiking, kayaking, and other outdoor activities in many different environments we have learned to challenge ourselves, overcome fears and gain new skills.
"The kids get to watch us and learn about budgeting, creative ways to make money, planning routes and locations, and teamwork.
"We have all met so many new people from all walks of life, growing our kindness and compassion toward others."