Family Kicked Off United Flight For Toddler Not Wearing Mask in Viral Video
A family was removed from a United flight to New Jersey after their two-year-old daughter refused to wear a mask. According to United's website, the airline requires "all customers over the age of 2 and employees to wear a face-covering on board," amid the ongoing COVID-19 pandemic.
Twitter user @elizfulop noted: "Today we got kicked off of a United flight going from Denver to Newark because our 2yo [two-year-old] would not 'comply' and keep her mask on," in a post on December 12.
"We just got kicked off the flight because our two-year-old would not put on a mask. I mean we tried... and we're banned off United forever because a two-year-old would not put on a mask," the user said in a video of the incident shared on Twitter.
The video has had at least 4.8 million views since it was first posted, and the tweet has had more than 22,900 likes and 10,400 retweets since it was first shared.
In the video, the girl's father (who was wearing a face-covering) was seen repeatedly attempting to put a mask over her face as she refused to comply and turned her head away.
Later in the video, the child was seen laying in her father's lap without wearing a face mask as a flight crew member announced the plane was nearly ready for take-off.
The video then cut to a shot of the child in the arms of her masked father who had his hand on his daughter's face.
The child was not wearing a mask when a masked flight attendant approached the father to say: "Hey sir. I'm going to have to ask you to grab your belongings and exit the aircraft.
The father noted: "You've got to be kidding me. Why? We're over here holding this mask on her face," as he appeared to hold a face-covering over the child's face."
The flight attendant said: "I'm sorry sir. I gave you another opportunity," to which the father replied: "And I took that opportunity and ran with it. You see this, I'm literally covering her face.
The flight attendant said: "I've gotta ask you to get off this plane."
When the father asked: "Do you guys do this all the time?" the flight attendant replied: "When there's non-compliance, yes."
The father replied: "This is compliance. I'm literally holding it [face-covering] over my daughter's face. This is compliance right here." The attendant adds: "I'm sorry."
A woman, understood to be the girl's mother, was heard saying: "They can't force her. She's literally holding it and she's crying," before the family was seen exiting the aircraft while the child's face was not covered.
In a statement to Newsweek, United said: "We are investigating this specific incident and have made contact with the family. We also refunded their tickets and returned their car seat and bags.
"The health and safety of our employees and customers is our highest priority, which is why we have a multi-layered set of policies, including mandating that everyone onboard two and older wears a mask. These procedures are not only backed by guidance from the CDC [U.S. Centers for Disease Control and Prevention] and our partners at the Cleveland Clinic, but they're also consistent across every major airline."
In a statement back in June, United announced it will "strengthen mandatory mask policies to further mitigate against the spread of COVID-19 and help continue to keep passengers and crew safe.
"While the overwhelming majority of passengers are complying with United's mandatory policy, starting on June 18, any passenger that does not comply when onboard a United flight will be placed on an internal travel restriction list. Customers on this list will lose their travel privileges on United for a duration of time to be determined pending a comprehensive incident review.
"Under this new policy, if a flight attendant notices or is informed of a customer onboard who is not wearing a face-covering and that passenger does not fall within an exception, the flight attendant will proactively inform the customer that for the health and safety of everyone, face-coverings are mandatory for all customers and crew on board.
"If a customer continues to not comply, the flight attendant will file a report of the incident, which will initiate a formal review process. Any final decision or actions regarding a customer's future flight benefits will not occur onboard but instead take place after the flight has reached its destination and the security team has investigated the incident," the statement said.
The carrier joined other Airlines for America (A4A) members—including Alaska Airlines, American Airlines, Delta Air Lines, Hawaiian Airlines, JetBlue Airways and Southwest Airlines—in "vigorously enforcing face-covering policies, putting rigor around rules requiring passengers and customer-facing employees to wear facial coverings over their nose and mouth," A4A announced in June.
"Passengers who do not wear face-coverings could have flying privileges revoked.
"Each carrier will determine the appropriate consequences for passengers who are found to be in noncompliance of the airline's face-covering policy up to and including suspension of flying privileges on that airline," the A4A statement noted.
Mask requirements were introduced across different airlines earlier this year amid the ongoing COVID-19 outbreak.
Three major U.S. airlines—Delta, United and JetBlue—were reported last week to have banned a combined total of more than 1,200 passengers from future flights for refusing to wear a mask on board.
This article has been updated with comment from United.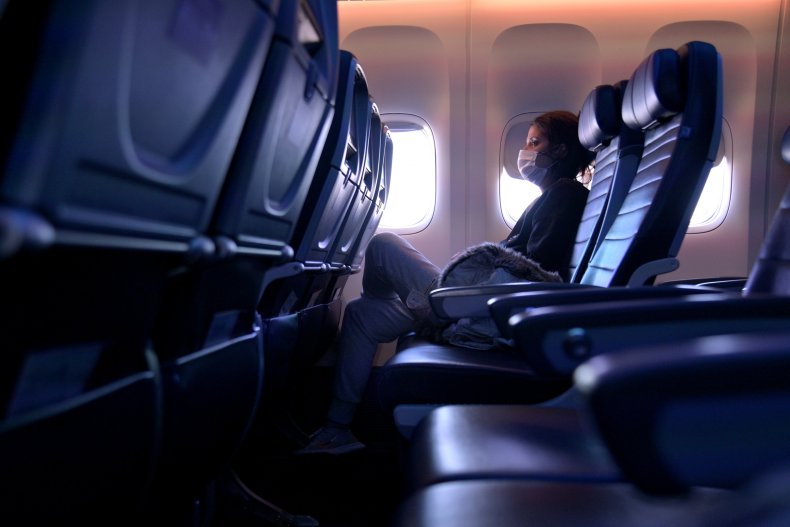 The wider picture
The novel coronavirus has infected more than 72.3 million people, including over 16.2 million in the U.S., since it was first reported in Wuhan, China.
More than 1.6 million people have died worldwide and over 47.3 million have recovered as of Monday, according to John Hopkins University.
The graphic below, provided by Statista, shows the spread of COVID-19 cases in the U.S.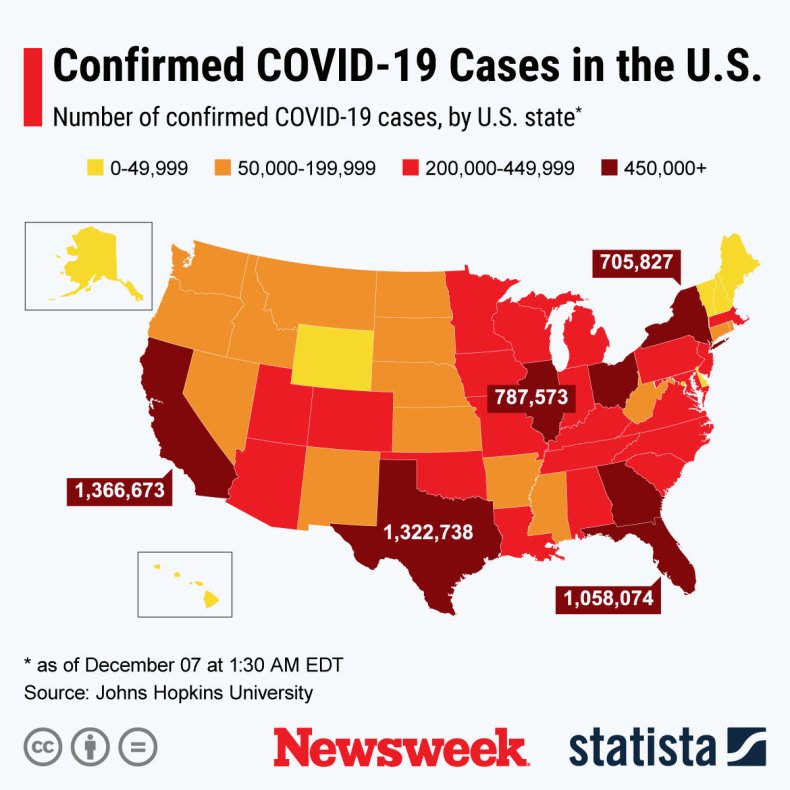 The graphic below, produced by Statista, shows the distribution of COVID-19 deaths among the U.S. population.