Family of Man Who Died in Taco Eating Contest Sues For Negligence
The family of a California man who died in a 2019 amateur taco-eating contest is suing the organizers of the event for negligence.
Marshall Hutchings, the 18-year-old son of the late Dana Hutchings, filed the lawsuit on Monday. According to a report from The Fresno Bee, Dana, 41, "was not made aware of the risks and danger involved in a food eating competition."
In August 2019, Dana died while participating in a taco-eating contest at a Fresno Grizzlies minor league baseball game. According to the Fresno County Sheriff's autopsy obtained by Your Central Valley, the official cause of death was choking. The Fresno Bee report claims that Dana's respiratory system was obstructed by a mouth full of chewed and unchewed food and that emergency resuscitation procedures were unsuccessful.

The Hutchings' attorney, Martin Taleisnik, alleges that because it was a competition specifically for amateur competitive eaters, contestants were likely unable to physically prepare themselves for the undertaking as a professional would.
"That [information] is not always present in an amateur eating contest," Taleisnik told The Fresno Bee. "The conductors of this event should have made the risks known to the competitors and taken steps to protect them."
Additionally, he claims the presence and potential consumption of alcohol further endangered participants.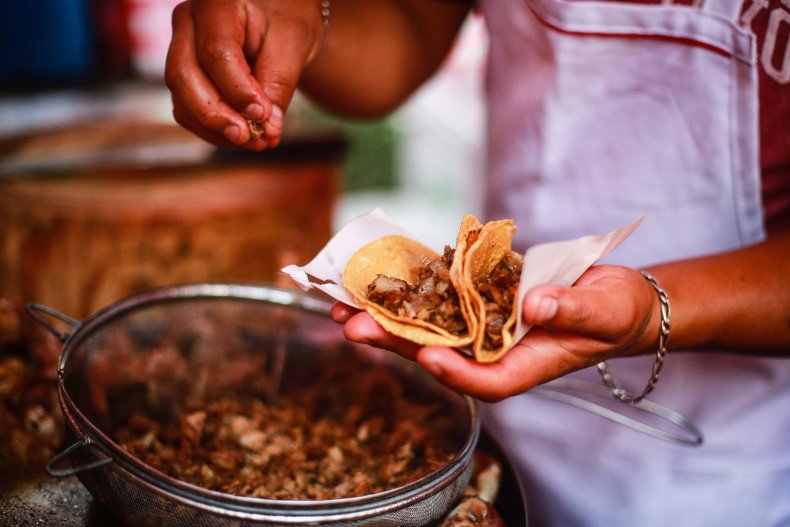 "The lack of information outlining every risk to amateur eaters was omitted and Mr. Hutchings entered the competition with limited information on all the risks he was agreeing to," the lawsuit said. "His assumption of risk was distorted, and therefore, he was unable to assume the risks he was taking when he agreed to enter the competition."
Marshall is seeking monetary compensation for his father's death, but the exact award is currently unclear.
"It's the only way you can potentially compensate somebody for the loss of a loved one, it's not a very good compensation in the big picture however it's one of the only ways it can be achieved," said Taleisnik in a statement to KXAN.
Fresno Sports and Events, defendants in the lawsuit, declined to comment on the situation. In a statement released following the death in 2019, the Fresno Grizzlies emphasized their sorrow and condolences to the Hutchings family.
"The safety and security of our fans is our highest priority. We will work closely with local authorities and provide any helpful information that is requested," they said at the time.
Medical professionals have long been wary of the competitive eating scene. In a Newsweek report, experts warned, "Despite its growing popularity, competitive speed eating is a potentially self-destructive form of behavior."