Pretend Your 'Family Owns Slaves' Homework in Tennessee Causes Uproar: 'The Assignment Was Wholly Inappropriate'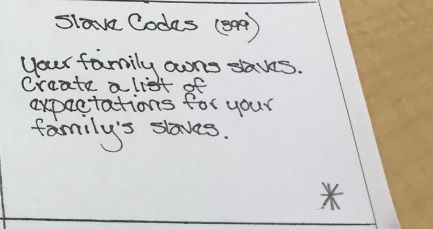 A school district in Tennessee apologized after its students were assigned homework which asked them to pretend their family owned slaves.
Sunset Middle School, in Brentwood, was criticized after it was revealed that students there were told to "create a list of expectations for your family's slave" as part of their 8th-grade social studies homework.
Dan Fountain, whose 13-year-old sister attends the school, posted a photo of the homework assignment to Twitter, asking, "What are y'alls a thoughts on my sisters HW?"
The assignment also asked children to "create a political cartoon depicting immigrant labor in the United States" and write a song or poem to "compare and contrast the lives of plantation owners and their slave population."
Speaking to the Tennessean, Fountain said that the teacher did not fully explain the assignment or acknowledge the racial sensitivities.
According to the Tennessee Department of Education, around 70 percent of the students at Sunset Middle School are white.
"It initially made me angry. The fact that my sister is one of a couple of black kids at her school, I can't let things like this sit around and slide," Fountain said.
"The way the questions were phrased and laid out had no academic merit. I don't like the aspect that my sister is describing how she would be treated as a slave. It doesn't benefit anyone."
He added: "There's no sense in depicting immigrants in this way. You are essentially letting children run wild with their conscious or unconscious bias of other people."
Dr. Mike Looney, director of Williamson County Schools, posted a statement apologizing for the assignment on Twitter.
"The assignment was wholly inappropriate and doesn't reflect our district's commitment to treat all students with dignity and respect," Looney said.
"Please accept my sincere apology for this gross error in judgement from WCS personnel. We have been providing professional training to our staff members on cultural awareness this year, but I admit that we have more work to do in this area."
Looney added that the assignment had been pulled and no grades would be recovered.
The Sunset Middle School teachers who assigned the homework, Susan Hooper and Kim Best, also apologized in a statement to the pupils and their families.
"It was never our intention to hurt any of our students. The assignment was insensitive, and it did not promote Sunset Middle's goal of an inclusive environment," the pair said.
The incident occurred after a school in Virginia was found to have made children act like runaway slaves during a gym-class activity for Black History Month.
The Madison's Trust Elementary School in Ashburn apologized for making pupils run around an obstacle course which was meant to represent the Underground Railroad of the early to mid-19th century.
In a statement, Principal David Stewart said the lesson was "contradictory to our overall goals of empathy, affirmation, and creating a culturally responsive learning environment for all."