Timeline Shows How Trump Administration Is 'Rolling Back Protections' for Immigrant Children
The Trump administration's court-ordered deadline to reunify the thousands of families it separated at the U.S.-Mexico border has arrived—but that has offered little consolation to children's rights groups, who say the government's attack on protections for immigrant children will not end there.
Non-profit Kids in Need of Defense (KIND), which provides legal support to unaccompanied immigrant children, told Newsweek the family-separation policy is only one of a series of "harmful" actions the government has taken since President Donald Trump took office in January 2017 to "roll back protections" for immigrant children.
To illustrate those changes, KIND has created a jarring timeline, which it said demonstrates the steady shift in policies that has resulted in fewer protections for immigrant children in the U.S.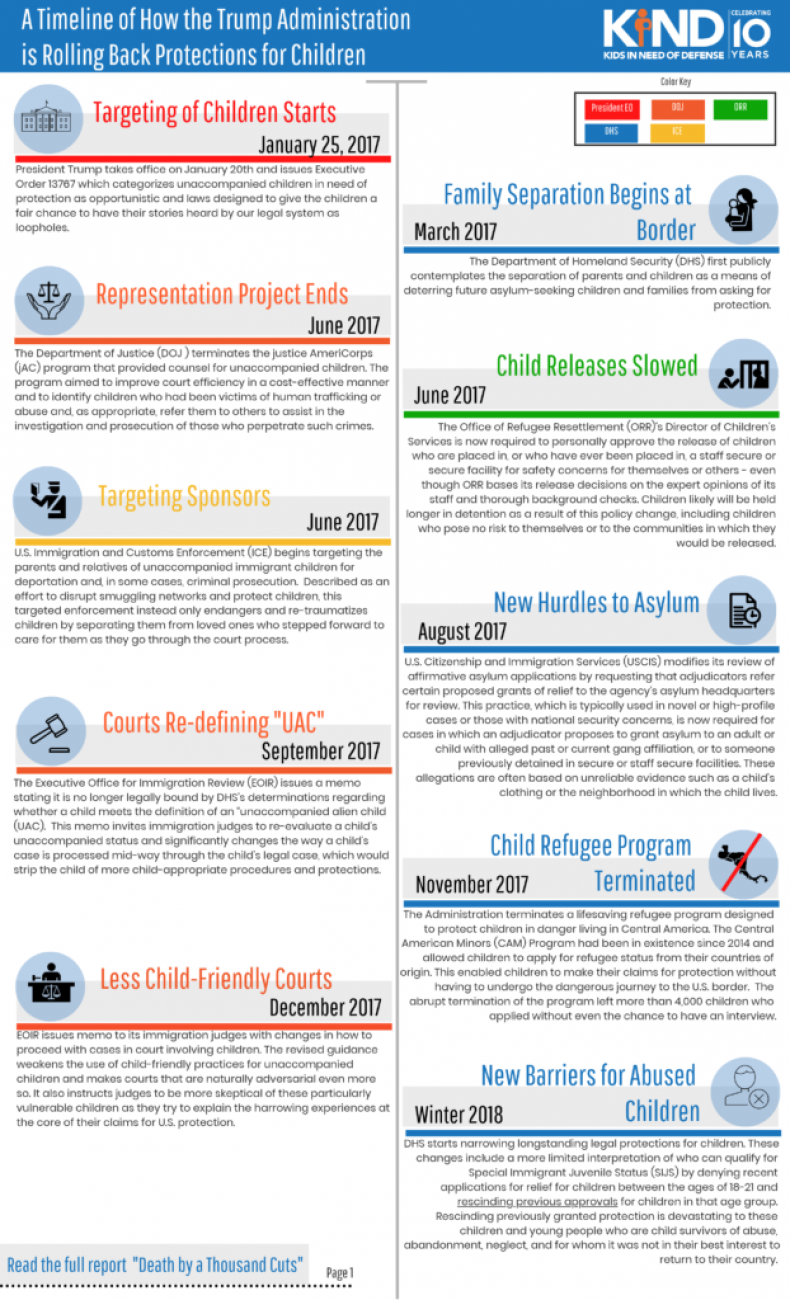 KIND spokesperson Megan McKenna told Newsweek the policy changes appear to be part of a "targeted" and "concerted effort" to "dismantle protections for the most vulnerable of a vulnerable population.
"It's baffling. Why the administration would target, kind of relentlessly, as you can see from the timeline, the most vulnerable of the immigrant population and the least harmful, I really don't understand it," McKenna said.
January 2017
According to KIND, the Trump administration's "targeting of children" began as soon as Trump took office and issued Executive Order 13767, which the organization said categorizes "unaccompanied children in need of protection as opportunistic," and categorizes "laws designed to give the children a fair chance to have their stories heard by the U.S. legal system as loopholes."
March 2017: Family Separation Plan Takes Shape
The organization alleges that the Department of Homeland Security first publicly floated the idea of separating parents and children as a means of "deterring future asylum-seeking children and families from asking for protection" in March 2017.
June 2017: Wave of Policy Changes
In June 2017, the Office of Refugee Resettlement Director of Children Services, Scott Lloyd, enforced new rules requiring his approval for the release of children placed in security facilities over safety concerns for themselves or others.
KIND warned that children affected by the policy could be "held longer in detention" as a result of the policy change, including children who "pose no risk to themselves or to the communities in which they would be released."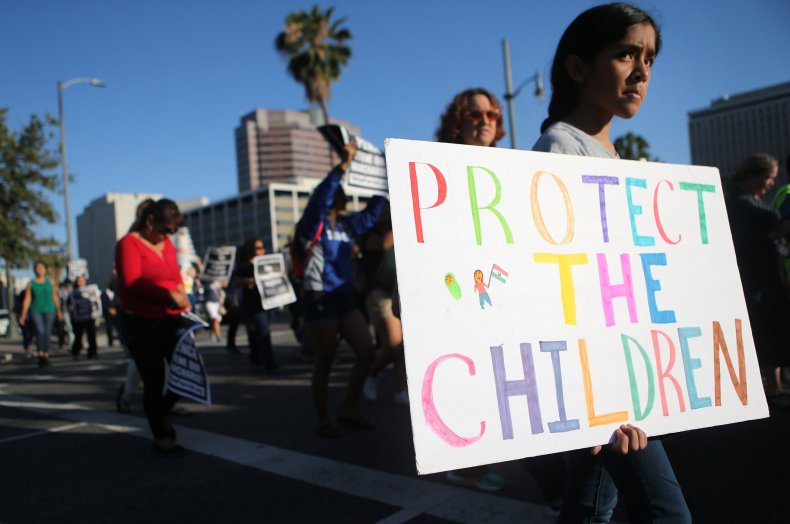 Indeed, as a result of the rule, hundreds of immigrant children in ORR's custody were delayed from reuniting with their families for months, according to the New York Civil Liberties Union, Newsweek reported in May 2018.
The civil liberties union accused the Trump administration of having "transformed an agency dedicated to protecting the most vulnerable immigrants, including many children who have faced trauma and violence, into one dedicated to punishing them."
Also in June 2017, the Department of Justice terminated the justice AmeriCorps program that connected unaccompanied immigrant children with counsel.
The program had helped to identify children who had been victims of human trafficking or abuse and, if possible, to help launch investigations into such crimes.
The children's defense organization said U.S. Immigration and Customs Enforcement agents had also began targeting the parents and relatives of unaccompanied immigrant children for deportation in June 2017.
KIND said that while ICE described the initiative as an "effort to disrupt smuggling networks and protect children, this targeted enforcement instead only endangers and re-traumatizes children by separating them from loved ones who stepped forward to care for them as they go through the court process."
September 2017: EOIR Creates Uncertainty Around "Unaccompanied" Status
In September 2017, the Executive Office for Immigration Review issued a memo asserting that it is no longer legally bound by Department of Homeland Security's determinations on whether a child can be considered an "unaccompanied alien child."
The decision created uncertainty around protections for unaccompanied children by allowing immigration judges to re-evaluate whether a child could be considered an "unaccompanied" minor.
November 2017: Central American Minors Protections Program Ends
Two months later, the Trump administration ended the Central American Minors program, which KIND defines as a "lifesaving refugee program" that was designed to "protect children in danger living in Central America. "
The program, which was launched in 2014, allowed children to apply for refugee status from their countries of origin, allowing them to make claims for asylum without actually having to risk the dangerous journey to the U.S. border to make their claim there.
KIND said the "abrupt termination" of the program left more than 4,000 children who had applied without even a chance to interview and be considered for asylum.
December 2017: Courts Become 'Less Child-Friendly'
In December 2017, the EOIR issued a memo to immigration judges providing a new order on how to proceed with court cases involving children.
The guidance suggested that judges rule with more scrutiny in such cases, making "courts that are naturally adversarial even more so," KIND said.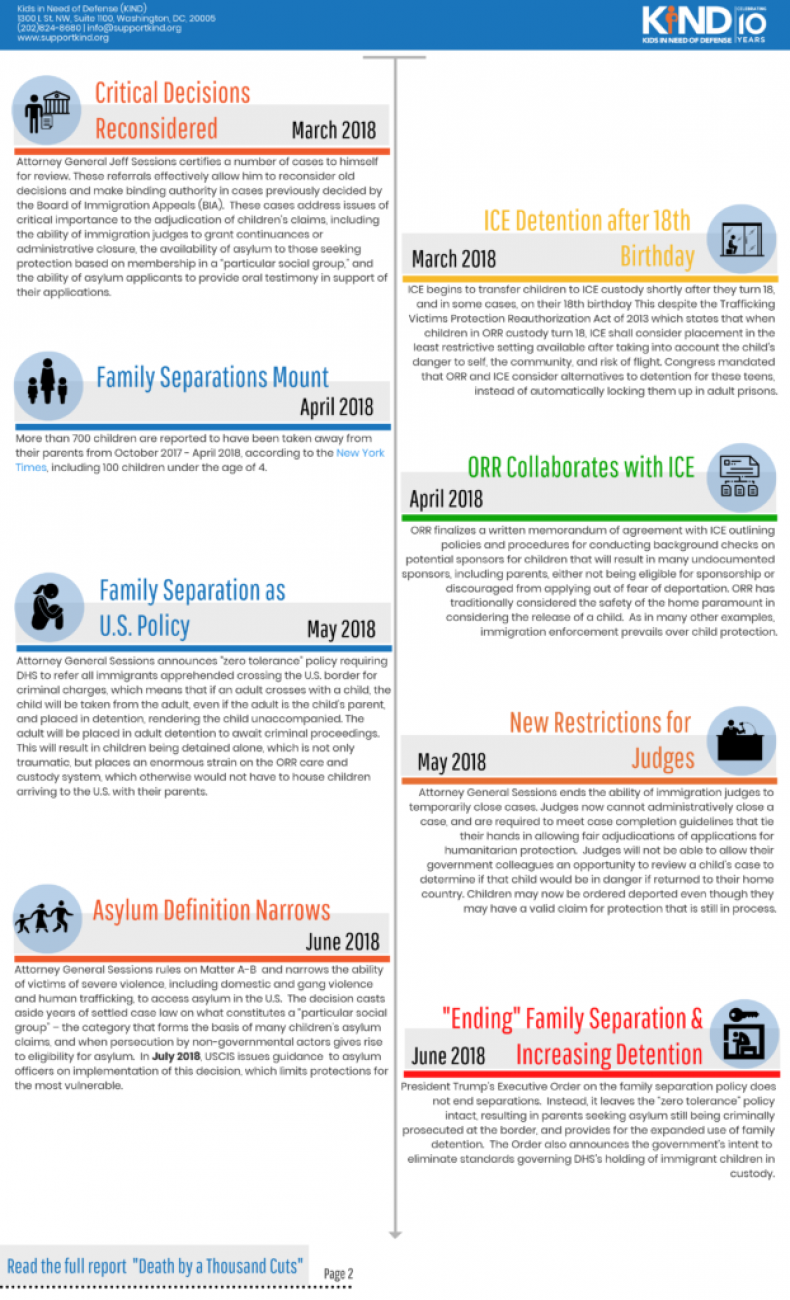 March 2018: Rules Overturned
KIND hit out at Attorney General Jeff Sessions's decision to certify a number of cases to himself for review.
In one such case, reported on by Newsweek in June 2018, the attorney general issued a new ruling that opened up the potential for vast numbers of asylum seekers escaping violence, including those facing domestic abuse and gang violence in their home country, refused entry into the U.S.
Sessions created the new dictum after overturning a decision from the Board of Immigration Appeals approving the asylum application of a Salvadoran woman seeking refuge in the U.S. after fleeing physical and sexual assault from her husband.
"The mere fact that a country may have problems effectively policing certain crimes or that certain populations are more likely to be victims of crime, cannot itself establish an asylum claim," the ruling stated.
Read more: What Will Happen if the Trump Administration Fails to Meet Family Reunification Deadline?
"An applicant seeking to establish persecution based on violent conduct of a private actor must show more than the government's difficulty controlling private behavior. The applicant must show that the government condoned the private actions or demonstrated an inability to protect the victims," it added.
The landmark decision sets a new precedent that Sessions told immigration judges they would be expected to follow while speaking at an annual Executive Office for Immigration Review Legal Training Program.
That same month, KIND said ICE also began transferring children to the agency's custody shortly after they turned 18 and in some cases on their 18th birthday.
KIND said the agency began the practice "despite the Trafficking Victims Protection Reauthorization Act of 2013, which states that when children in ORR custody turn 18, ICE shall consider placement in the least restrictive setting available after taking into account the child's danger to self, the community and risk of flight."
While Congress mandated that ORR and ICE consider alternatives to detention, KIND said many young people have been taken into ICE custody as soon as they come of age to be considered an adult.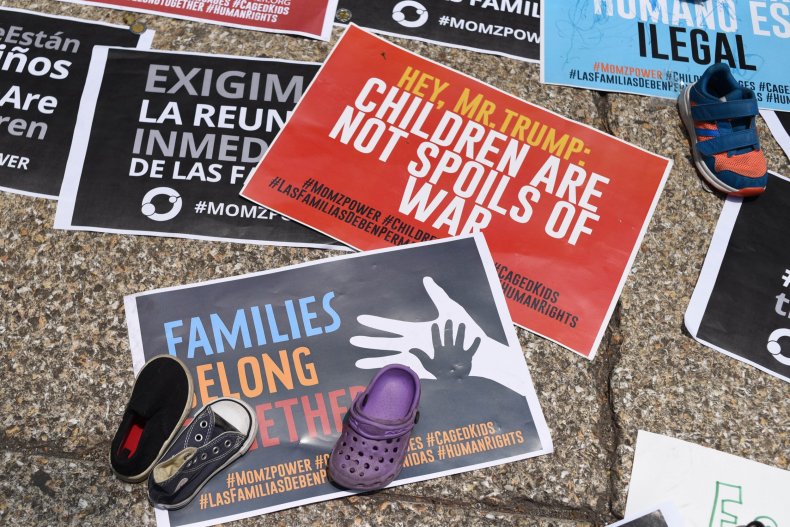 April 2018: Family Separations Move From Rumor to Rule
In April 2018, more than 700 were reported to have been separated from their parents between the months of October 2017 and April 2018, including 100 children under the age of 4, according to the New York Times.
John F. Kelly, Trump's chief of staff, had previously said that children would only be separated from their parents at the border if "the child's life is in danger."
However, in early April, Sessions announced that the government would be enforcing its "zero tolerance" policy of separating families at the border.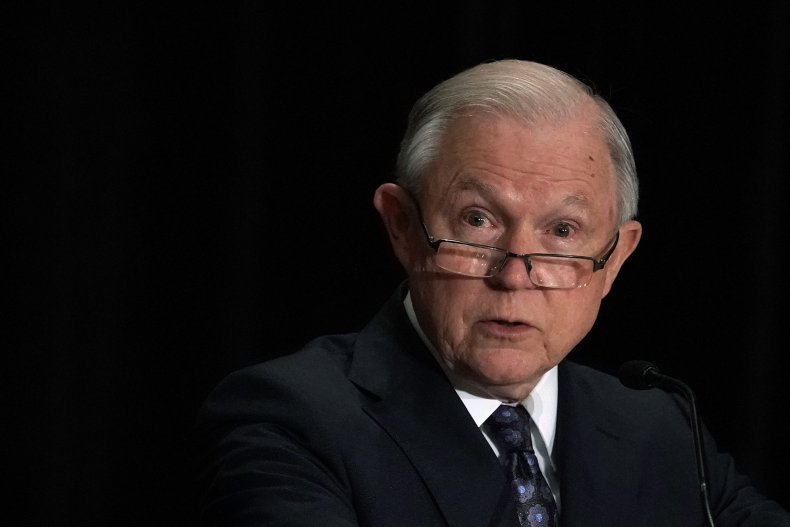 The policy required that all immigrants caught crossing into the U.S. illegally be referred for criminal charges. Any parent caught doing so with a child was to be separated from their young one, with the parent being taken to a federal jail, while children were taken into the custody of the Health and Human Services (HHS) department.
The rule, which saw more than 2,500 children separated from their parents, sparked widespread protests across the U.S., with the United Nations condemning the policy as a "violation" of children's rights.
May 2018: Immigration Judges Face New Restrictions
In May 2018, Sessions created new limitations for immigration judges, ending their ability to temporarily close cases.
The practice, known as "administrative closure" had previously allowed judges to close deportation cases involving people with no criminal backgrounds and strong ties to the U.S.
Read more: Dozens of babies forced to appear in immigration court
KIND warned that the decision meant that children could end up being deported "even though they may have a valid claim for protection that is still in process" as a result of the reversal.
June 2018: The End of Family Separation?
In June, President Donald Trump signed his executive order ending his administration's "family separation" policy after facing widespread backlash from across the country.
While the order brought the separation of children and their parents at the border to an end, it did not address the practice of family detention.
KIND argued that the executive order still leaves "zero tolerance" practices intact, with parents seeking asylum still being criminally prosecuted at the border.
The order also introduced the possibility of the government eliminating standards governing the DHS's holding of immigrant children in custody, creating more questions around what the government's detention policies will look like for children and families in the future.
'More Harmful Changes to Come'
As far as the Trump administration is concerned, the future looks bleak, according to KIND, which says the administration is "working towards numerous other actions" that will "decimate protection for unaccompanied children." McKenna said the organization is expecting "more harmful changes to come."
She said KIND will be keeping a close eye on the government's recent efforts to modify the longstanding Flores Settlement Agreement (FSA), which limits the length of time and conditions under which U.S. immigration officials can detain children.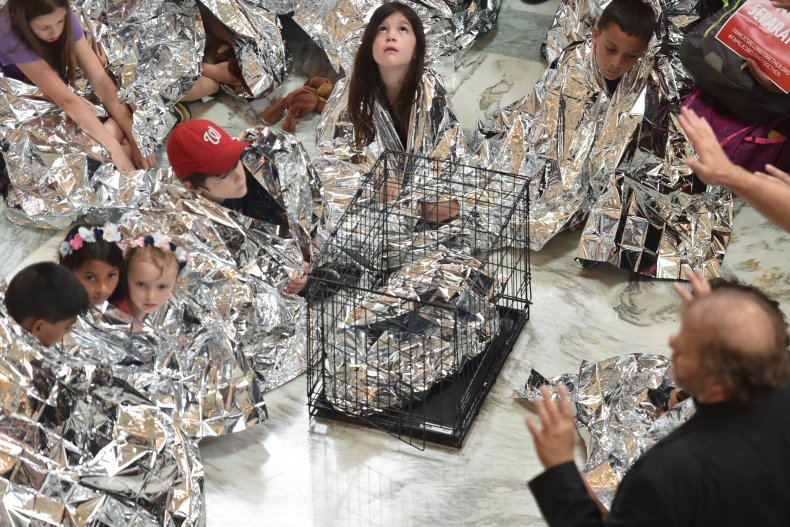 The Trump administration had argued last month that in order for it to end its family separation policy, it would need to be able to detain children with their families longer than the 20-day maximum period outlined in the Flores agreement.
The administration's bid to modify the decades-old deal was shot down by Judge Dolly M. Gee of the Federal District Court in Los Angeles, however, with the judge saying there was no basis for changing the agreement and that it was an issue the legislative branch would have to solve.
"They are claiming that much of this is a deterrent, to deter future immigration," McKenna said. "But, we see it as, if it's a matter of life or death, they are going to come anyway—and for many of the children we represent, it really is a matter of life or death."
"We are all concerned about national security and certainly about keeping our borders secure," McKenna said. "We all want to be safe but from our experience, KIND has represented thousands of these children and they are not a risk to our national security."
"These are children like any other children. They just happen to be born in Central America. They want to be safe. They want to have a childhood just like those in America who want to have a childhood and be able to be safe and go to school and not worry about whether they will still be around the next day."