Who Is Fani Willis? Georgia District Attorney Investigating Donald Trump
Fulton County District Attorney Fani Willis is set to be thrust into the limelight as a special grand jury begins hearing dozens of testimonies as part of a criminal investigation into Donald Trump's attempt to overturn the 2020 election results in Georgia.
Since February 2021, Willis and other prosecutors in Georgia have been looking into whether Trump violated election laws when he asked Secretary of State Brad Raffensperger to "find" 11,800 votes to reverse the results in favor of the former president.
As part of the probe, a special grand jury was brought in to seek subpoenas from witnesses to provide evidence, with the jury set to start hearing from as many as 50 people from Wednesday, June 1.
While a grand jury will hear from the testimonies, the decision whether to charge Trump with a crime ultimately falls to Willis.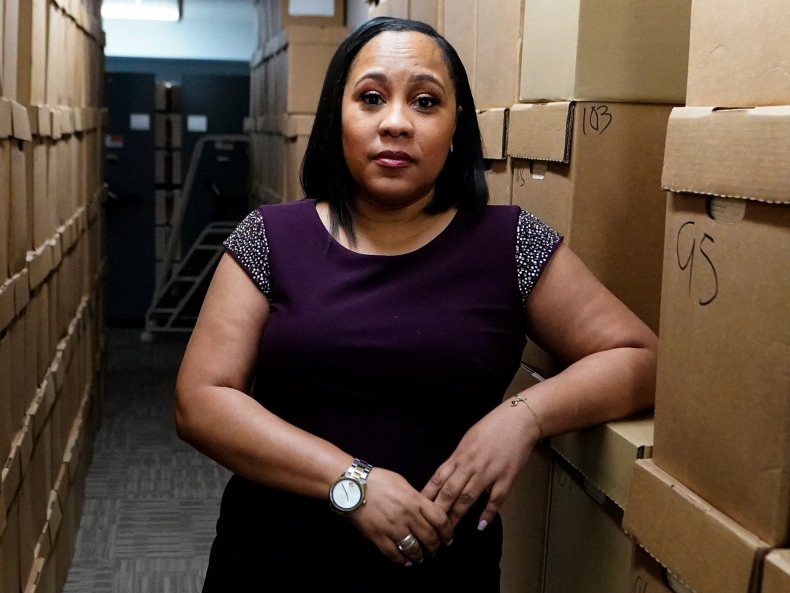 Who Is Fulton County District Attorney Fani Willis?
Willis was elected as Fulton County district attorney in November 2020, becoming the first Black woman to be elected to the role in the process.
She went on to take office on January 1, 2021, just days before Trump's infamous telephone call with Raffensperger became public.
Speaking to USA Today in February, Willis described how she knew "on day one" that an investigation into the phone call would be warranted.
She said that Trump's remarks were "enough to raise eyebrows and even cause grave concern that it was already necessary to at least preliminarily look at other facts."
Before assuming office as the Fulton County district attorney, Willis spent 17 years as an assistant district attorney, prosecuting serious crimes such as murder and sexual assault.
In 2014, she worked as the lead prosecutor in the Atlanta Public Schools cheating case which later saw 11 educators convicted for their role in a standardized test scandal which rocked a nation.
More recently, Willis was also part of the team that announced the indictments of rappers Young Thug and Gunna, and others on a series of gang and racketeering charges, as well as being members of a street gang that allegedly committed violent crimes for years.
Despite already being subjected to national attention as a result of the Atlanta schools cheating scandal, the Atlanta Journal-Constitution declared that Willis is set to become the "most watched local prosecutor" in the nation after the criminal probe against Trump was launched last year.
In an interview with AJC, Willis denied that she has any "predetermined opinions" about Trump or the case, nor is she aiming to "make a name" for herself for becoming the first prosecutor to charge a president with a crime.
In a separate interview with AJC, Willis said she won't treat Trump any differently from any other investigation and the decision to indict will be based on evidence provided as part of the long-running investigation.
"I'm going to write the elements to this crime are A, B and C. Do we have those elements? If so, what witness gives me Fact A, Fact B and Fact C? What document proves Fact A, Fact B and Fact C? If we can do that, I'm going to bring an indictment — I don't care who it is," Willis said.
Willis repeated a similar statement in a recent interview with The New York Times, insisting the investigation into Trump will not be personal.
"I'm not taking on a former president," Willis said. "We're not adversaries. I don't know him personally. He does not know me personally. We should have no personal feelings about him.
"I have a duty to investigate. And in my mind, it's not of much consequence what title they wore."