Fans Defend Ariana Grande's Choice To Wear Bra Top to Brother's Wedding
Ariana Grande fans are backing the singer's unconventional outfit choice for her brother's wedding.
The star's brother Frankie Grande and his partner Hale Leon officially tied the knot earlier this month in a Star Wars-themed ceremony and the "7 Rings" hitmaker's look for the event has been trending on social media.
The 28-year-old was a bridesmaid for her big brother, People reports, and she stunned in custom Vera Wang Haute Couture for the galactic nuptials.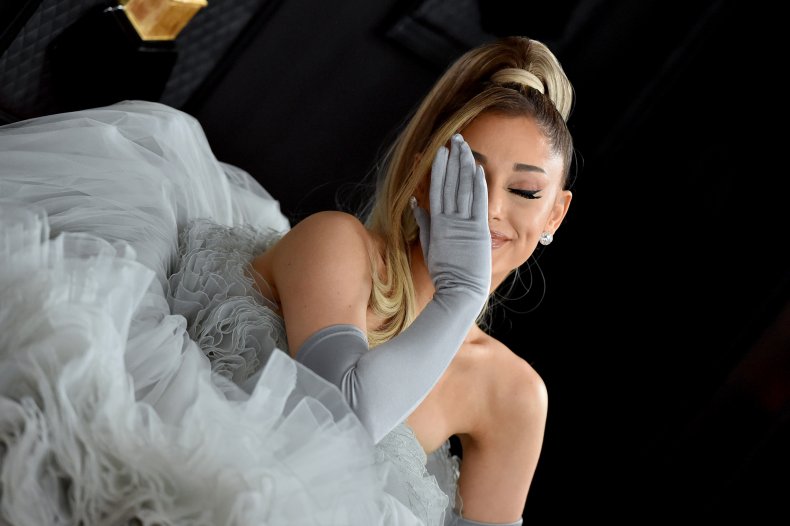 Grande walked down the aisle with her husband Dalton Gomez in an outfit consisting of a two-piece matching bra top and a maxi skirt combination.
The custom lamé top featured striking sculpted cups while the skirt featured a daring thigh-high split—not your usual wedding guest or indeed bridesmaid ensemble.
Vera Wang shared a shot of the look on Instagram with the caption: "Ariana Grande wore custom #VeraWangHAUTE to her brother, Frankie Grande's wedding to Hale Leon.
"She chose a custom black lamé sculpted bra top and skirt with a high slit accent worn over a black lamé mini skirt."
The legendary designer, famed for her bridal designs, added: "When your sister is Ariana Grande and she is so there for you on your special day!!!!! It doesn't get better!"
Grande's outfit has got people talking on Twitter, in a conversation about appropriate wedding attire with the discussion appearing to spark from a post about her bra top by Teen Vogue.
The headline read: "Ariana Grande Wore a Bra Top to Her Brother's Wedding."
Many commenters took to Twitter to say that it was a Star Wars-themed gay wedding, so usual dress codes did not apply—and there was no bride to upstage.
One response reads: "One may find this dress totally inappropriate for the occasion but when one sees what the brother is giving, it all makes sense."
Another fan tweeted: "So Ariana Grande is trending for wearing a bra top to her brothers wedding? She can wear what the f*** she wants as far as I am concerned for what she has done for Manchester and for fans after the bombing."
While another added: "The way they report 'Ariana Grande wore a BRA TOP to her brother's wedding' but leave out that it was a GAY WEDDING. Critical detail, entirely different etiquette necessary."
Another tweet reads: "Apparently the internet is in commotion about Ariana Grande wearing a bra top to her brother's Star Wars wedding but I saw the outfit and it looks like a Star Wars outfit if you ask me."
The conversation about Ariana Grande's wedding outfit and whether it is appropriate or not comes just months after Kendall Jenner made headlines when she was criticized for wearing an extremely revealing dress to a friend's wedding.
However, she later revealed that she got approval on the dress from the bride herself.