Fans of K-pop band EXO were delighted to see member Lay Zhang join the group to see off member D.O. as he leaves the band to enlist in the South Korean military.
In a series of images posted on EXO's official Instagram page with the caption "We are one EXO", the group are pictured together with 26-year-old D.O., real name Doh Kyung-soo, standing in the center and revealing his freshly shaved head as he prepares to embark on two years of active duty service.
While fans took to social media to express their sadness at D.O.'s departure, they were also delighted to see 27-year-old Lay Zhang, real name Zhang Yixing, pictured with the group in South Korea for the first time in three years.
One person tweeted: "Ok. So i just realized that this is yixing's first group photo since 2016."
"YOU GUYS DONT UNDERSTAND HOW HAPPY I AM TO SEE THESE GROUP PHOTOS THEY TOOK FOR KYUNGSOOS FAREWELL AND THE FACT THAT YIXING CAME UGH," another wrote.
"DO I CRY OVER KYUNGSOO OR YIXING??? HOW ABOUT BOTH," added another.
Chinese Lay Zhang has been pursuing a solo career in his homeland since 2016 amid rising tensions between China and South Korea since Seoul announced plans with the U.S. to build a missile shield system, known as THAAD, to protect the country from North Korean attacks.
Beijing felt threatened by the missile system and so retaliated by briefly banning all K-pop and hallyu (Korean pop culture) in the country. The ban on group tours was partially lifted in 2018, but this is still the first time Lay Zhang has been pictured with the rest of EXO in South Korea since then.
D.O. entered the military training center on Monday and will now receive basic training for the next five weeks. His service will end on January 25.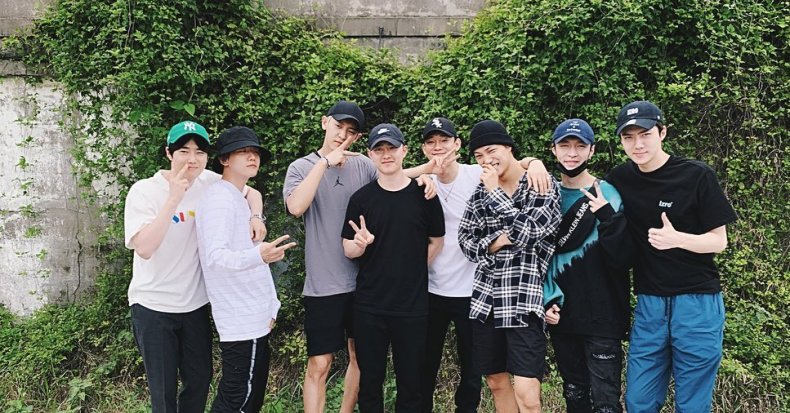 South Korea has had conscription since 1957, with all male citizens between the ages of 18 and 28 required to perform compulsory military service. D.O. is the second member of EXO to enlist in the country's armed forces this month, after Xiumin entered service on May 7. D.O. could have deferred his enlistment until 2021, but announced he would be voluntarily enlisting in Korea's military on May 30.
The remaining members of the group, Suho, Chanyeol, Chen, Baekhyun, Kai and Sehun, are all still yet to enlist. Lay Zhang does not need to perform military service as he is Chinese.
As well as his music career, D.O. is an actor who has starred in Korean films Pure Love, My Annoying Brother and Swing Kids, as well as the 2018 period drama TV series 100 Days My Prince. To coincide with his departure from the group, D.O. released a solo track called "That's Okay" at 6 p.m. KST, 5 a.m. ET.
EXO were first founded in 2011 by SM Entertainment producer Lee Soo-man and have since gone on to become one of the biggest musical acts in Korea. Incorporating genres such as pop, hip-hop and R&B, the group has released six hugely successful studio albums that have each sold more than one million copies.
EXO performed at the closing ceremony of the 2018 PyeongChang Winter Olympics, with the group's latest album, Don't Mess Up My Tempo, debuting just outside the top 20 on the U.S. Billboard 200 in November 2018.
The graphic below, provided by Statista, illustrates the best-selling K-pop stars.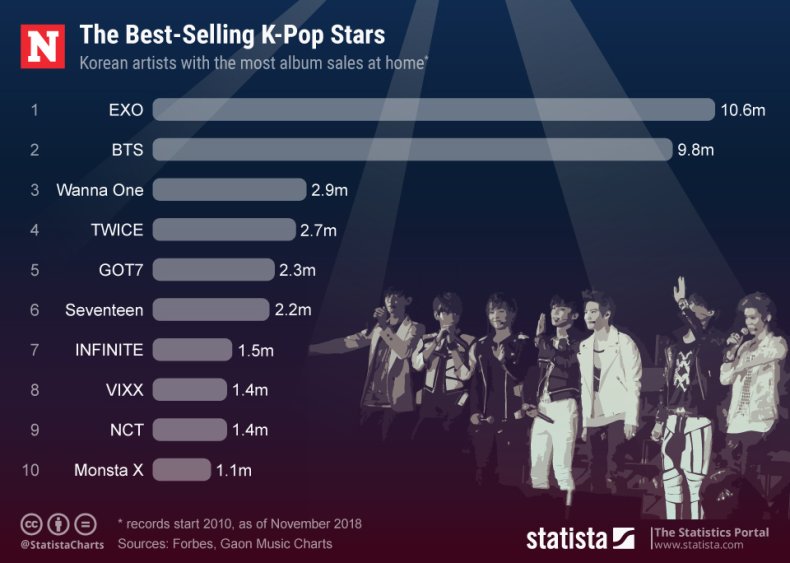 This article was updated with an infographic.