Fans Dissect Florence Pugh's Near-Cameo in 'Ted Lasso' with Jason Sudeikis
Amid the drama surrounding the movie Don't Worry Darling, fans have revisited Florence Pugh's near-cameo on Olivia Wilde's ex-fiancé Jason Sudeikis' TV show, Ted Lasso.
Pictures resurfaced on social media of Pugh seemingly on the set of the British-based comedy, though her scenes were never used in the Apple TV+ show.
Pugh is set to star in the upcoming move Don't Worry Darling but there has been much speculation regarding the relationship of Pugh with her director Wilde. Social media has been rife with rumors that the two fell out, which was recently exacerbated when a video surfaced of Wilde asking Shia LaBeouf to come back to work on the movie, mentioning Pugh.
To add an extra layer of complication to this social tapestry, Sudeikis, the co-creator and star of Ted Lasso, is Wilde's ex-fiancé. The pair broke up in recent years, and Wilde moved on to a relationship with Don't Worry Darling star Harry Styles, but Wilde was reportedly served with legal papers from Sudeikis while she was on stage at CinemaCon in April. Wilde recently spoke out against Sudeikis, telling Variety, "there's a reason I left that relationship."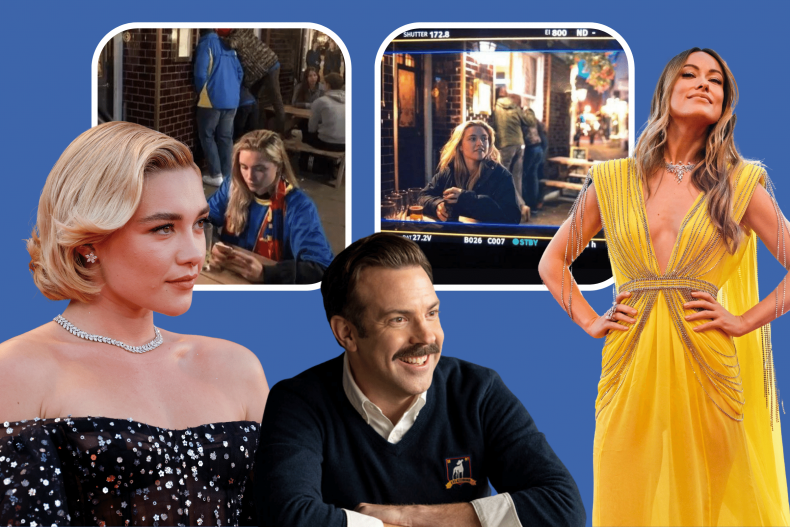 The images of Pugh shooting scenes for Ted Lasso have been shared online before, and were seemingly shot long before any potential falling out happened on the set of Don't Worry Darling.
Pugh's ex-partner Zach Braff (Scrubs) directed the second episode of Season 1 of Ted Lasso, titled Biscuits, for which he was nominated for an Emmy Award. Ted Lasso fans speculate that it's likely Pugh was on the set with Braff at this time and may have jumped into the scene for a cameo whilst he was directing.
Pugh announced in August that she and Braff had broken up earlier in 2022.
"i wish they kept florence pughs cameo in ted lasso just to add another layer to all the drama happening rn," @weltonsboys wrote on Twitter, commenting on the various links between the actors across both projects.
Twitter user @UntemperedTV made a reference to the moment Wilde received court papers from Sudeikis, and offered up an alternative scenario. "Someone hands Olivia Wilde a brown envelope on the Don't Worry Darling red carpet." They continued, "She looks at it silently and puts it away. It's a press release announcing Florence Pugh's doing a 3-episode arc on Ted Lasso."
Ted Lasso is currently filming the third, and what is expected to be the final season of the show, and in its time on the air has developed a passionate fan base. Many commented on the possibility of having Pugh's scene resurface.
"I think appletv+ should release the cut ted lasso scene with Florence Pugh in it," said @Weltonlassos. "So Florence Pugh HAS to have a part in Ted Lasso Season 3, right?" @LPC_1992 proposed hypothetically.
Pugh had previously voiced her support for Ted Lasso in the past, sharing a picture of a Ted Lasso billboard in September 2021 and writing the show's popular phrase, "I Believe."
The pictures of Pugh sat outside of a pub, shooting the scenes for Ted Lasso were first seen online in September 2021, though it's unclear on their origins. Reddit user @agentma posted both on September 20, 2021, which appears to be one of the first images revealing the almost-cameo.
Newsweek has reached out to Pugh for further comment.