Fans Split Over Russell Crowe's Zeus in 'Thor' Trailer: 'Made Him a Joke'
The second trailer for Thor: Love and Thunder dropped on Monday, May 23, giving fans a glimpse at the Marvel Cinematic Universe's (MCU) interpretation of Zeus.
Set in the aftermath of Avengers: Endgame, the new film will follow Thor (Chris Hemsworth), Valkyrie (Tessa Thompson), ex-girlfriend Jane Foster (Natalie Portman) and a gaggle of other heroes as they attempt to defeat Gorr the God Butcher, "who intends to make the gods extinct." As seen in Monday's trailer, one of those gods appears to be Zeus, played by Russell Crowe.
Though Zeus was spotted in the film's first trailer, the Grecian god of thunder played a much more prominent role in Monday's preview.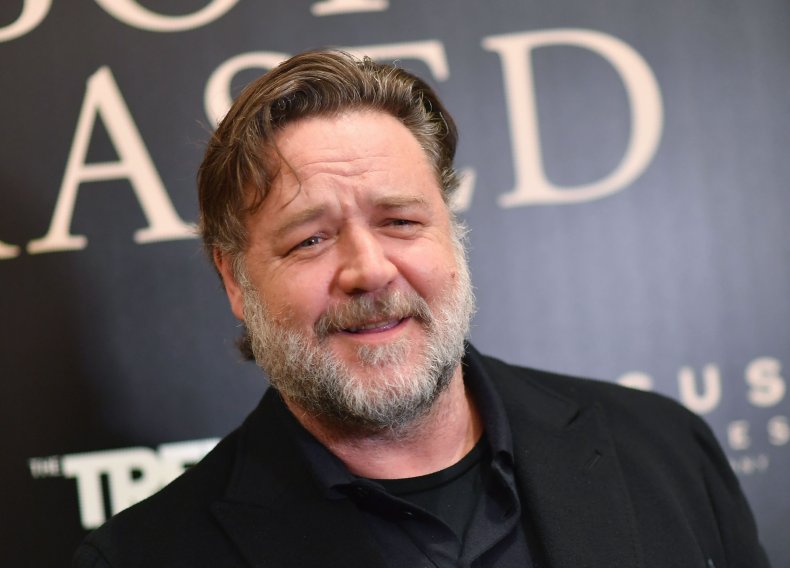 Fans Divided
As a result, fans took to Twitter on Tuesday to share their preliminary opinions on the MCU's interpretation of Greek mythology's strongest god, and while some are excited to see what Crowe will do with the character, others have expressed disappointment.
One Twitter user, posting under the username Geralt of SnyderVerse, shared two photos—one of Sergi Constance as Zeus in Zach Snyder's Justice League, and a screenshot of Crowe as Zeus from Monday's Thor trailer.
In the first photo, Constance—a bodybuilder who is nearly 30 years younger than Crowe—can be seen wielding lightning during a battle scene. Crowe, meanwhile, is seen talking to Thor.
"SnyderVerse Zeus vs MCU Zeus," Geralt of SnyderVerse wrote. "They legit made him [MCU Zues] a joke."
The tweet was in reference to the fact that Crowe looks noticeably less "chiseled" than Constance.
Ivan agreed, stating: "Zeus is supposed to look intimidating."
"Every image I've seen of Zeus pictures him as muscular and fit, " Stefanie McDermott said.
Ol' Scratch Johnson added that Thor's Zeus reminded them of The Big Lebowski.
On The Other Hand...
Others, however, said they were excited for Crowe's Zeus, arguing that MCU's depiction seems "accurate."
"Y'all don't know [your] Greek mythology and it shows. Zeus was NOT some serious, disciplined warrior god. He was a drunken carefree womanizer, who partied and slept around. If anything the MCU seems more accurate," said Jolly J in response to Geralt of SnyderVerse's tweet.
"If you were actually familiar with Greek mythology you'd know that Zeus isn't some bada** muscle dude and is instead a villain or a f**k up a lot of the time. Greek gods aren't muscley classic heroes, they're mostly capricious a**holes who like to cause problems on purpose," tweeted Tanzer.
Mar asked, "What's wrong with MCU Zeus???? He looks awesome don't disrespect Russell Crowe."
Meanwhile, Twitter user Ghost added, "Russell Crowe is perfect casting for Zeus."
Russell Crowe isn't the first Thor actor to make waves online. Last month, fans took to Reddit to praise Portman's "swole" appearance in the upcoming film.
Thor: Love and Thunder comes to cinemas on July 8.