Fans Thinks Zachary Levi Just Tanked His Career With Anti-Pfizer Tweet
Zachary Levi has raised a few eyebrows with a recent anti-Pfizer tweet, leading some to think he's bound to lose his job as superhero Shazam in the DC movies.
The trailer for Shazam! Fury of The Gods dropped recently, showing Levi suiting up again for the DC Comics sequel. However, with a number of changes happening at Warner Bros., with James Gunn confirming Henry Cavill is out as Superman and Dwayne Johnson won't be returning immediately as Black Adam, Levi's future is in doubt too.
Ezra Miller, who plays The Flash, has also courted controversy away from the screen, but as of now, their standalone DC Extended Universe movie The Flash is still set to release on June 16, 2023.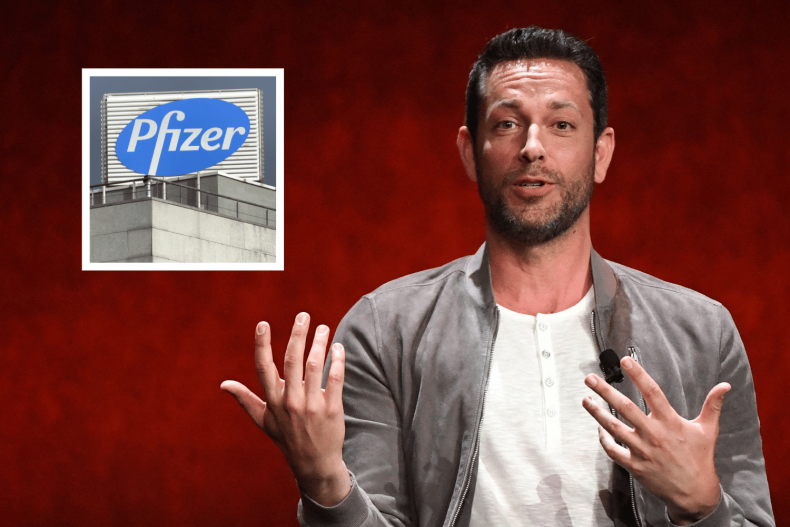 Levi, an outspoken Christian, has often used his social media platforms to speak his mind, but his latest tweet about Pfizer has left some people confused.
Entrepreneur Lyndon Wood tweeted the original statement which pulled Levi into the conversation. "Do you agree or not, that Pfizer is a real danger to the world?" He asked, to which Levi retweeted saying, "Hardcore agree."
Levi's brief tweet drew a number of people into his comments section, suggesting he was promoting "anti-vax" rhetoric, despite not mentioning the vaccine at all.
"Zachary Levi knows his dc universe is crumbling so he's going out with a bang and 0 dignity," Twitter user @amirieass said. "bro was going to lose his job anyways so know he'll blame being 'canceled' on his impending doom as an actor calling it now!"
"Zachary Levi does not have the job security he thinks he does," @rhymeswpicard wrote. Others like @onealterrush said it was "how to lose your job 101," while @BrianBigBoss1 said, "Welp, now I'm glad you're losing your job."
Levi later tweeted out a link to a Department of Justice press release from September 2, 2009, which detailed how Pfizer was involved in the "largest health care fraud settlement" in history.
That year, Pfizer was ordered to pay $2.3 billion "to resolve criminal and civil liability arising from the illegal promotion of certain pharmaceutical products."
Levi said, "Just one example of what I'm referring to..." as he shared the link. Once again the comments section to this tweet was filled with people calling Levi an "anti-vaxxer." There is no existing evidence available to support that claim.
A tweet sent by @blkcomictwit proved popular as they shared a number of past social media posts from Levi. It showed him sharing an Amber Heard joke on his Instagram stories, a response tweet accusing Levi of a number of alt-right views, and another where Levi says white people can talk about racism, and men can talk about sexism.
Speaking on The Joe Rogan Experience podcast in 2022, Levi stated how he was a fan of Jordan Peterson, the controversial Canadian psychologist. "I think the guy has a lot of integrity," Levi said. "But I also know Jordan has his own things that people have issues with. Like, I get it, nobody's perfect."
Aside from starring in the DC Universe, Levi also played Kurt Warner in the biopic American Underdog. Whilst promoting that project, he told Newsweek about his career doubts. "I felt like God had given me the talents and the abilities to do it well but, I mean, I have had plenty of moments where I'm like 'I don't know that I can do this anymore, I think I might be done. There's not much more effort I can put into this and still feel like I have a career that's gonna go anywhere,' like, whatever," he said.
Levi got his big break as the titular character in popular spy TV show Chuck, before being cast in the MCU as a friend of Thor's before going on to appear in his own superhero movie Shazam!.
Newsweek has reached out to Levi and his representatives for comment.