Ezra Miller Breaks Silence Amid Controversies, Seeks Treatment
Ezra Miller announced that they have embarked on treatment for "complex mental health issues," following a series of run-ins with the law.
The Flash star Miller, who is non-binary and uses the pronouns they/them, has faced a string of accusations in recent years, including assault and burglary.
Amid continued allegations, the beleaguered screen star, 29, has broken their silence on the string of incidents, issuing an apology while also revealing they are receiving help.
"Having recently gone through a time of intense crisis, I now understand that I am suffering complex mental health issues and have begun ongoing treatment," Miller said in a statement to Variety.
"I want to apologize to everyone that I have alarmed and upset with my past behavior," Miller added. "I am committed to doing the necessary work to get back to a healthy, safe and productive stage in my life."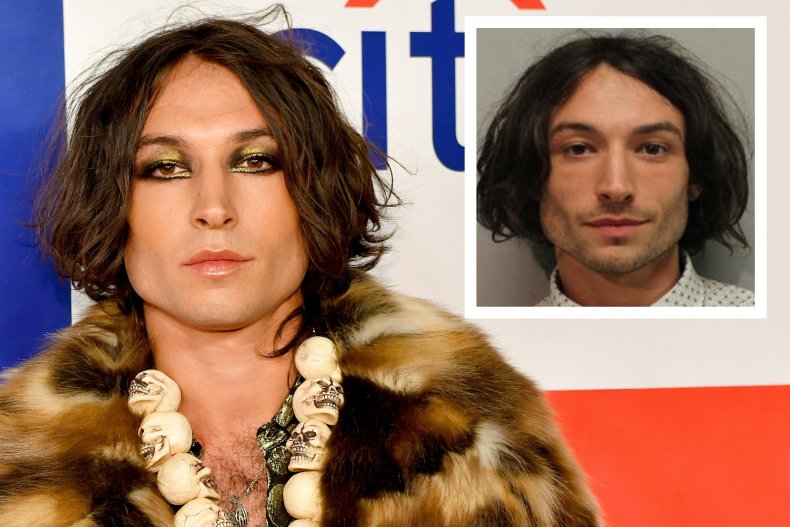 Miller's statement comes days after it was reported that they are suspected by police of hiding the whereabouts of a mother and her three children, who had all been staying with the star at their Vermont property.
According to court documents reviewed by Rolling Stone—which had reported back in June that the family had been staying with Miller on the actor's farm under allegedly dangerous conditions—Vermont State Police had attempted to serve an emergency care order to the mother of three over the weekend.
Per the documents, there was a plan by law enforcement officers to remove the children—aged one, four and five years old—from the Justice League star's property and the care of their 25-year-old mother.
There were concerns over the children's safety.
However, according to the documents, Miller informed the officers that the mother and children in question had departed the property two months ago and not returned since.
Miller has been mired in scandal of late, having been arrested twice in Hawaii earlier this year, once for disorderly conduct and harassment and once for a second-degree assault.
They have also faced allegations of abuse from women across Europe, including the infamous choking incident in Iceland in 2020, a now-dropped investigation into trespassing in Berlin, and a recent accusation of grooming Tokota Iron Eyes, a minor whose parents have filed a restraining order against Miller.
In a separate case to the emergency care order, Miller has also been charged with felony burglary in Stamford, Vermont.
According to the Vermont State Police report, on May 1, authorities were called to a burglary complaint from a residence in Stamford. Upon arrival, police noted several bottles of alcohol had been taken from the home when its occupiers were not present.
After an investigation, including statements from witnesses and CCTV footage, police charged Miller with felony burglary into an unoccupied dwelling.
Miller is set to appear in Vermont Superior Court on September 26 for arraignment.
Despite Miller's multiple run-ins with the law, plans currently remain afoot for the release of movie The Flash, which is scheduled to debut on June 23, 2023.
With Miller in the lead role of Barry Allen/The Flash, the movie—which completed filming in October 2021—features a star-studded cast including Ron Livingston, Michael Keaton, Kiersey Clemons, Michael Shannon, and Ben Affleck.
Now, almost one year since filming concluded, the decision not to pull The Flash has angered many fans, particularly in light of the cancelation of the highly anticipated Batgirl movie by Warner Bros., the same studio behind the Miller-led movie.
On August 2, Warner Bros. announced the $90 million film would no longer be released on HBO Max despite being fully shot and in post-production, confusing fans.