'Fantastic Beasts 3' Reviews Reveal How Much Katherine Waterston Is in Film
Fantastic Beasts: The Secrets of Dumbledore is coming to cinemas on Friday in the U.K.—and to say this film has not had an easy road to theaters is an understatement.
The news of the franchise replacing Johnny Depp, star Ezra Miller being arrested in Hawaii and co-screenwriter J.K. Rowling's controversial diatribes on trans issues may have hit the headlines, but amid all this fans had another concern. When the posters and trailers came out, these Wizarding World lovers took to Twitter to ask exactly why Tina Goldstein (played by Katherine Waterston ) was missing from the poster and trailer.
One fan summed up much of the commentary on Twitter by wittily renaming the new movie "Fantastic Beasts and Where to Find Tina Goldstein." Others, meanwhile, questioned whether her absence from the promotional materials had anything to do with her pro-trans rights comments .
Now that the first reviews are out for Fantastic Beasts 3, however, we know exactly how much Waterston is in the new movie. And spoiler alert—it's bad news for fans of Tina Goldstein...
Is Katherine Waterston in 'Fantastic Beasts 3'?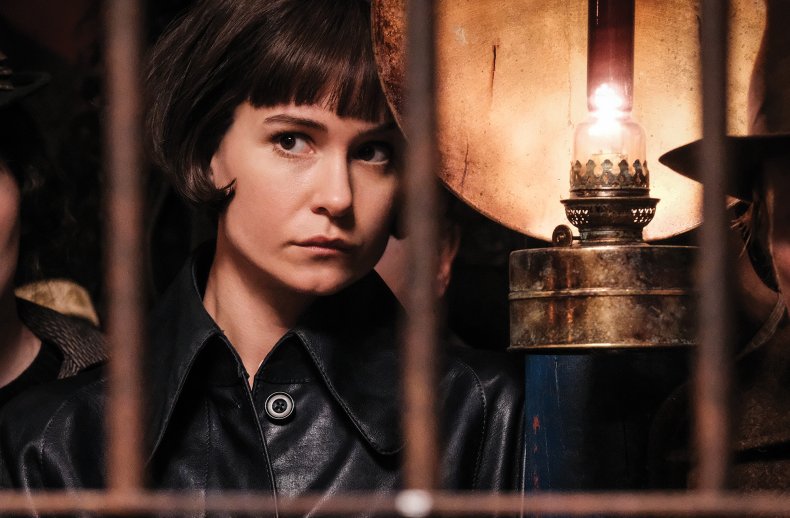 The answer is yes, but not that much.
In a two-star review for the film, Slant critic Dan Rubins described Waterston's role as the "most fleeting of cameos," and revealed that, in the film, "Newt explains early on when someone brings up her absence. She has a big new job, we're told, that's keeping her 'very busy.'" This is an excuse that Insider's Kirsten Acuna called "pretty lame" and "unconvincing."
The Wrap's William Bibbiani, meanwhile, detailed exactly how fleeting that cameo is: "if you had any interest in Newt's ongoing, awkward love story with American auror Tina Goldstein (Katherine Waterston), you may want to prepare yourself for a film in which she has so little screen time—we're talking seconds—that the character may well have been replicated entirely via CGI," he wrote.
The Insider review mentioned above went on to speculate that Jessica Williams' role as Eulalie Hicks has been extended to fill the gap left by Waterston's absence. She wrote: "it's obvious that Williams' scenes feel like ones in which Waterston would've appeared."
That review is also one of many to ask the question of whether Waterston's reduced role had anything to do with the actor's noted pro-trans rights stance. She posted an article on her Twitter with the headline: "Trans women pose no threat to cis women, but we pose a threat to them if we make them outcasts." She then clarified why she shared the piece, telling the Independent, "Because I was associated with Fantastic Beasts, it felt important to communicate my position. One wondered if they might be grouped in with other people's views by association."
Though her role in the third film was so small, Waterston did appear at the London premiere for the film, where she was warmly embraced by co-star Eddie Redmayne. Asked by the event's host where she was in the movie, however, she said: "I'm not going to talk about it, you can't get me to talk about it. We're well-trained for the premieres."
Some fans, however, have also speculated that her absence could in part be due to her contracting COVID around the time of filming, after she told the Associated Press that she had a "pretty bad" case of the virus during a press junket for her HBO series The Third Day. This press junket was in September 2020, around the time that Secrets of Dumbledore began shooting. Though it is possible that some "long COVID" symptoms prevented her from filming, this also means that she was probably not the crew member who tested positive for the virus in February 2021—and even if she was, the film was five months (out of six) into shooting by that point, suggesting Waterston would have already filmed much of her role.
Fantastic Beasts: The Secrets of Dumbledore comes to theaters on Friday, April 8 in the U.K. and on April 15 in the U.S.