Far-Right Activist Ammon Bundy's Group Doxes Judge, Encourages Protests
People's Rights, a group founded by far-right activist and independent Idaho gubernatorial candidate Ammon Bundy, doxxed a judge Friday and urged supporters to protest outside her home.
Bundy's group reportedly sent out an alert to members doxxing the Ada County judge by sharing her name, address and her vehicle's VIN number, according to the Idaho Press. That message came after government officials had taken the 10-month old baby of parents Levi and Marissa Anderson into Child Protective Services due to alleged severe malnourishment, which occurred earlier this month, resulting in multiple protests.
"She is known to take children from loving parents," the alert sent to People's Rights members said of the judge.
Bundy also released a video message voicing support for the protests. "Patriot groups all across Idaho and the country, I cannot try to hold you back any longer," the independent gubernatorial candidate said. He urged supporters to join protests at the judge's home at 10 a.m. on Saturday.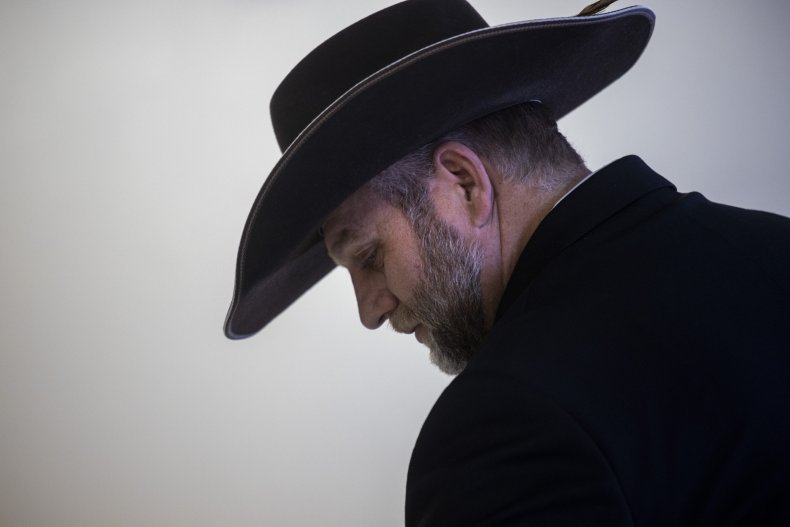 Meridian Police said Friday, however, that the baby had been returned to his mother. "In these situations, the goal is to reunite the child to its parents as soon as it is healthy enough to be returned," the police department said in a Friday statement local NBC affiliate KTVB 7 reported. "There is no need to continue protesting or harassing our public health officials, police officers or anyone else involved."
The situation began on March 1, according to KTVB, when the baby was brought to St. Luke's Meridian for treatment. Medical professionals assessed that the baby, Cyrus Anderson, was severely malnourished. He remained in the hospital until March 4 when he had gained enough weight to be discharged. The child is the grandson of a campaign consultant for Bundy, the Idaho Statesman reported.
However, in a follow-up appointment last week, doctors determined the baby had again lost weight. The parents failed to bring him for follow-up appointments after that and police were notified of the baby's condition. When police went to the baby's home, they were not allowed in to check on him.
After they returned with a warrant, the parents and the baby had left. Levi Anderson was later pulled over by police officers at which point they took the baby, deeming him to be in "imminent danger."
Bundy and his group then staged several protests at St. Luke's, the Ada County Courthouse and in other locations. A protest at the hospital forced the medical facility into lockdown on Tuesday afternoon—causing "at least four" incoming patients to be diverted, the Idaho Statesman reported. Bundy was arrested for allegedly trespassing at St. Luke's Meridian on March 12.
"St. Luke's team members have been, and continue to be, subjected to harassment and profanity-laced calls; in some cases, their personal information has been shared online, resulting in hateful language and very visible and alarming threats on social media," the hospital system said in a Thursday press release, Idaho Press reported.
Whether protests will continue since the child has been returned to the parents is unclear. Idaho Press reported that People's Rights members floated a conspiracy theory that Child Protective Services is actually a "child trafficking ring." Such a claim is adjacent to the QAnon conspiracy theory, which baselessly alleges that government and Hollywood elites traffic and abuse children for Satanic rituals.
Newsweek reached out to Bundy's campaign on Saturday morning for comment, but did not immediately receive a response.
Bundy rose to national prominence in 2016 when he led an armed group of demonstrators to occupy the Malheur National Wildlife Refuge in Oregon. That demonstration came as the armed group sought to push forward their view that the federal government is required by the Constitution to turn over much of the land it manages to individuals states. The stand-off with law enforcement lasted 41 days.
Although Bundy has been endorsed by former President Donald Trump's ally right-wing strategist Roger Stone, the far-right activist has previously criticized Trump for describing all undocumented immigrants as "criminals."
"He has basically called them all criminals and said they're not coming in here...It seems that there's been this group stereotype," Bundy complained in a Facebook video in 2018.
"What about the fathers, the mothers and the children that have come here and are willing to go through the process to apply for asylum so they can come into this country and benefit from not having to be oppressed continually with criminals?" he asked.
In further comments to BuzzFeed News, Bundy drew a comparison between Trump and Adolf Hitler, the former Nazi leader of Germany during World War II.
"The time we find ourselves in now that is closest found in history is Germany in the 1930s, and they had a leader that was loved, and it was the same kind of following," he said. "I don't want to say there is that extreme similarity, but it very well could go that way, and people just give up their thinking, their rights, and they give up their government because they were so willing to follow him."