Roger Stone Backs Idaho Governor Bid by Ammon Bundy, Who Likened Trump Term to 1930s Germany
Roger Stone, a prominent ally of Donald Trump, endorsed Idaho gubernatorial candidate Ammon Bundy—who has previously criticized the former commander-in-chief.
Bundy rose to national prominence in 2016 after he led an armed standoff with the federal government at an Oregon wildlife preserve. He was arrested but later acquitted for his role in that protest.
Bundy had a standoff in 2014 with federal officials due to his father's refusal to pay grazing fees. Although he was arrested and served jail time, the charges were eventually dismissed.
Although right-wing supporters embraced him, Bundy strongly criticized Trump back in 2018. He compared him to former Nazi leader and German Chancellor Adolf Hitler.
Despite those past remarks, Stone voiced his support for Bundy in a video uploaded to his official Telegram channel on Sunday.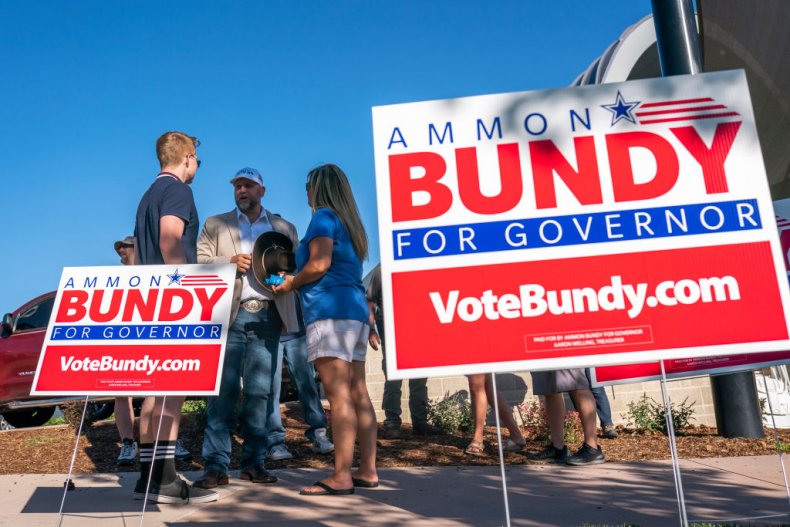 "I'm not the kind of person who tells other people how to vote, but when it comes to Idaho, well, I like Ammon Bundy," Stone said in the clip, which he filmed in front of a Trump campaign flag. "You see, Ammon Bundy is not the wild guy radical that the fake news media tries to brand him as."
Stone described the gubernatorial hopeful as a "Constitution-loving conservative, a family man and a Christian." He said that Bundy could "provide the tough new leadership that Idaho needs to protect our personal freedoms."
Sharing the video to his Telegram channel, Stone wrote: "I'm proud to endorse Ammon Bundy for governor of Idaho."
In late 2018, Bundy shut down his social media accounts and stepped away from the right-wing militia movement he had been part of. The decision came after he criticized Trump for branding all immigrants as "criminals."
"He has basically called them all criminals and said they're not coming in here. ... It seems that there's been this group stereotype," Bundy complained in a Facebook video at the time.
"What about the fathers, the mothers and the children that have come here and are willing to go through the process to apply for asylum so they can come into this country and benefit from not having to be oppressed continually with criminals?" he asked.
Bundy went on to compare Trump to Hitler in further comments to BuzzFeed News.
"The time we find ourselves in now that is closest found in history is Germany in the 1930s, and they had a leader that was loved, and it was the same kind of following," he said. "I don't want to say there is that extreme similarity, but it very well could go that way, and people just give up their thinking, their rights, and they give up their government because they were so willing to follow him."
Bundy announced his gubernatorial bid in Idaho back in June. In a video posted at the time, the right-wing contender said he was "sick and tired of all the political garbage."
"I'm tired of our freedoms being taken from us, and I'm tired of the corruption that is rampant in our state government," he added.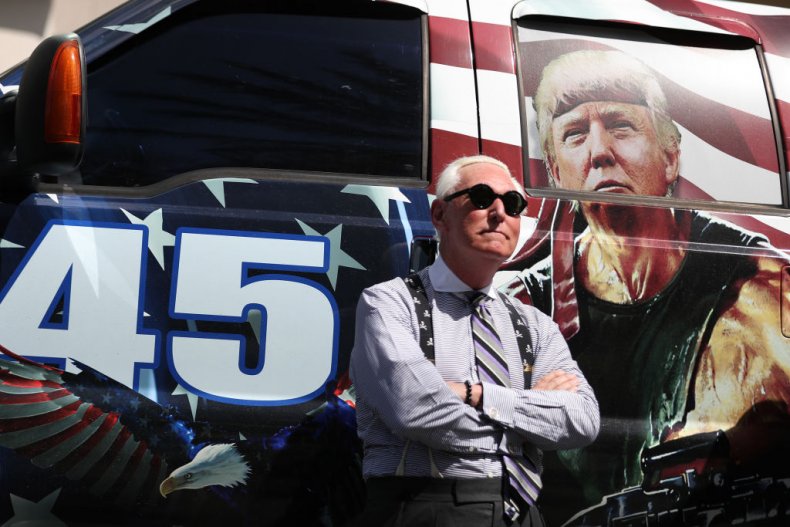 Bundy strongly opposed COVID-19 restrictions imposed by the state and federal government during the pandemic. He gained more supporters by organizing multiple protests, including some outside of Idaho lawmakers' homes.
The right-wing candidate was arrested and charged with a misdemeanor during a protest at the Idaho state capitol last year.
Newsweek reached out to Bundy's campaign for comment on Stone's endorsement but did not immediately receive a response.