Farmer Trampled to Death by Elephant After Herd Destroyed Crops
An Indian farmer has been trampled to death by a wild elephant, part of a herd that had been damaging crops.
A herd of 11 elephants strayed into a field near a village in Andhra Pradesh's Chittoor district at 2 a.m. on May 25 and one attacked the man, who was guarding the field, The Hindu Times reported.
The farmer died instantly, the news outlet said.
It is the latest incident in a string of elephant-human conflicts around villages that border the Koundinya Wildlife Sanctuary, a forest that lies between Andhra Pradesh and Tamil Nadu. Villages in the area have elephant corridors that allow the animals to pass through habitats without being disturbed by humans. However, the elephants are increasingly wandering onto farmland.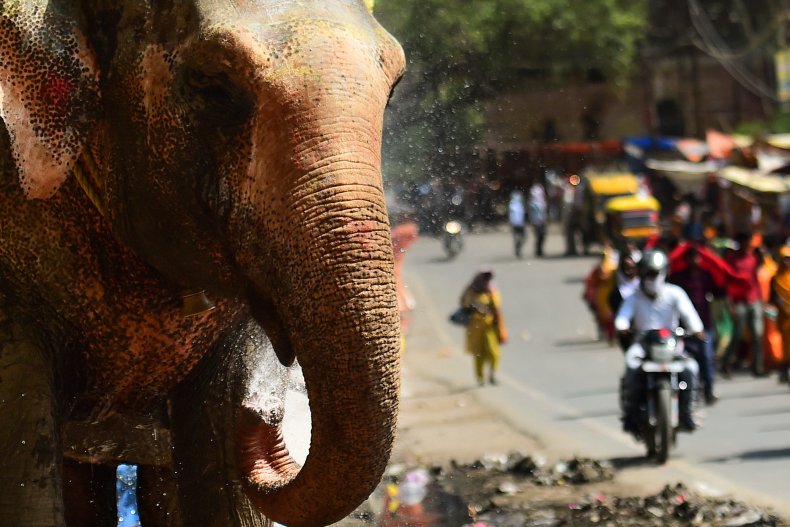 Villagers had been aware of elephants in the area for the past 15 days, the Weather Channel reported. Usually, this would trigger a response from the Forest Department but the news outlet reported that nothing was done to remove the elephants from the area.
Local residents said that up to 150 elephants have been spotted around villages near Koundinya Wildlife Sanctuary over the last few months.
The elephants were likely attracted to the area by crops. As human developments encroach on elephants' natural habitat and villages lie in close proximity to where the animals forage, they commonly wander into populated areas in search of food.
Elephants are known for being benign gentle giants but they can become aggressive when they feel vulnerable—such as when they are in desperate need of food.
The Hindu Times reported that 76 crop damage incidents caused by elephants were compensated by the Forest Department in 2021/22.
Following the farmer's death, local people began protesting on a nearby highway, claiming that officials have repeatedly taken no action against elephants attacking residents. Usually, villages in the district use electric fencing to deter the animals but it was reported that increasing numbers of elephants had died after being electrocuted.
Along with demanding more fencing in the area, residents have demanded better provision of elephant watchers and patrols.
Forest Range Officer Saravanan Babu told The Hindu Times: "The elephant attack happened near the forest bordering the sanctuary. The lone tusker, which was damaging crops in the Gudiyatham range, has not been spotted for a week in our limits. This leads us to believe it may have joined the herd."
The incident has been registered with Gudiyatham Taluk police, The Hindu Times reported.
Newsweek has approached Gudiyatham Taluk police and the forest department for comment.