A heartbreaking video showing "India's skinniest elephant" being rescued and receiving medical care for the first time in her life, after 25 years of abuse and neglect, has been released by a wildlife charity..
The starving Asian elephant, Lakshmi, was rescued on January 1 and brought to a hospital in India run by conservation group Wildlife SOS.
The 25-year-old elephant is severely malnourished and suffering from lameness, arthritis, chronic abscesses and degenerative joint disease.
In a statement, Wildlife SOS said that Lakshmi's "shocking" appearance indicates she has suffered prolonged starvation and extensive abuse for decades.
Kartick Satyanarayan, CEO and Co-founder of Wildlife SOS told Newsweek that she is gradually recuperating at the hospital.
He said: "Lakshmi's story highlights the condition of all the captive elephants in India who are beaten, chained, starved and kept in terrible conditions and are used to beg on the streets, for weddings or giving joy rides to tourists.
"Lakshmi is gradually recuperating under the love and care provided to her at the Wildlife SOS Elephant Hospital. Like every rescued elephant, Lakshmi's first steps of freedom are the start of a new journey to health and safety."
Satyanarayan said that having been deprived of basic amenities such as clean water and medical care in her past life, Lakshmi now has a chance to be free.
He said: "While her body is riddled with scars that speak of years of abuse, there is also mental agony, which is much more difficult to heal. Taking care of Lakshmi's physical and mental health is of utmost importance and for that, we want to provide her with the best medical care and rehabilitation."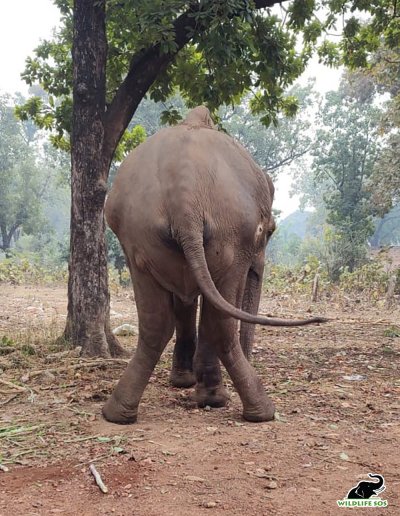 The footage shows caregivers at the elephant hospital in Mathura providing Lakshmi with laser therapy and massages to help with pain management and posture recovery.
The narrator of the video says that as the elephant had never received proper medical care, she was nervous to receive treatment when she arrived.
Lakshmi was rescued following a compliant made against her owners by a local animal lover to the Madhya Pradesh Forest Department. The department took action and seized the elephant. Wildlife SOS then brought her to hospital.
The department is in the process of initiating legal action against the elephant's previous owners.
India is home to around 60 percent of Earth's remaining Asian elephant population. There are fewer than 22,000 left in the wild, with approximately 2,700 in captivity.
In captivity domestic Asian elephants in India are used for commercial purposes and many are forced to give elephant rides to tourists.