The Faroe Islands is to limit its dolphin hunt after it was found an 'unusually' large number were killed last year.
An annual catch limit of 500 dolphins will be implemented, the government's Ministry of Fisheries said in a statement on July 10.
The whaling season in the Faroe Islands begins in the summer months and is a tradition that dates back around 1,200 years. Dolphins, including pilot whales and white sided dolphins, are captured and killed each year for their blubber and meat. However, not all Faroese people approve of the hunt and the practice has long been opposed by animal rights activists that deem it cruel and unnecessary.
The hunt limit comes following a government evaluation that found an "unusually large catch of 1,423" of white sided dolphins in September last year.
This particular slaughter is believed to be the largest single hunt of cetaceans—a group comprising whales, dolphins and porpoises—ever recorded worldwide.
The dolphins were all killed in just over one hour and graphic images of the hunt sparked outrage online. The incident triggered the Faroe Islands government to agree to review the country's dolphin hunt policies.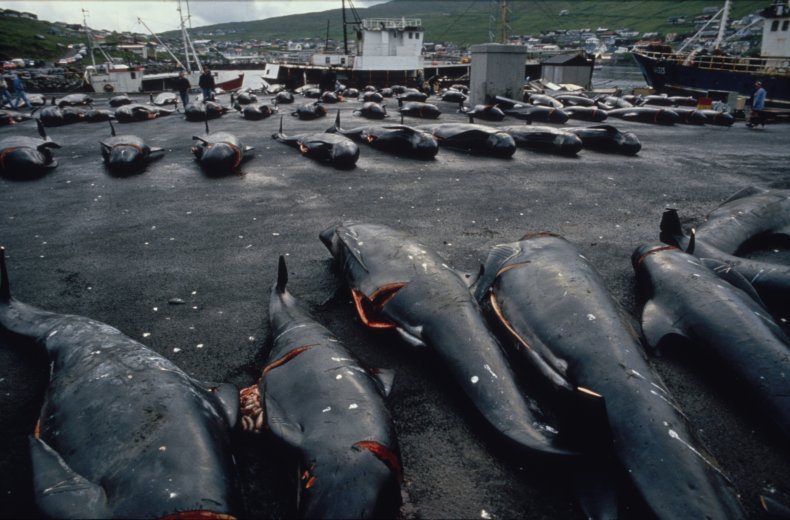 "It has been acknowledged that aspects of that catch were not satisfactory, in particular the unusually large number of dolphins killed. This made procedures difficult to manage and is unlikely to be a sustainable level of catch on a long-term annual basis," the statement read.
Despite the hunt being controversial, it continues as an "important supplement to the livelihoods of Faroe Islanders, who have for centuries relied on the sustainable use of marine resources for their economy and local food security."
Animal rights activists however have argued that while dolphin meat may have been necessary centuries ago, when food was scarce, it is now unnecessary.
The government however, deems that the hunt is sustainable.
"The meat and blubber from each whale drive provide valuable food with a low carbon footprint, which is distributed for free in the different communities where the catches take place," the statement said. "The utilization of both pilot whales and white-sided dolphins in the Faroe Islands is sustainable. The latest scientific estimate for white-sided dolphins puts the stock at around 80,000 in the seas around the Faroe Islands. Based on this, an annual catch of around 825 white-sided dolphins would be well within sustainable limits."
Helene O'Barry, European campaign correspondent at the Dolphin Project, told Newsweek that she does not see the new annual catch limit as "a reason to celebrate."
"There is no way to humanely kill pods of dolphins. We know so much now about their complex social bonds and ability to feel stress, pain, and anguish, but apparently Faroese authorities refuse to look at those deeply troubling aspects of mass slaughter. At first glance, one might think that the catch limit of 500 dolphins per year is good news, but just look at the catch statistics for the last 21 years," O'Barry said.
According to the Faroe Island whaling website, from 2000 through 2020, a total of 4,441 white-sided dolphins were killed. O'Barry said that if the 1,423 dolphins slaughtered last year are added to this 4,441, it creates an average of roughly 266 dolphins killed per year.
"That is still considerably lower than the new annual catch limit of 500 dolphins. So what has changed from the dolphins point of view? Nothing, really. 500 dolphins is still 500 too many when one considers the enormous animal suffering involved," O'Barry said.
"I can't help but wonder if this new legislation has been implemented as a way of doing damage control by being able to say that the dolphin hunt is now regulated and supervised, but what authorities really should be doing is look at the inherent cruelty connected with the capture and slaughter of these highly social and complex marine mammals," O'Barry continued. "I wish authorities would ask themselves this simple question: is all that pain and suffering really worth it just to produce a food supply that is heavily contaminated with some of the world's most dangerous toxins? Or has time come to finally stop the dolphin slaughter once and for all?"
The first hunt of the season recently took place in May, where 60 pilot whales were killed.
On average, around 800 pilot whales and white sided dolphins are hunted every year, making the catch of 1,423 particularly large.
The hunt limit is expected to be implemented as an executive order by 25 July, the statement said.
Update 07/11 ET 7.22 a.m: This article has been updated to include quotes from Helene O'Barry