'Fast & Furious 9' Cast: Who's Returning, Who's Joining and Who's Leaving for 'F9'?
Fast & Furious 9 is coming to theaters in June, and the latest trailer dropped on Wednesday. Fans can see the family taking on Dom Toretto's brother (played by franchise newcomer John Cena) and even heading to the edge of space.
The promo confirmed that actors like Helen Mirren, Michelle Rodriguez and Charlize Theron were returning for another film, but other stars of the franchise are missing, or have confirmed they are sitting F9 out.
Who's joining Fast & Furious 9?
John Cena - Jakob Toretto
As one former wrestler steps away from the franchise, another steps in. While Dwayne Johnson, aka The Rock, may have moved into the Hobbs & Shaw spin-off universe, his place has been taken by current WWE star John Cena. Among his other acting roles were performances in Trainwreck, Bumblebee and Blockers.
In F9, he will be playing the middle child of the Toretto family, younger than Dom but older than Mia (Jordana Brewster). In a typical case of sibling rivalry, he has trained his whole life to beat his brother, which has led to him becoming an expert marksman, fighter, assassin and thief. In the movie, he is working for the villain of The Fate of the Furious, Cipher (Charlize Theron).
Michael Rooker - Buddy
In August 2019, it was announced the Guardians of the Galaxy, True Detective and JFK actor as a late addition to the cast to play a character called Buddy, of which no details have been revealed.
Cardi B - Leysa
The "WAP" singer, who has previously acted in Hustlers, will play a character with some sort of history with Dom.
Also starring in the movie in so-far-unrevealed roles are:
Finn Cole (Peaky Blinders, Animal Kingdom)
Vinnie Bennett (The Bad Seed, The Gulf)
Francis Ngannou (UFC fighter making his acting debut)
Ozuna (singer who previously starred in Qué León and Tom & Jerry)
Jim Parrack (True Blood, 911: Lone Star)
Who is returning for Fast & Furious 9?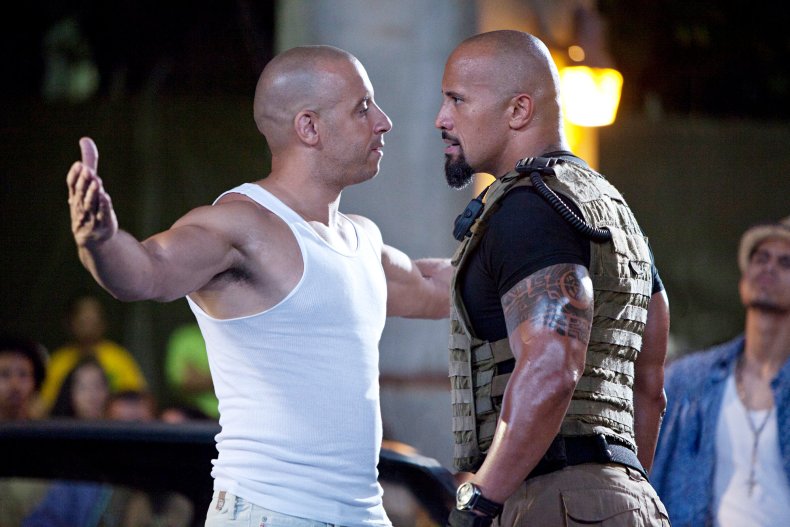 Coming back from Fate of the Furious, the eighth installment in the series, are:
Vin Diesel as Dominic Toretto
Michelle Rodriguez as Letty Ortiz
Jordana Brewster as Mia Toretto
Tyrese Gibson as Roman Pearce
Ludacris as Tej Parker
Nathalie Emmanuel as Ramsey
Back from previous movies are the following:
Sung Kang - Han Lue
In one of the biggest shocks Fast & Furious 9 will offer, Han is revealed to be alive a few films after he was apparently killed by Deckard Shaw (Jason Statham). The circumstances of his return are under wraps. It comes after a #JusticeForHan campaign that saw Twitter complain about how the character was killed off.
Director Justin Lin told Entertainment Weekly: "I think how we treat this character as we move forward, that's going to be the 'justice for Han.'"
Helen Mirren - Magdalene Shaw
Returning for her third Fast & Furious movie is Mirren, one of two Oscar-winning actors in F9. Despite her character's son Deckard Shaw nowhere to be seen, The Queen and Catherine the Great actor returns as Magda, who we see aboard a high-octane car ride with Dom in the new trailer.
Charlize Theron - Cipher
The other Oscar winner is Monster star Charlize Theron, back for her second movie as hacking villain Cipher, though this time she has dropped her dreadlocks for a mushroom cut.
Lucas Black - Sean Boswell, Bow Wow - Twinkie and Jason Tobin - Earl
Director Lin's first movie for the franchise was the third, Tokyo Drift, and he is paying tribute to that movie's 15th anniversary by bringing back not only Han from that film but also its lead (who also appeared in the eighth movie for a cameo), his first friend in Tokyo Twinkie as well as Han's good friend Earl.
"I remember Lucas and Jason and Bow talking to Sung about a conversation they had when we were shooting Tokyo Drift and it was just a continuation of it, and that kind of connection was great," Lin said to EW.
Who's not in F9?
Dwayne 'The Rock' Johnson - Luke Hobbs
After spinning off into his own movie, Hobbs will be missing his first Fast & Furious film since he was introduced in Fast Five. His absence comes amid rumors of a feud between Johnson and Diesel.
However, he ended a social media video after Hobbs & Shaw came out by saying: "I'll be seeing you soon, Toretto," suggesting his absence may be only temporary.
Jason Statham - Deckard Shaw
Statham is also taking a break from the franchise. Hobbs & Shaw seems to be the main reason he and Johnson are not in F9, which went into production as the pair were promoting their movie.
This was confirmed by Johnson in an MTV News interview where he said: "As of now, we're not in Fast 9 because they're getting ready to start shooting. But who knows with Fast 10 and down the road, you never know."
Elsa Pataky - Elena Neves
Though Han's return shows that any death in the Fast franchise should be taken with a large pinch of salt, for now Elena is believed to have died at the hands of Cipher.
Kurt Russell - Mr. Nobody
With the story of Dom taking on his brother at the heart of F9, the film is telling a more personal story than the previous few, which saw the family working for Mr. Nobody's shady governmental organization. This means that Russell will not be turning up.
Scott Eastwood - Little Nobody
This also means that his son, introduced in the eighth film, will be MIA.
Fast & Furious 9 will be released on June 25.