'Fate The Winx Saga': Cast Call for Latinx Fairy, Flora to Appear in Season 2
Fate: The Winx Saga may currently be in Netflix's top 10 charts across the world, but not every viewer is happy with their adaptation of Nickelodeon's Winx Club cartoon. Aside from its 31% Rotten Tomatoes score, the show has drawn fire for having a less diverse cast than the original cartoon.
Particularly, Winx Club fans have been angry about the decision to remove the character of Flora. Though it is perhaps not correct to call this fairy Latinx (in the show, she is not from Latin America but a fictional realm called Linphea), she was definitely coded as Latina. The 2011 version of the show had Hispanic voice actor Alejandra Reynoso voice the fairy. That same year, the show's creator Iginio Straffi told Italian magazine IO Donna that the character had been based on Jennifer Lopez, the child of two Puerto Ricans.
In Fate: The Winx Saga, however, the character has been cut and replaced with Terra, played by a white actor (and Normal People star) Eliot Salt, who is the cousin of Flora.
The Netflix show's creators have not discussed publicly why they made this change. Actor Abigail Cowen, who plays Bloom on the show, however, told The Wrap: "Flora is actually not in our series. I know that there is some confusion about that—in the first season, she's not.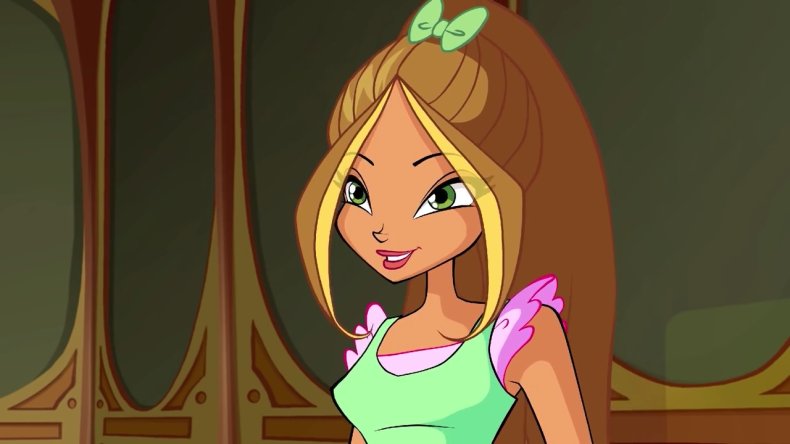 "Eliot's character is actually Terra, who was created specifically for the show. I can't wait for fans to fall in love with her too. She's so fun, she's so sweet. I mean, she's such a lovely character. And I think the misconception is that Eliot's character is Flora. But Terra is brand new, she's reimagined."
This reimagining, however, has not been popular with all fans. In a Teen Vogue op-ed entitled: "Netflix's Fate: The Winx Saga Whitewashes Original and Loses Its Impact," writer Bashirat Oladele sums up much of the criticism when they write: "While character condensing is not uncommon in adaptations, Flora's is pretty egregious—she's been renamed Terra and is played by Eliot Salt, a white woman. Despite Eliot's superb acting, I can't help but be critical of the erasure."
Among the tweets from dissatisfied Winx Club fans are the following:
"the live action winx club show cutting flora and making her a mentioned family member makes me FURIOUS."
"i'm upset that flora isn't in fate the winx saga..... she was my favourite"
"this netflix winx reboot sucks ASS THEY MADE THE ASIAN CHARACTER WHITE AND THEY HAD THE CHANCE TO MAKE FLORA A LATINA BUT NOOOOOOOO THEY MADE HER SOME BASIC AMERICAN B****."
"Heard people trashing Netflix's live action Winx Club and I wanted to watch it out of curiosity. BUT HEARING THAT FLORA GOT REMOVED?! I DEFINITELY DON'T WANNA SEE THAT GARBAGE. Put things back the way they were. @netflix"
As anyone familiar with the stages of grief knows, anger is followed by bargaining, and so soon people started to take to Twitter to hint that Netflix should redress its casting problems by introducing Flora in Season 2.
"You're telling me Netflix has an original series based on the Winx Club," one Twitter user wrote, "and didn't include Flora or Tecna??? @netflix I have high expectations for season 2."
Another tweeted, "WINX SAGA WAS ACTUALLY GOOD. But if they don't bring Flora and Tecna for Season 2, I will be suing Netflix," while another simply wrote: "Flora to appear in the season 2 of the Winx saga on Netflix please."
The campaign to get Flora to appear in Fate: The Winx Saga Season 2 has also been taken on by the actual cast of the show. Among those who have expressed their hopes of seeing Flora is Salt herself, who told Digital Spy: "I think it's really important that we do see [Terra and Flora together] and if we're lucky enough to get a season two that's my greatest hope."
In a quote picked up by multiple outlets, meanwhile, Cowen told The Wrap: "If we are lucky enough to get a second season, I think Flora would be brought in and I would definitely welcome that.
"I'm not a part of the casting process, but I do think, if the series does go to a second season, I think hopefully these concerns are something that can be addressed, because I do think diversity both in front of and behind the camera is vital and much-needed throughout the industry and internationally. So I think it's important that we are having these conversations."
So far, Netflix has not officially renewed Fate: The Winx Saga for Season 2, so it remains to be seen whether the show will be able to introduce Flora in any upcoming episodes.
Fate: The Winx Saga is streaming now on Netflix.