Father Arrested After Son, 2, Shoots Parents, Himself with Gun 'Left on a Night Stand'
A father has been arrested after his 2-year-old son shot him and his mother using a gun which had been left unsecured on their nightstand.
Sagadahoc County Sheriff arrested Ian Carr on suspicion of endangering the welfare of a child after the 25-year-old handed himself in on Thursday, the sheriff's office said in a statement sent to Newsweek.
Carr was arrested in connection to an incident at his home in West Bath, Maine, on May 12, in which the toddler fired a gun inside his parents' bedroom while they were asleep.
The weapon, a Glock 9mm semi-automatic pistol, had been left on a nightstand loaded and unholstered.
The boy's mother, Carrie Savoie, 22, sustained a leg injury and Carr was struck in the back of the head by two bullet fragments. Both parents were initially treated at Mid Coast Hospital in Brunswick, before later being transferred to Maine Medical Center in Portland for their non-life-threatening injuries.
The 2-year-old boy sustained facial contusions after the gun struck his face when it recoiled after firing.
A 3-week-old baby was also in the room at the time of the shooting, but was unharmed. The children's grandmother also lives at the address but was not at home at the time of the shooting.
Carr was released on personal recognizance bail and is set to appear at West Bath District Court for his arraignment on August 10.
As part of his bail conditions, he must adhere to all requirements around the visitation of his children, as set forth by the Maine Department of Health and Human Services and must not return to his home. He must also relinquish possession of all weapons, including firearms.
Both of his children are currently in the custody of family members.
"The seriousness of this incident must be underscored. This situation could easily have been fatal. The carelessness is astounding," Sagadahoc County Sheriff Joel Merry said in a statement sent to Newsweek.
"However, current law only allows for a misdemeanor offense to be charged. Every owner of any firearm must be responsible for the safe keeping of their weapons when children are present in the home, particularly inquisitive, young children."
The sheriff's office said they offer free trigger locks to Sagadahoc County residents and are encouraging all members of the public to safely store their guns to prevent such accidents.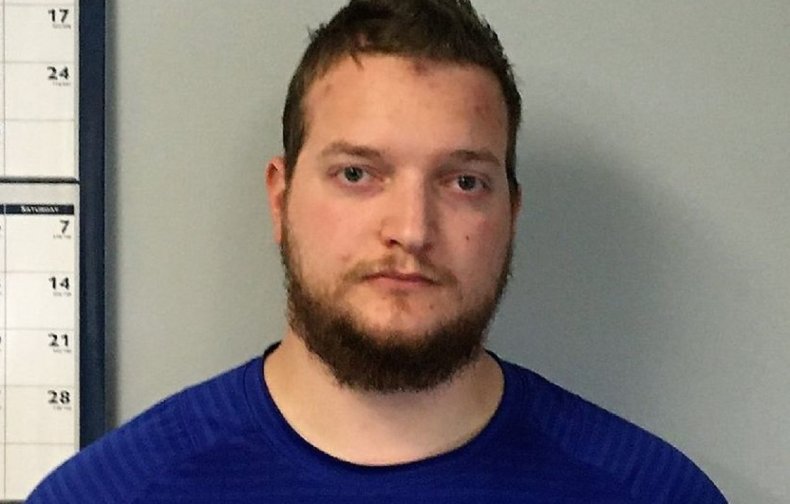 In a similar incident on Sunday, a mother was arrested in Ohio after her 7-year-old son accidentally shot himself with a gun he found under a couch.
The Akron Police Department responded to a home near the 700 block of Clay Street and found the boy suffering gunshot wounds to his hand and leg.
His mother, 42-year-old Deatrice Woodall, admitted to leaving the gun underneath the couch, along with drugs, suspected as methamphetamines, and a digital scale.
Woodall was charged with endangering children, weapons under disability, trafficking in drugs, possession of drugs, possession of marijuana and drug paraphernalia.