Father Slammed for Canceling Son's Camping Trip Over 'Destroyed' Painting
Thousands of internet commenters were outraged after one father revealed why he canceled his son's long-awaited camping trip just one week before he was supposed to go.
In a viral Reddit post published on r/AmITheA**hole, Redditor u/reqthrowrae67 (otherwise referred to as the original poster, or OP) detailed the hostile relationship between his wife and 16-year-old son and explained how a handmade birthday gift caused their extreme tension to boil all the way over.
Titled, "[Am I the a**hole] for calling off my son's camping trip after he ruined a painting that I drew for my wife?" the post has received nearly 6,700 votes and 2,300 comments in the last nine hours.
"[My son] and my wife have this tension...that started right after she moved in with us," OP began. "The fighting became constant even before the wedding."
Writing that his son constantly complains about his wife's intrusive, judgmental and exclusionary behavior, the original poster offered justifications for each of her shortcomings.
When his wife entered his son's bedroom, "invading his privacy and touching his stuff," he said it was because she was cleaning up after him. When she criticized his son's food choices, it was because she wanted him to have healthy homemade meals.
When she excluded his son from the couple's wedding photos, the original poster said his wife absolved herself of any responsibility, claiming that she "had nothing to do with it."
Recently, however, the rivalry got out of hand.
For her birthday, OP presented his wife with a painting he'd painted as a gift. His son snickered at the gift, sparking swift punishment from his wife—and a thirst for revenge.
"In the morning my wife woke me up yelling saying the painting I gave her was destroyed with car oil," OP wrote. "[My son] admitted that he ruined it to get back at her for punishing him the night before."
"I lost my temper with him then punished him by [canceling] his [camping] trip and taking the money back," OP continued. "[He] started crying and called his aunt as a way to pressure me into backing out of my decision but I refused."
In the United States, 16 percent of children live in blended families, according to Pew Research Center.
Defined as households "with a stepparent, stepsibling or half-sibling," blended families have become common in recent history, but are still faced with a myriad of challenges, stemming from the introduction of new, non-related family members into existing family units.
While rivalries between stepsiblings are to be expected, especially to start, relationships with stepparents hinge on a pair of major factors: a stepparent's approach and the age of their stepchildren.
When a stepparent arrives in a child's life, they can allow the child to adjust and acclimate to their presence over time. Or, they can enact a complete overhaul, implementing new rules and disciplinary systems, alienating their stepchildren and everything with which they've grown familiar.
Younger children, who have less of a say in their parents' choices, are forced to oblige by new rules and acclimate more quickly. For teenagers, it's the exact opposite.
Adolescents faced with strict stepparents, seemingly insistent on changing everything from house rules to dietary restrictions, are more likely to act out and often find themselves pitted against unfamiliar authorities in the battle for household hierarchy.
"Once the fun-loving friend of their parent moves in and begins acting like a serious second parent, the relationship can feel offensive for the adolescent stepchild," psychologist Carl E. Pickhardt noted in a 2016 Psychology Today article.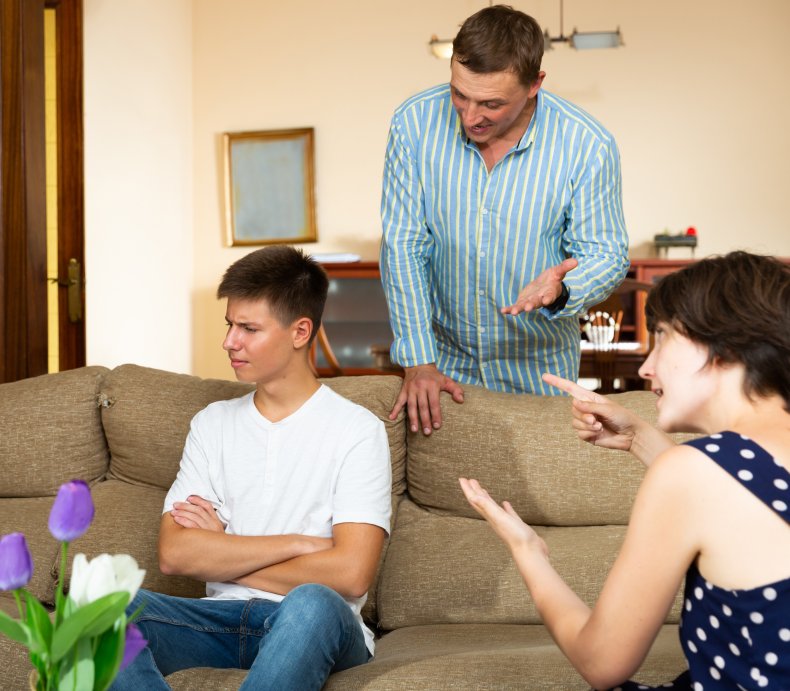 Throughout the comment section of the viral Reddit post, Redditors echoed this sentiment and called out both the original poster and his wife for teaming up against his son, over and over again.
"[You're the a**hole]," Redditor u/ProfPlumDidIt wrote in the post's top comment, which has received nearly 23,000 votes. "Your son has been telling you for years that your wife is overstepping, being intrusive, violating his privacy and making him feel excluded."
"And you did not one damned thing to help him," they continued. "Instead you took the side of the person who is treating him like s**t every single time."
Redditor u/Certain-Thought531, whose comment has received more than 9,000 votes, pointed out the laundry list of red flags scattered throughout the viral post.
"Your son is still a child and your wife is competing with him," they wrote. "First, she has no business parenting him...second, if he doesn't want her in his private space...she has no right to invade it.
"Third, are you seriously trying to convince us the bride had no say in wedding photos?" they continued. "Fourth, you are a very bad parent for allowing all of this to happen without any reaction."
In a separate comment, which has received more than 2,500, Redditor u/CrystalQueen3000 speculated about what actually happened to the now ruined painting.
"I'd honestly think she destroyed it herself and blamed it on him if he hadn't owned up to it," they wrote. "You've taken her side repeatedly instead of believing him when he says she's crossing lines.
"He's 16, he doesn't need a stranger coming in and pushing him around," they added. "Wake up."
Newsweek reached out to u/reqthrowrae67 for comment.