Dad Hilariously Creates Optical Illusion While Holding Baby
A video of a grandmother unknowingly "rubbing" her son-in-law's arm while gushing over her grandkid has gone viral on TikTok, where it had received 2.5 million views at the time of writing.
The video shared by TikToker @leilanikyoko was posted with a caption that read: "It took me a second to realize what my mom was rubbing [crying laughing face emoji]. #babygirl #comedy #mother."
The clip showed a man cradling a tiny baby in his arms, while the doting grandmother standing beside him looked on. Smiling at the infant, the woman was seen rubbing her hand on what she thought was the blanket over the baby's body.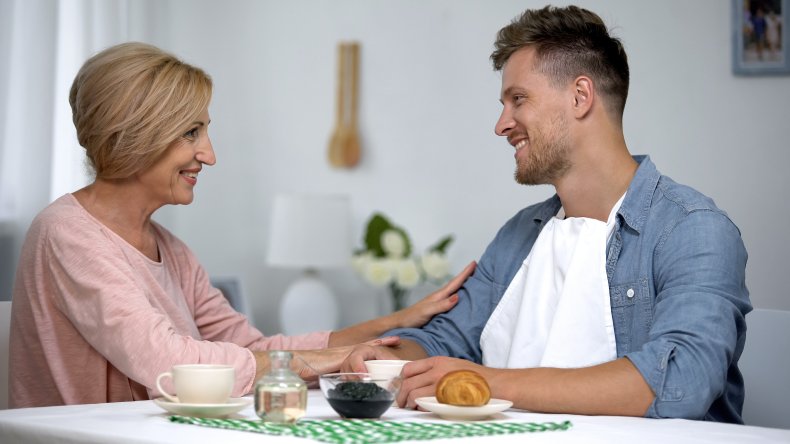 The man in the video was then heard saying: "I think that's my hand," as he stretched out his fingers from what was revealed to be the sleeve of his shirt.
"What? It's your hand?" the woman replied, while the pair laughed together.
A 2018 survey of 2,654 grandparents aged 38 or older, conducted by the AARP (American Association of Retired Persons), found that one in 10 live in the same household as their grandchildren and babysit, while 5 percent of them provide their grandchildren's primary care.
Nearly three-quarters (73 percent) of the grandparents surveyed enjoy their role and "many feel it's vital to connect with their grandchildren because it gives them a mental and emotional boost," the study said.
In an October 2020 survey conducted by the Pew Research Center, 46 percent of fathers with kids younger than 18 years reported spending "the right amount" of time with their children, marking a 10 percentage point rise from 2017.
In the same survey, 48 percent of fathers said they spend "too little" time with their kids, which was a significant drop from 63 percent in 2017.
The latest video has had TikTokers in stitches, with several amused by the "awkward" reaction of the father.
User Cindy baculima said: "Omg [Oh my god] it blended perfectly! I don't blame grandma! Hahaha."
Rumalda Delgado said: "For a second I thought it was the baby too [crying laughing emoji]."
User emjohnson_19 saidL "I watched 3 times. He's so awkward I love it [crying laughing emoji]."
User Louleelou4U agreed, stating "he's so awkward [crying laughing emoji]."
Some remained a bit perplexed about the baby, such as Justine Pigeon who asked: "Where is the rest of the baby!?!? [crying laughing and surprised face emojis]
User Dydydymydarling said: "Why do I feel like this broke my brain for a second? [crying laughing and eyebrow raised face emojis]."
Newsweek has contacted the original poster for comment. This video hasn't been independently verified.
Do you have funny videos or pictures to share? Send them to life@newsweek.com with some details and your story could appear in Newsweek.