As Ukraine Pushes Russia Back, Europe Wavers on Energy Sanctions
With Ukraine mounting counterattacks against Russia's invading forces, trying to unravel Moscow's gains, NATO and European Union leaders will convene this week in Brussels, Belgium for summits that may highlight the simmering conflicts inside both blocs.
Some powerful Western nations are reportedly hesitant to apply another round of punitive sanctions on Moscow or expand much-needed military support for Ukraine's defenders.
The extraordinary day of summits comes as Ukrainian forces try to seize the military momentum by going on the offensive along Russia's axes of invasion. The Ukrainians have already inflicted severe casualties on the invaders, confounding pre-war assumptions that they would be no match for a numerically superior enemy.
Ukrainian politicians and former officials who spoke with Newsweek said the coming days could be pivotal; Ukraine's troops are trying to surround and destroy the Russian forces bogged down around the country's major cities.
Kyiv cannot afford for its Western partners to slide into internal bickering or strategic hesitance, they warned. Andriy Zagorodnyuk, Ukraine's former defense minister, told Newsweek that the defenders are taking back the momentum, particularly in the north outside of Kyiv.
There, the Russian advance has stalled and Ukrainian troops are reportedly encircling the invaders. "There is a chance that the days of Russians in the north are numbered," Zagorodnyuk said.
While the military fights on, Ukrainian leaders are trying to rally their partners on the diplomatic-economic front.
A source close to President Volodymyr Zelensky's government, who did not wish to be named so as to speak candidly, told Newsweek the leadership is frustrated with the hesitance of western EU partners to push ahead with further sanctions.
Germany, the Netherlands, and Hungary are causing particular exasperation in Kyiv. All have been resistant to calls for a full embargo on purchases of Russian oil and gas.
Such a step would strangle Moscow's lucrative energy exports and increase pressure on President Vladimir Putin, but would also leave Europe facing soaring energy costs. An embargo on Russian coal is also on the cards.
Dutch Prime Minister Mark Rutte said this week that much of the EU is too reliant on Russian oil and gas to cut supplies immediately. German Chancellor Olaf Scholz said Wednesday that doing so would plunge Europe into recession at the cost of hundreds of thousands of jobs.
President Joe Biden has already announced a U.S. ban on Russian energy imports, though European nations are far more reliant on Russian fossil fuels than their American allies. Biden is expected to try and broker a compromise in Brussels on Thursday that will help the Europeans wean themselves off Russian fuel faster.
An immediate EU embargo on oil would deny Russia some $275 million per day. "We want it to be stopped immediately," said Oleg Ustenko, an economic adviser to Zelensky.
Ustenko said Kyiv understands it will take longer to wean the EU off Russian natural gas, though added that forecasts of doing so by the end of 2022 are insufficient. Kyiv has its own problem there; the country earns more than $1 billion each year in transit fees from pipelines that carry Russian gas across Ukraine to the EU.
European leaders, Ustenko said, must shoulder economic disruption to save Ukrainian lives.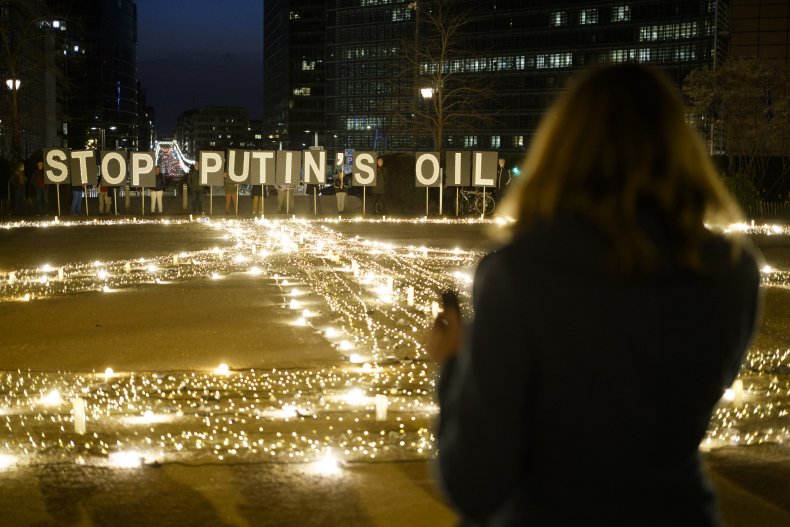 "They're using this money to buy and produce missiles and bombs," Ustenko said. "Each extra day of this war means more killings of innocent people in the country...We do realize there are some economic effects, but on the other side we have lives of innocent people who are killed."
The Ukrainians living under Russian bombs and missiles care little for European employment figures and GDP forecasts.
"It's unacceptable for any country that pretends to represent the modern civilized world to block sanctions until the military invaders stop their offensive," Iuliia Mendel, a former Zelensky press secretary who retains ties with serving officials, told Newsweek.
"This means that the generous Russian lobby still works well by influencing policy, and that these countries feel pretty safe sacrificing other nations for the sake of some economic benefits.
"It's the time to be as united as possible for the sake of democracy and the world order established after World War Two."
Ukrainians will be hoping the Brussels summits also produce more commitments to arm Ukraine—particularly with medium- and long-range anti-aircraft systems; more support for Kyiv's EU membership bid; the closure of EU and NATO ports to Russian shipping; and support for future post-war security guarantees.
Oleksandr Merezhko, the chair of the Ukrainian parliament's foreign affairs committee, told Newsweek he is worried that Germany and France in particular are not doing enough. Merezhko warned that the Europeans must not repeat the mistakes they made in failing to properly address Russian aggression in Georgia in 2008 and Ukraine in 2014.
The hesitance of Paris and Berlin to support Ukraine's NATO membership—an ambition Zelensky has seemingly abandoned—was especially cutting, Merezhko said. "Germany and France didn't allow us to become a NATO member state, and pursued the policy of the appeasement of the aggressor," he said.
Merezhko said he hopes Ukraine's NATO bid is not yet dead, and that Thursday's summits should include a discussion on a Membership Action Plan—a key step setting out a state's path to ascension—for Kyiv.
"I don't think that he has given up," Merezhko said of Zelensky's NATO goal. "He said that NATO doesn't want us. But, I guess, we still want to join NATO because it's the best guarantee of our security. And it is still in our constitution as a goal.
"Regrettably, such countries as Germany and France are doing everything to keep us out of NATO. Perhaps because they need trade with Russia more than security for Ukraine."
Alexander Khara — a former adviser to the minister of defense and National Security and Defense Council official—told Newsweek the onus is now on Germany to do more, given its historic failure to address its reliance on Russian natural gas despite the warnings of eastern and central European EU and NATO allies.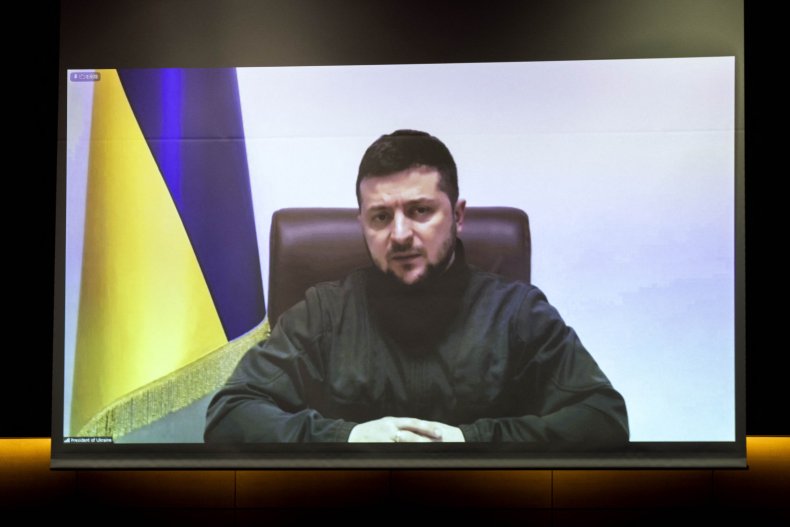 "It was [former Chancellor Angela] Merkel's Germany that helped the Russian elite to enrich themselves, corrupt European elites...and boost their military capabilities directly via bilateral cooperation, and indirectly via the EU-Russia Partnership for Modernization," said Khara, who now works at the Centre for Defence Strategies think tank in Kyiv.
"Though they bear the lion's share of the burden of all EU restrictions imposed on Russia and are willing to support us financially, they don't want to go further," Khara said of the Germans.
"Now the Germans are negotiating with Qatar about natural gas supply and are about to build two natural gas terminals. But it will take time we don't have."
And in the meantime, continued purchases of Russian goods are funding the war. "They and other Europeans indirectly are financing the extermination of Ukrainians," Khara said.
"I understand the short-term political and economic consequences...but their unwillingness to step up increases mid- and long-term ones.
"Once Putin has run out of resources, he stops the war. Now, he is destroying the biggest European country, first and foremost its infrastructure and industry. It will affect the whole European and global economy as well."
He warned there's "a probability that the conflict will spill out of Ukraine," perhaps even into the nuclear sphere.
NATO Secretary-General Jens Stoltenberg said Tuesday the alliance would double its number of deployed battlegroups, sending additional forces to Hungary, Romania, Bulgaria, and Slovakia.
This is the latest reinforcement of NATO's eastern flank, where allies are nervous that Putin's ambitions reach beyond Ukraine.
The defense alliance will also send Ukraine equipment to protect against biological, chemical, and nuclear weapons, while the EU is set to approve another $548 million for Ukraine to purchase more arms.
Andriy Ryzhenko, a retired naval captain and former deputy chief of staff in Ukraine's navy, told Newsweek that Ukrainian troops can turn the tide, but only with additional international support.
"The momentum is shifting to us," Ryzhenko said. "The Russians are shifting to using more airstrikes."
Ukraine's efforts to win back territory are complicated by Russian infiltration into towns and villages, Ryzhenko said: "We don't want to cause additional collateral damage.
"We are quite close to taking the initiative," Ryzhenko continued, arguing that a NATO no-fly zone—repeatedly requested by Ukrainian leaders but rejected by alliance leaders for fear of a direct confrontation with Russian troops—would tip the balance in Kyiv's favor.
"We need a no-fly zone. Air defense will have an effect against Russian airstrikes, but it's not enough. Primarily, it should be aircraft."
Ryzhenko said NATO failings are undermining the alliance's reputation and its long-term security. "If Ukraine falls, next it will be NATO," he warned. "And then it will be too late."