President Volodymyr Zelensky has opened the door to Ukrainian concessions as he seeks to end the devastating war waged by Russian forces across his country.
The president has become a legendary figure of resistance since the Russians invaded on February 24, remaining in the capital Kyiv and rallying his people in their staunch defense of Ukrainian territory at great cost to the advancing Russians.
But Zelensky must now juggle his newfound heroic persona with the difficult decisions of state, particularly how the war can end quickly and without further devastation to Ukraine and its people at the hands of President Vladimir Putin's Russia.
"I'm ready for dialogue, we're not ready for capitulation," Zelensky told ABC News in an interview published Tuesday. The president has repeatedly rejected Russian ultimatums that Ukrainians lay down their arms and enshrine neutrality in its constitution, though hinted at areas of possible compromise unthinkable before the invasion began.
"I think that items regarding temporarily occupied territories and pseudo-republics not recognized by anyone but Russia, we can discuss and find a compromise on how these territories will live on," Zelensky said of occupied Ukrainian territory in Crimea and Donbas.
Zelensky also suggested he is less committed to the prospect of Ukraine's NATO membership, a key Russian grievance. "I have cooled over the issue a long time ago after we understood that NATO is not prepared to accept Ukraine," the president said.
Russia's invasion has not gone smoothly, bedeviled by serious equipment failures, a fierce and well-equipped Ukrainian resistance, and morale issues among its troops.
But Russia maintains the strategic upper hand. Its sheer military quantity could yet overwhelm the more motivated defenders, and prevent a total reversal of Russia's advance. As the war rages on, Zelensky will be left with little choice but to negotiate.
Though a long way from a ceasefire, let alone a peace deal, Zelensky's comments give some indication of how this war might end.
NATO membership is deeply unlikely, and Ukraine is in no position to take back control of Crimea and Donbas. Kyiv is pushing ahead in its bid for European Union membership, and will need security guarantees against future Russian aggression.
Ukrainian political figures who spoke with Newsweek warned that it will be difficult for the president to concede on key matters without angering Ukrainians. Territorial concessions, they said, would be the most costly for Zelensky.
Iuliia Mendel, a former Zelensky press secretary who retains ties with serving officials, told Newsweek from Kyiv that the eventual return of Crimea and Donbas to Ukrainian control remains "absolutely" non-negotiable for the government.
Alexander Khara—a former adviser to the minister of defense and National Security and Defense Council official—told Newsweek there is "no way" the president can give up the occupied territories.
Alex Riabchyn—a former member of parliament and former deputy minister for energy and environment who now serves as an adviser to the Ukrainian government and Natfogaz CEO Yuriy Vitrenko—told Newsweek that compromises on these regions are "impossible, literally impossible."
Giving up NATO membership would be an easier concession, though far from simple.
"Ukrainians want peace and no compromise on human lives and territory of Ukraine," Yelyzaveta Yasko, a member of Ukraine's parliament and of Zelensky's Servant of the People party, told Newsweek. "Anything else can be discussed. NATO can be discussed."
Mendel said the president had hoped that NATO integration might help solve the war in Donbas, sparked by Russian aggression in 2014. But the current conflict is eroding the president's belief in the alliance, she said—and Zelensky "has become frustrated."
She cited NATO "refusing to close the sky over Ukraine" as Russia bombs cities and villages and member states "failing to provide the promised jets."
"Ukrainians are paying with blood and devastation for the bureaucracy and doubts of the West. Putin is a monkey with a grenade, and the West is still trying not to annoy him so that he doesn't drop or throw that grenade," Mendel said.
"Neighboring countries with Ukraine, like Moldova, Poland, and the Baltics, understand that Putin's disrespect for the Western world order is so deep that he will not be stopped by EU or NATO membership when or if he gets Ukraine.
"But countries further away seem to feel more comfortable, realizing that the evil is far away and the Ukrainians can defeat it at the cost of their own lives."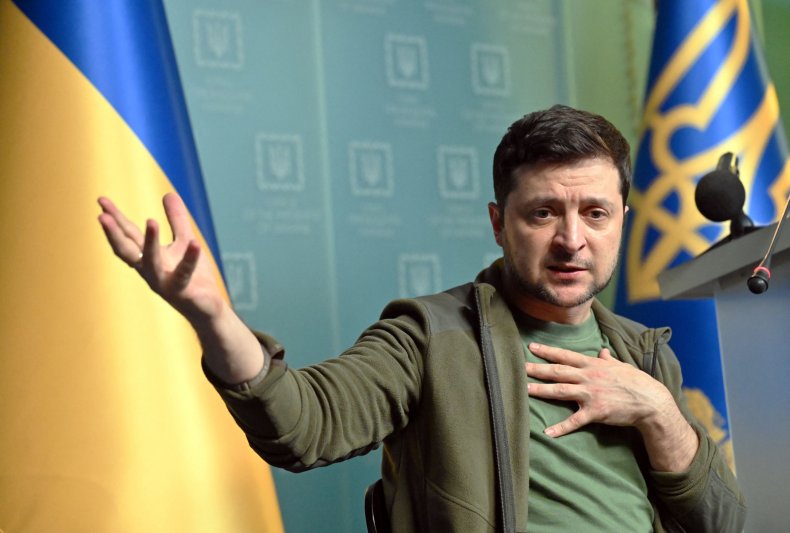 She said NATO's "wavering" despite the horrors unleashed by Russia on Ukrainians "undermines confidence in the organization's power and in Western leadership."
"Zelensky cannot live in hope of a future that is being barbarically destroyed right in front of his eyes. So he makes decisions depending on what is happening," Mendel said.
"And now, he can think of neutrality as a solution that can help stop the endless killing. It is irrational to stand up for something that may not happen, at the expense of people's lives and the independence of the country."
The Ukrainian and Russian delegations are still feeling each other out. There will likely be several more rounds of talks before any ceasefire is secured, and even more before a peace deal.
There is little trust on either side. The Russians have shown little respect for the process, repeatedly shelling and mining humanitarian corridors agreed in previous discussions.
Mystery still surrounds the death of Denis Kireev, a member of Ukraine's delegation shot dead by Ukrainian security agents last week amid claims he was a Russian spy.
Khara said Zelensky might be playing the NATO card as part of a broader strategy.
"I don't know whether he is serious about giving up on NATO," said Khara, who is now working for the Centre for Defence Strategies think tank in Kyiv.
"He might think that with being given no prospect of becoming a member in the near future and refusal to impose a no-fly zone, he has some moral ground to trade membership for an end of killings of Ukrainians and destruction of our cities, infrastructure, and industrial potential.
"Or he might think that such an option could push the Russians to negotiate, thus will give us valuable time. I don't know the rationale behind it."
But Khara warned that surrendering Ukraine's right to NATO membership will send shockwaves through Ukrainian politics. "I know that he will not be able to sell it to the public," Khara said.
"It will divide the society and cause his fantastically high support to fall. I don't believe in any agreement with Russia that would guarantee our security outside NATO. So I would recommend he not give up on NATO, though he might play with the Russians."
Riabchyn said NATO risks becoming a wedge issue.
"There might be some compromises but Ukrainians are still—and especially after the Russia attack—willing to join NATO," he said.
"There will be a division among politicians—it's an amendment to the constitution which needs to be voted on."
Even if Zelensky agrees, he would need support from the parliament. "There could be problems with implementation," Riabchyn said. "This is what Russia is trying to do, to create divisions among the politicians which are now united behind the president."
Any NATO concession will have to be accompanied by a broader security guarantee, signed by the U.S. and other leading Western nations.
"What Zelensky is arguing is that we need additional guarantees from NATO countries from others, and not the Budapest Agreement which basically failed," Riabchyn said, referring to the 1994 deal under which Kyiv gave up its Soviet-era nuclear weapons.
NATO membership, always a long-term goal, appears increasingly unrealistic. But Kyiv's relations with the alliance and its individual members are supercharged by the Russian invasion and underpinned by an unprecedented eastward flow of Western weapons.
Ukraine's bid to join the EU could also reshape the strategic picture. The process will not be a fast one, and will meet Russian resistance, but the bloc's economic raison d'être is less threatening than NATO's military nature.
Ukraine's EU ambition is also written into its constitution. Those who spoke with Newsweek said they expect Kyiv and Brussels to keep the dream alive.
Yevheniia Kravchuk, the deputy head of Zelensky's Servant of the People faction in parliament, told Newsweek: "We expect from the EU firm steps and concrete mechanisms of joining."
Riabchyn said the Russians "will never, ever receive a compromise on the EU."
Moscow will try and undermine anything that draws Kyiv closer to the West, Khara said: "The Russians don't want to allow us to join either NATO or the EU, it's the only way they can bring us back to them.
"This war isn't about threats from Ukrainian membership in EU and NATO, it's about keeping Ukraine under Russian control and their dreams of making EU and NATO dysfunctional."