Fats Domino, Dead at 89, Discussed 'Blueberry Hill' and Hard Rock in Revealing 1970 Newsweek Profile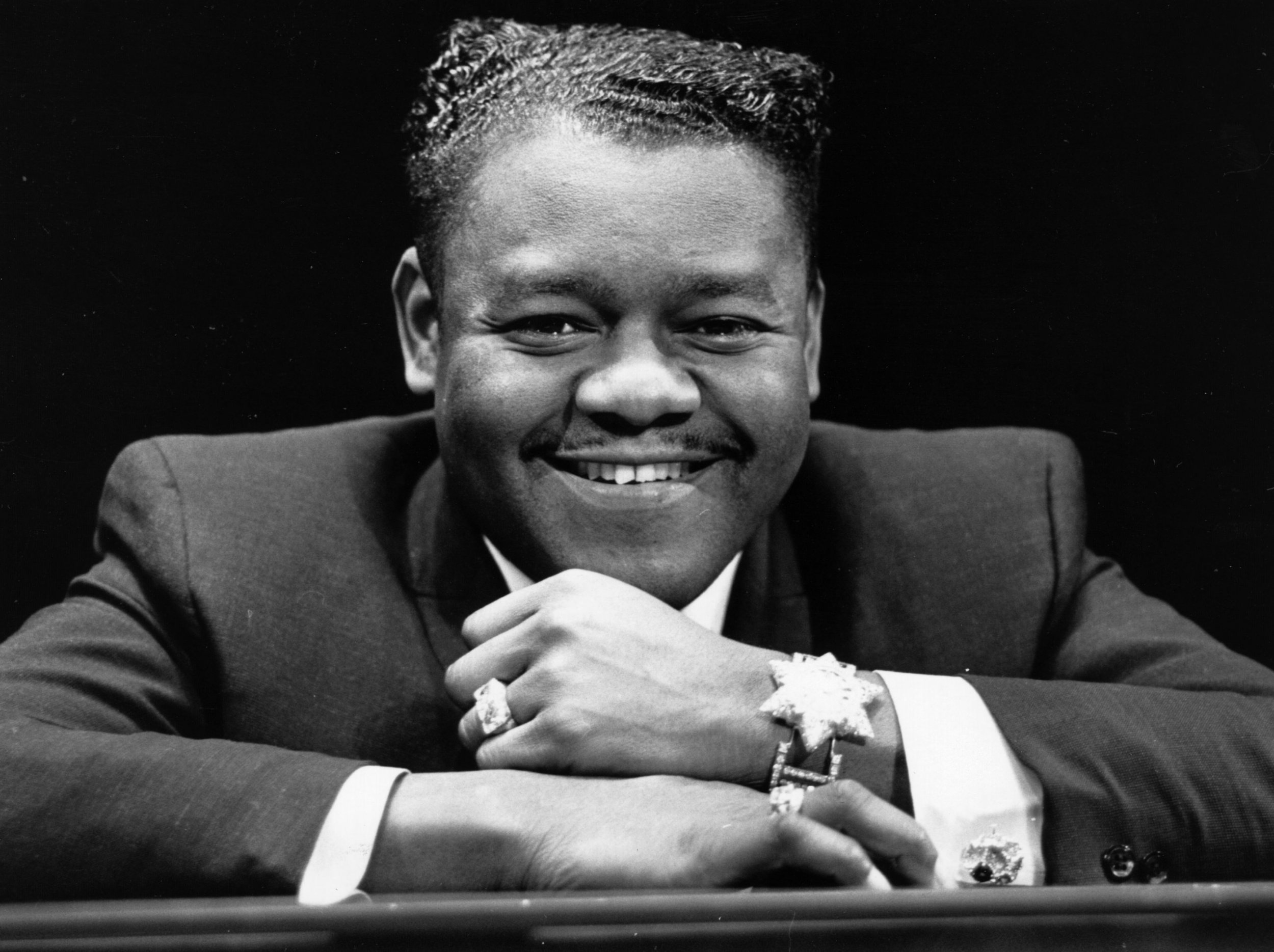 Fats Domino, the legendary early rock 'n' roll star, has died at the age of 89. The old-time rocker behind hits like "Blueberry Hill" helped to define a sound derived from New Orleans boogie-woogie and other sources. Newsweek published a revealing profile of the singer in 1970. To honor Domino's legacy, we are making it available online for the first time.
His tinny tremolos and odd Cajun accent first attracted notice in 1949, and for more than a decade Antoine (Fats) Domino ranked as a superstar of what was then the new sound. As Fats interpreted it, the sound somehow came out both exuberant and soulful, but always with a strong repetitive beat—a radical departure in itself from the insipid pop ballads of the '40s. Fats's good-humored singing and his boom-booming piano reaped him a fortune with such hits as "I'm Walkin'," "Blue Monday," "Ain't It a Shame" and "Blueberry Hill," a phenomenal 11 million seller. During those years, he produced 19 gold records—including 16 of his own compositions—and when rock 'n' roll superseded rhythm and blues in the mid-'50s, Fats still managed to stay on top. But in 1961 Chubby Checker launched the twist craze—and Fats vanished from the top 10 charts.
Today, although he hasn't had a hit in nearly 10 years, Domino is still very much in demand on the nightclub circuit, where he is booked solidly through next year. And although he now appears in the lounge while bigger names work the main room, Fats still packs them in wherever he appears.
Related: How a long-lost Thelonious Monk was discovered and released nearly 60 years later
His style remains as unchanged as Liberace's. In an era of love beads, leather fringe and long hair, the 220-pound Fats still performs in pointed, 1950s-fashion patent-leather shoes and a gaudy suit that he embellishes with more than $200,000 worth of diamonds. He opens every set with "Blueberry Hill," pounding the keyboard with his stubby fingers and wailing into the mike as he fills the room with the big-beat sound of the '50s. And the audiences, both the nostalgic over-30s crowd and the rock-oriented young, soak it up.
Recently, as Fats lounged at the bar of a Lake Tahoe club before his show, a long-haired youth approached and asked, "Fats, will you autograph my draft card? We came all the way from Berkeley to hear you." As he signed the card, Domino remarked happily: "That old-time music is coming back again. I haven't had a hit in 10 years, but when I play 'Blueberry Hill,' people act like it's a new number."
Domino admits that he did try for a while to bring his sound up to date. "I bought an electric piano, but I eventually gave it to my son," he says. "All them guitars and everything are so loud today, you can't hear what they're saying. I like people to hear what I'm saying." And he adds: "People said I should follow the trend, but I've got an original style and that's what I've got to do." Indeed, Fats's only concession to the modern idiom is that he flashes the peace sign at the end of each set.
Born in New Orleans in 1928, Domino began playing piano when he was barely out of knee pants. For several years, he worked at two jobs, earning $24 a week working in a bedspring factory and $36 more playing three nights a week in clubs. Then in 1949 he recorded "The Fat Man," one of the first rhythm and blues songs, and it sold more than 2 million copies.
Although he still spends 10 months a year on the road, Fats keeps a lavish 16-room home in New Orleans and, whenever he has time off, flies there to be with his wife of 23 years and their eight children. Indeed, while he no longer commands the sums of his star days, Domino is by no means financially hard-pressed, partly due to a lucrative interest in a chain of Florida-based fried-chicken stands. He recently bought a Rolls-Royce and maintains a wardrobe of dozens of expensive suits—to say nothing of all those diamonds. For years, he admits, he had a gambling problem—a confession that has an almost Victorian ring in an era when singers die from drug overdoses. But now, Fats says, he has that compulsion under control.
Refreshingly, Domino feels none of the bitterness that usually characterizes the fading star. He is both optimistic about his newest release ("New Orleans Ain't the Same Now") and philosophical about the past. "I've been a millionaire two or three times," he says reflectively, "and I may be one again. But it doesn't matter. People want you to be natural, to be yourself, not putting on like something you're not. As long as I'm working, I'm happy. I just love to play music."
This story originally appeared in the October 19, 1970, issue of the magazine.