Fauci Explains Why Smallpox Vaccine ACAM2000 Isn't Being Used for Monkeypox
Anthony Fauci has explained why the U.S isn't using ACAM2000—the smallpox vaccine that the U.S. has in a massive stockpile—to combat monkeypox.
Speaking on the podcast Science Vs, the chief medical advisor to the president discussed the vaccines that are currently in circulation to help curve the spread.
At the beginning of the program, host Wendy Zukerman said that the U.S. was "weirdly prepared" for the outbreak, as it already had a massive stockpile of a smallpox vaccine— called ACAM2000—ready to go. Monkeypox is caused by the same family of viruses that caused smallpox—a much more serious disease that was eradicated in 1980. This means that smallpox vaccines can work against it.
ACAM2000, however, can't be used widely to combat this current outbreak as it can be dangerous to people with certain conditions. There is another vaccine available, called Jynneos, which is much safer. However it is in extremely limited supply.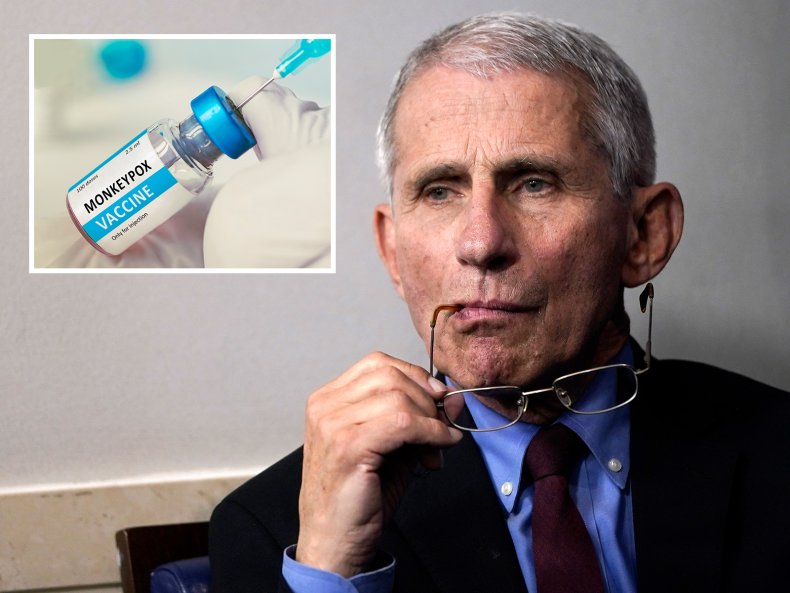 "In an attempt to develop countermeasures against smallpox associated with the bioterrorist scare following 9/11, we invested an extraordinary amount of money to stockpile both vaccines, namely the ACAM2000, as well as a lesser amount of Jynneos, which was really supposed to be for people who couldn't tolerate the ACAM2000 - like kids with eczema and people who were immunocompromised," Fauci said in the podcast.
Zukerman then said: "There is this feeling of like there are all these doses and they're just sitting there."
Fauci added that the U.S has "100 million doses of ACAM2000 ready to go right now."
However, according to a study published by The new England journal of medicine, one-third of people who have contracted monkeypox in this current outbreak also have HIV. As HIV weakens a person's immune system, receiving the ACAM2000 vaccine could be extremely dangerous.
"Now what happened by a quirk of fate, is that those people who were vulnerable to this, namely the men who have sex with men, many of them fell into the population, that it would be risky to give them the hundred million doses that we have at the tips of our fingers ready to go. So we had to rely on what was the backup vaccine – was Jynnneos. Which was the opposite of what the plan was," Fauci said.
ACAM2000 is a very different type of vaccine from the ones most U.S. citizens are used to. The vaccine contains a live virus called vaccinia—which is in the same family as smallpox and monkeypox, but less dangerous.
However, like with many viruses, it can be dangerous to immunocompromised people, particularly those who have HIV, are pregnant, and those with eczema. The vaccine will also leave those who receive it with a wound that can be highly contagious.
Fauci said that those who made the vaccine believed the risks were worth the benefit—as smallpox was an incredibly dangerous disease.
"It is a vaccine which was against a historically horrible disease that influenced societies throughout the centuries, smallpox. And so the adverse [effects], the inconvenience in administering it, you know, you have to scratch it into the skin – those felt [felt it was] worth the protection against a deadly disease.
"So now you have a disease, although there are a lot of painful consequences associated with monkeypox, it is not a deadly disease in general, comparatively speaking," Fauci said. "So whenever you have a disease like that, you've got to balance the benefit and the risk of what the intervention is. So rather than saying, hey, we have 100 million doses of ACAM2000, just give it to everybody. All of a sudden, those who are responsible for the distribution [of Jynneos] found that they had to really play catch up in getting those doses, There have been over 130,000, which pretty quickly was put out. Another 400,000. And then by the end of next week, we hope we'll have a total of 1.1 million doses."