More Monkeypox Cases Found In Kids As School Return Looms
Three more monkeypox cases have been confirmed in children as the back-to-school season looms.
Monkeypox continues to spread rapidly throughout the globe. According to CDC data, 22,141 monkeypox cases have now been reported, since the outbreak first began in May.
Most, but not all, monkeypox cases have been concentrated in the gay community, among men who have sex with men. However it spreads primarily through close, physical contact with an infected person, meaning anybody can catch it.
Cases in children have been of concern recently, ever since the U.S reported its first two. On July 22, the CDC confirmed that two children had come down with monkeypox in two unrelated cases.
Now, Brazil has also reported three more cases in children. Two were recorded in six-year-old girls, and one in a four-year-old boy.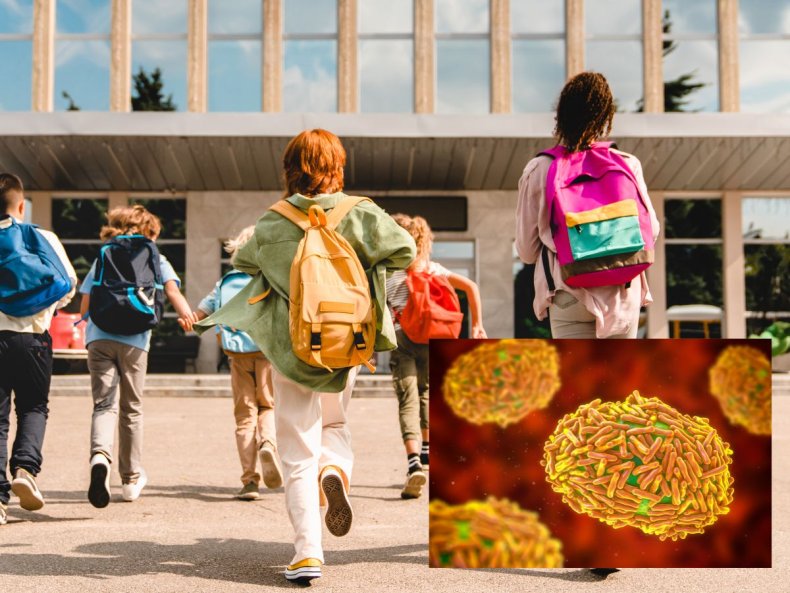 Epidemiologist and health economist Eric Feigl-Ding shared the news on Twitter. Feigl-Ding also said Brazil had recorded its first death from the virus, in a "41-year-old immunocompromised man."
Newsweek has contacted Feigl-Ding for comment.
Monkeypox is rarely fatal. However, it can be dangerous to vulnerable individuals—this has caused many to express concern on how it could affect children who catch it, especially as they are set to return to school in September.
However, experts do not believe that children are currently a high risk in this particular outbreak.
Although, the virus has impacted children in previous outbreaks in countries where the virus is endemic—in central and western Africa.
"It certainly was the case that most deaths were in children, but in recent years that has changed a little. In my view, likely because of HIV in adults increasing risk of death in adults," Paul Hunter, professor in Medicine, Norwich Medical School, told Newsweek.
"There have been a small number of cases in children globally but one of the difficulties is that a lot of the age data is merged at a global level making it difficult to say how many children cases have been outside of Africa. I suspect not many. But in non-African countries there have certainly been some. So as it stands children living in a house with someone who has monkeypox are at risk but probably not much wider than that at present."
Other experts have agreed. Data from previous outbreaks in Africa has pointed to a greater severity in children, however the variant causing this particular outbreak is behaving differently.
This means it is unlikely to spread in educational settings.
"When we look at the epidemiology of the current outbreak, we see that it is not highly transmissible. In other words, most cases were infected through close skin-to-skin contact with an active patient, not through respiratory secretions or droplets or airborne infections," Professor Eyal Leshem, infectious disease specialist and Director at the Center for Travel Medicine and Tropical Diseases at Sheba Medical Center, previously told Newsweek.
"Therefore, we do not think that rapid spread in educational settings, for example, is a highly portable scenario."