Fauci Fires Back at GOP South Dakota Governor Over COVID Caseloads, Says Numbers 'Don't Lie'
Dr. Anthony Fauci responded to criticism from South Dakota Governor Kristi Noem on Sunday, after the Republican state leader suggested that her approach to COVID-19 mitigation was effective despite its obvious departures from the expert's advice.
During an appearance on CBS News' Face the Nation, Fauci encouraged Noem to "take a look at the numbers," as South Dakota records some of the most significant increases in COVID-19 cases and deaths per capita in the country.
As longstanding director of the National Institute of Allergy and Infectious Diseases (NIAID), Fauci is an experienced public health specialist who helped guide the U.S. through COVID-19 mitigation as a leading member of Donald Trump's Coronavirus Task Force. He now serves as chief medical adviser to President Joe Biden.
"You know, it's unfortunate...it is not really helpful," he told moderator Margaret Brennan, referencing Noem's remarks during a speech at this year's Conservative Political Action Conference (CPAC) on Saturday, when she claimed that Fauci is "wrong a lot" during a speech that earned her a standing ovation.
"Because sometimes you think things are going well, and just take a look at the numbers. They don't lie," Fauci continued. "We see, Margaret, what happens when you pull back prematurely. Now, you're going to have individual instances of situations where people may not have, and didn't see a rebound right away. But you've really got to be careful, particularly now that we have variants in this country that seem to spread more efficiently and maybe even are more dangerous with regard to pathogenicity."
Noem's lenient approach to COVID-19 mitigation has been criticized throughout the pandemic. Unlike other states where leaders implemented mask mandates and restricted business operations in efforts to curb transmission, the Republican governor declined to effect orders stipulating public use of face coverings and largely shied away from regulating business activity.
"We never focused on the case numbers. Instead, we kept our eye on hospital capacity," said Noem during Saturday's speech at CPAC. "Now Dr. Fauci, he told me that on my worst day, I'd have 10,000 patients in the hospital. On our worst day, we had a little over 600. Now, I don't know if you agree with me, but Dr. Fauci is wrong a lot."
Data recently updated by the Centers for Disease Control and Prevention (CDC) indicates that South Dakota recorded the country's eighth-highest number of COVID-19 deaths per capita over the past seven days, behind New York, New Jersey, Rhode Island, Massachusetts, Mississippi, Arizona and Connecticut. Its seven-day increase in confirmed cases, per 100,000 residents, came second only to North Dakota, which reported fewer fatalities last week as it has, overall, throughout the pandemic.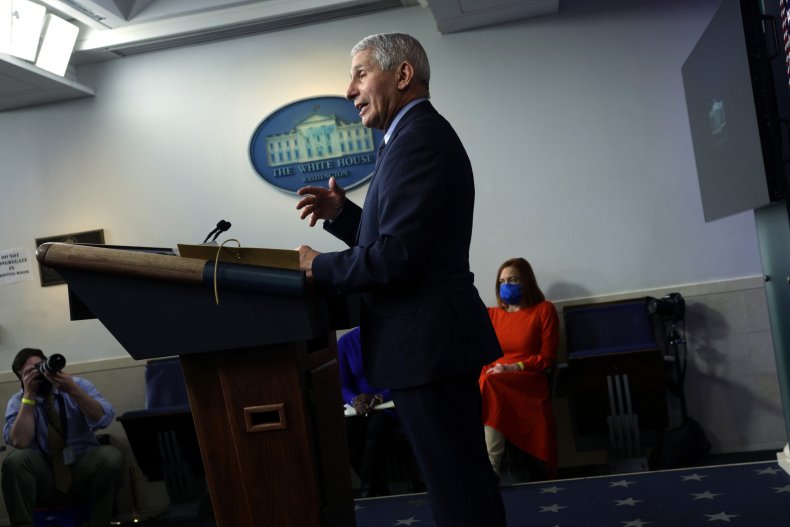 Fauci acknowledged that COVID-19 numbers are declining across the country at the end of February, following a marked surge around the holiday season. However, he stressed that continued compliance with safety measures is necessary to further the downward trend, especially given the emergence of variant strains.
"Go back and look, historically, at what happened when we tried to open up the economy and open up the country," he said. "And we saw a variable degree of adherence to the public health measures by different governors and different mayors. And what did happen? [The curve] went like this and then went right back up when we had yet again another surge."
Noem defended her stance on COVID-19 mitigation, which calls on residents to exercise personal responsibility rather than abide by state mandates, during a later appearance on Face the Nation Sunday.
"You indicated that I ignored medical advice, I didn't listen to my health experts, and I most certainly did," she said, addressing Fauci's earlier comments. "In South Dakota, we took this virus very seriously. What I did, though, was tell my people the truth. I gave them personal responsibility over decisions for their families' public health, but I also gave them the flexibility they needed to keep their businesses open, take care of their employees and their customers."
Newsweek reached out to Noem's office for comment, but did not receive a reply in time for publication.
Newsweek, in partnership with NewsGuard, is dedicated to providing accurate and verifiable vaccine and health information. With NewsGuard's HealthGuard browser extension, users can verify if a website is a trustworthy source of health information. Visit the Newsweek VaxFacts website to learn more and to download the HealthGuard browser extension.